Thirteen million nine hundred ninety two thousand five hundred sixty
Lee Kuan yew, former first Prime Minister and then senior Minister and then Minister mentor of Singapore. Under his leadership, the state of the country "third world" has become one of the most developed. He was tough, deliberate politician who, however, is very convincingly argued their methods. Apparat understood in the views of Lee Kuan yew and figured out how to achieve an economic miracle in a single country.
9 August 1965 Singapore left the Federation of Malaysia and gained independence. With the new status came a lot of problems: lack of resources (even fresh water was supplied from the Malaysian city of Johor), internal conflicts (a third of the population sympathized with the Communists), unfriendly neighbours, a motley population. With all that was necessary to deal Lee Kuan yew, who on 3 June 1959 and held the post of Prime Minister. He had a distinguished career — first training at Cambridge, then studied law and participation in trade unions. In 1954 he was elected General Secretary of the party "people's action", which after 5 years became the ruling. Under his leadership, the country with a million inhabitants, a territory in 718,3 sq km and a terrible corruption of the margins of the world turned into a progressive state, the second in the world in the degree of economic freedom and GDP is five times bigger than Russia's.
In a competitive state should not be corruption
Already at the time of independence, Singapore has suffered from corruption on an unprecedented scale. Lee Kuan yew said then it was as if the status quo: people were openly accepting bribes, it was a part of their lives. He immediately began to take action: decision-making procedures were simplified, the laws were removed any ambiguity and prescribed specific punishment for each crime. They were sharply raised the salaries of judges: in the 1990s, they reached more than one million dollars per year. Established an independent anti-corruption body to investigate even the activities of the relatives of the Lee Kuan yew civil Servants in positions of responsibility was raised wages to the level of top managers of large corporations. According to Lee Kuan yew, all of this was necessary, because otherwise Singapore would not become a competitive nation.
When we came to power, we decided to put an end to it — otherwise we would not be able to survive. Our neighbors have huge resources — oil, gas, wood, they have rivers and hydroelectric plants. We are only a small island. How can we survive? We had to start to live by other principles: you're a grafter, and I'm not, your economy is inefficient, and we have it backwards. <...> Start with, put three of their friends. You know what, and they know that. Size: 718,3 square kilometers
Population in 1965: 1 million
Population in 2012: 5.3 million
GDP per capita in 1965: about $ 500
GDP per capita in 2014: $78.8 thousand (for comparison: US GDP is $52.4 thousand; Russia's GDP — $14.7 thousand)
420 executions from 1991 to 2004
140 place in the press freedom index out of 167 (reporters without borders, 2005)
Do not forget about education because without it a society will not develop
Lee Kuan yew understood that it is impossible to create an economically strong state on the shoulders of a single generation. Therefore, in the 1960-70 years, was reformed education system. The English language became mandatory in all higher educational institutions teaching was conducted on it. The government spends large sums to the training of Singaporean students in the best universities of the world.
When did all these events, I still did not understand what is the role of talented people, especially the businessmen, nor the fact that educated, talented people are those yeasts that cause the society to grow and convert it.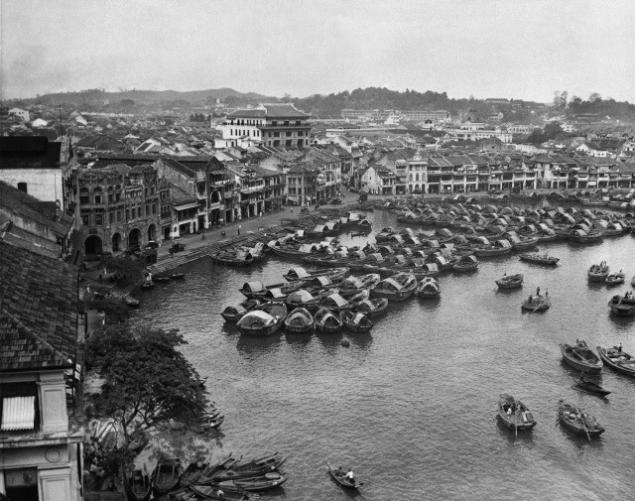 Singapore in 1941
You need investment
Singapore is a very small state. On its territory there are virtually no useful resources. Accordingly, in order to survive, the country had become attractive to investors. Introduced a unified, clear and simple tax on corporate income in the amount of 17%, regardless of foreign this organization or not. While there is a scheme of full or partial tax exemption for both new and existing companies. The investor and his family even have the right to relocate to Singapore. In the end, at the expense of American multinationals in Singapore, the Foundation was laid for high-tech industry, but now the country is one of the leaders of electronics manufacturing.
In a report to the government, I complained: "There is at the same time to talk during lunch, not allowing himself to drink not to lose the sharpness of thought is quite difficult, but that's the price we pay to get American investments".
Control and harsh laws — it's not so bad
, Lee Kuan yew managed to build a very clearly structured, rigid, but at the same time a very efficient system. Singapore is one of the most severe current legislation — from 1991 to 2004 was executed 420 death sentences for drug abuse is one of the highest indicators in the world, some crimes are punishable by whipping with sticks. The government significantly controls the lives of its residents, but at the same time it has a reputation as a fair system, the results of which speak for themselves: low crime rate, superior health care system, one of the world's best systems of public education. For interfering in the lives of citizens of Singapore called "government-nanny". Doesn't sound too pleasant, however, Lee Kuan yew, nothing against that label had.
I am often accused that I'm interfering in the private lives of citizens. If I didn't do it, we would not have achieved what we have achieved to date. And I say without a hint of regret that we would not have achieved such economic progress, if I do not interfere in personal Affairs. Who is your neighbor, how you live, why you make noise, how you spit or what language you speak — we decide what's right. No matter what people think.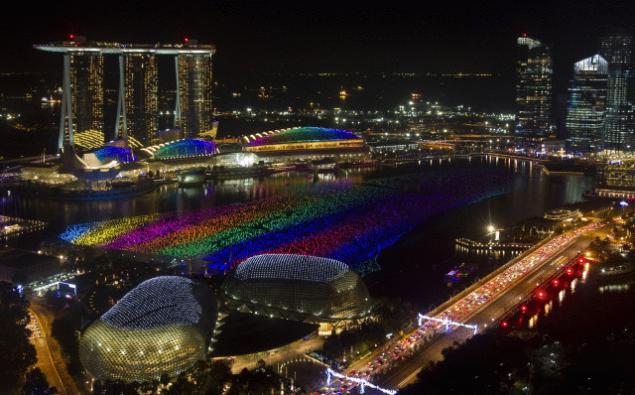 Singapore, Marina Bay Sands, 2014
The nation should harmoniously coexist in a single country
Singapore is a very multinational state. The indigenous population makes up only a small percentage, the rest Chinese, Indian, Arab and other immigrants. The government managed to resolve the national question, without introducing strict immigration restrictions in the 1960s introduced the principle of harmony, which States that all Nations should coexist without interfering with each other. It is still in effect in 2005, one Internet user was sentenced to months in prison for racist comments. Thus, Lee Kuan yew has managed to keep specialists in the country and ensure a stable cultural interaction between different ethnic communities, but also attract a huge number of bright minds from other countries.
Not all leaders shared my views on the negative effect of emigration.
When in the early 70s I said to the Prime Minister of Malaysia, tan Razak that Malaysia was suffering from a "brain drain", losing many highly educated Chinese and Indians that have migrated to Australia and New Zealand, he said, "Is not "brain drain" and leak problems.published
P. S. And remember, only by changing their consumption — together we change the world! ©    
Source: apparat.cc/world/lee-kwang-yun/