Chinese "Oaf"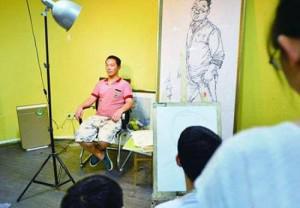 29-year-old Kwan Zenhuan caused great sensation on Chinese social media sites to their disgusting behavior, he is suing his parents because they do not take care of his financial needs.
Despite his age, Kwan seems to expect that parents will continue to keep it. Because of this attitude toward him, he got the nickname "man-child." Kuan said to quit school at an early age, school and instead learned to work with wood, and also studied hairdressing. He even tried to work for a while, but he said, was mistakenly accused of theft and beaten. It was then that he came to the conclusion that he has no ability to work, and just stopped working. According to media reports since the "child" was leading an idle life in the house of his parents. All his spare time he either slept or played on her smartphone. Order tired of such behavior of his son, the parents asked him to leave home and start taking care of themselves.
"I no longer possible to contain it. Every time he calls, he asks for money, "- said the father of Kuan. But Kuan firmly believes that he is entitled to financial support for parents. "I have no abilities. Why they can not provide me? "- He said.
In retaliation Kuan sued his parents, asking them to take care of him. He began working part-time artist's model at art school, but he was not too happy.
«It's exhausting - to be an artist's model - every day I have to sit for 4-5 hours. And there is no stability. I can at any time be left without work. I can not contain myself, my parents have enough money to take care of me, but they do not, so I want to file them in court ».

blockquote>


Interestingly, this is the second time we hear of adult Chinese men to sue their parents. About a month ago, the network appeared mention of Zou Qin, who is also 29 years old and who also refused to go to work, and want to be kept parents and his girlfriend. Experts believe that such behavior is a natural effect of China's "one child policy", which appeared as a result of a whole generation of spoiled teenagers with a distorted sense of right material content.

via factroom.ru