Romibo is a kind of robotic pet, which is used for teaching social skills to children and adults with special needs.
Usually robots are not seen as megaommetry creatures. However, the growing number of children demonstrate the development of their social skills due to the Romibo is a small furry robot.
Romibo robot for social and family medicine Aubrey Schick, who has a master's degree in interaction design human-computer Carnegie-Mellon University in the us city of Pittsburgh, and Garth Seglina, who has a PhD in robotics of Carnegie-Mellon. According to Chic, the name of the Romibo was not chosen by chance — it is consonant with the phrase "robot for me" (job for me).
Romibo, the sale of which is carried out by the company Origami Robotics in Berkeley, California, first appeared in classrooms in 2013. In April of Origami Robotics sent the first batch of teachers in the second phase of testing of the robot. Currently, 35 robot Romibo can be seen in six countries: USA, United Arab Emirates, Australia, Denmark, South Korea and Spain.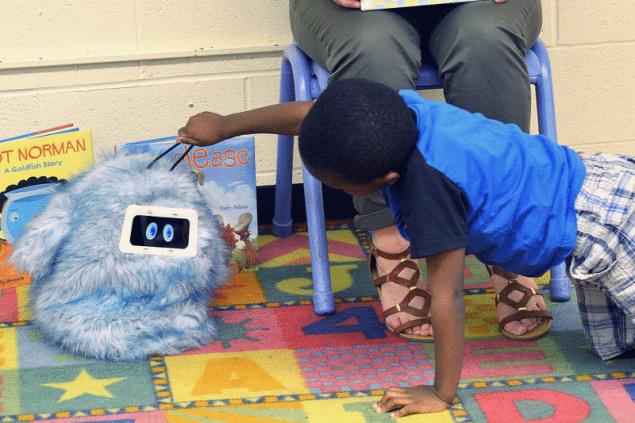 Five Yes' Bay met with Romibo at the Academy of international studies Barack Obama in Pittsburgh, USA.
Therapeutic programs, such as Fine Art Miracles with headquarters in Pittsburgh, Romibo use in schools, libraries and community service centers to help children suffering from autism spectrum disorders improve their social skills and reduce anxiety.
Fine Art Miracles is developing a special programme of lessons in art, literacy, communication skills, mathematics with the involvement of the robot for children with autism and without, developmental disorder that causes significant problems with social interactions and behavior. The organization also offers exciting art lessons and art therapy for people of all ages who have physical, intellectual, and emotional problems.
The program with the assistance of robot was first implemented in October 2013 to teach art to children with autism. Since then, Tess Lojacono, President and CEO of Fine Art Miracles, and also a graduate of Carnegie-Mellon, found that Romibo can also train children without autism.  
Romibo tells the stories of children of preschool age in the Academy of international studies Barack Obama in Pittsburgh, USA.  
The universal reaction to Romibo — delight, ' said Jane Cinicola, senior specialist on robotics, Fine Art Miracles. — Children fully involved and really delighted.
Romibo moves on two wheels and weighs 3 to 3.5 kg. It's small enough that the child could catch him. His face resembles a human, but a bit simplified. Thanks to the eyes on the computerized screen, Romibo can monitor people and keep my eyes on the interlocutor, while blinking to prevent too intense a look. Any other facial features have Romibo no, but he can talk. Ipad that controls its movements, will also allow Romibo to speak words and phrases typed on a tablet. According to the developers, the teachers do not have to be technically savvy to use Romibo as to manage it as simple as using a smartphone app.
Although Fine Art Miracles is the only organization on the East coast, which uses social robots as a therapeutic tool, this practice is not new, said Jared Peters, co-founder of Origami Robotics.
Psychotherapists use robots to help children with autism somewhere in the 1990-ies. But some types of robots can cost up to 43 thousand new Zealand dollars, making them inaccessible from a financial point of view to most of the local treatment programs.
According to the web site of Origami Robotics, Romibo - a more affordable and cost 698 $ (NZ $ 1021) for each.
Children suffering from autism spectrum disorders, Romibo helps to improve language skills, it also teaches them social behavior. Children learn to communicate through imitation. Since children with autism perceive Romibo better than a man, it is easier to simulate.
A broad range of voice tones, facial expressions, sounds, characteristic of man, can dumbfound a child with autism, said Peters.
Even children without development issues can benefit from working with Romibo, says Loiacono. — Some children from difficult socio-economic backgrounds and children who are not disclosed due to fear of failure, forget about his insecurities and better focus. The end result, as the kids like robot and they want to do what he says. We took the kids with behavioral type is "I can't" and see how they change.
While the success of using robots like Romibo, as tools for social therapy has been repeatedly confirmed, still it is not clear why such progress from a scientific point of view.
I guess because the robots are the embodiment of the people, then they evoke a more familiar reaction in contrast to someone who is behind a screen, said Peters.
This is one of those cases where we see evidence, but the actual answer to the question "why?" is quite speculative.published  
P. S. And remember, only by changing their consumption — together we change the world! ©
Source: www.robo-hunter.com/news/pushistii-robot-romibo-pomojet-uluchshit-socialnie-naviki-detei-s-autizmom