Greetings to all fans of cottages and delicious food! I want to share with you his favorite dish of mushrooms, which requires no special ingredients, spices and utensils. It can be cooked in any country where there is a stove and oven.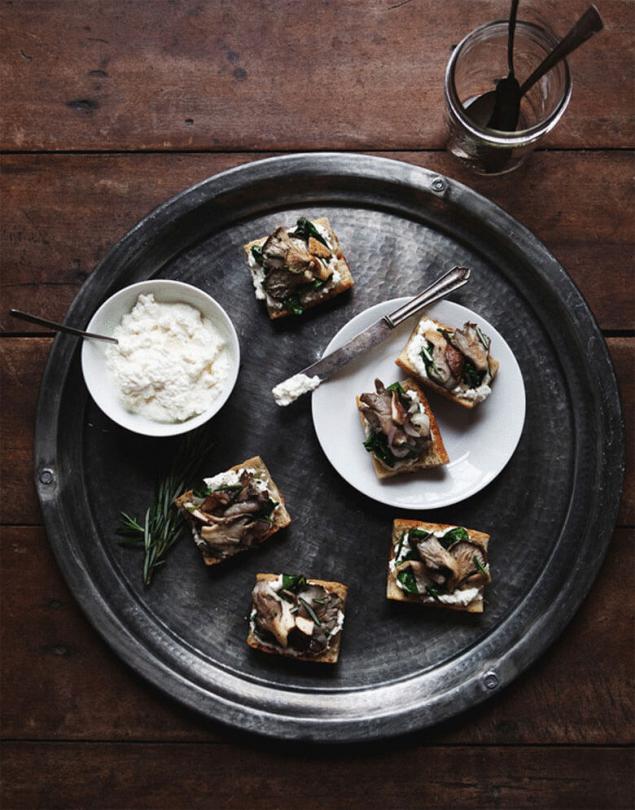 So, for the preparation we need the following products:
— Two baguette
— Forest mushrooms 300-400g
— Sour cream 2-3 tbs.
Two tomato
— Onion 1 PCs.
Cheese 100 -150 g
— olive oil
Sol
The method of preparation.
My mushrooms, cut into small pieces. Also cut into cubes onion, fry in a pan with sunflower oil.
After 5 minutes, add to the onions mushrooms, and a little bit of your favorite oil.
Even after 10-15 minutes, add to the onions and mushrooms 2-3 tbsp sour cream and simmer it all until tender about 10 minutes.
And in between these manipulations, it is possible to prepare the following ingredients. Pour the tomatoes with boiling water and remove the skins, cut into thin slices. Grate cheese on a coarse grater.
Now on to the main part of the stuffing baguettes themselves. Cut the baguette lengthwise, remove a portion of the crumb, to get a small cavity for the filling. Fill the recess with a filling of onions and mushrooms, sprinkle cheese on top, decorate tomatoes and greens.
Put the baguettes on a baking sheet, pre-Mat-a baking paper. And put into the oven for 10 -15 minutes.
Our dish is ready.
In the end, I would like to add that the stuffed baguettes in different ways, adding a variety of ingredients from ham to pickles. But, I believe that wild mushrooms are in themselves self-sufficient and unique taste that kill meat strongly recommend. Try my recipe, it's delicious and available in any country! published  
P. S. And remember, only by changing their consumption — together we change the world! ©
Source: www.7dach.ru