Few people really know how to say "no". After all, there is a place where I am no longer willing to move their border. And coexistence with humans (in the family, kindergarten, class, camp, University, work) involves trade-offs, i.e., the continuous progress of the border in an unknown direction. It is believed to give good. To enter someone's position is right. Most languages have the equivalent of our expression "put yourself in my position".
"You what, sorry?", "give, you're a girl", "give you a boy", "give, you're older," "give, you're smarter", "greedy-beef," "God ordered to share"...
He heard their familiar voices? I am.
The middle-aged (and older) are usually very easy to yield: completed years of training. Worse than the other: it is not clear where the limit is. How many times have you to give? How many times to share? How much (time) to lend? When to ask money back? How to do it, so no one is offended?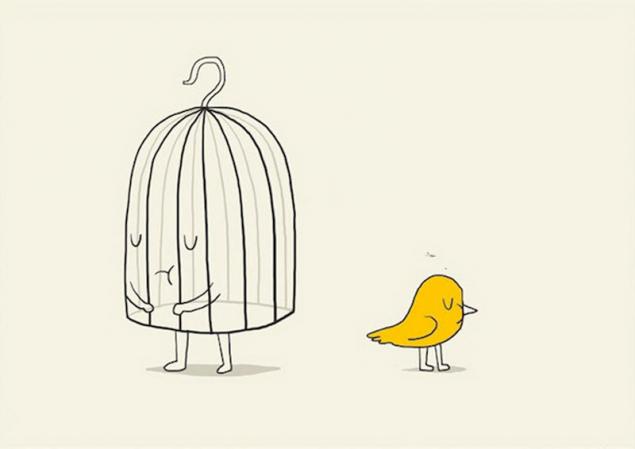 A world where people do not know how to refuse, gives rise to parasites and crazy. The parasites continue to ask and ask, crazy continue to give and give. Some are eternally willing to share, move, skip forward, lend, give time, turn a blind eye to theft or treason. Others used to ask endlessly, sitting on another chair, take other people's things and other people's food and expect supplements, loudly banging a spoon on a bowl. You might be surprised if I now say that all this – the same people.
The lack of timely "no" is driving everyone crazy: and those who avoid, refuse, and those who are accustomed to take too much. If you remember that in nature everything is harmoniously interrelated, it is clear that homeostasis once forever giving puts before necessity to start to take back: or you will die. What to do if you have so many take, and you were agreed, there's nothing left? The stolen loot, of course.
Parasites and crazy roles change all the time. Today I gave her hesitate to say no, tomorrow I will take someone else because "it's normal". Because the norm is considered to be anything if it's... average. "I gave you a month ago or to do your job in the output, so I have a "moral right" to not finish off you. Ah, I didn't warn you? You – too." A world without borders – the world of psychopaths.
"No" is sobering: there is a border. One decides, "enough is enough", and even dare to say it out loud. "No," he says, "the fifteenth cookies (eighteenth time in debt) will not. The one to whom it is addressed, thinks, really, have to get up and go for cookies myself (finally). One learns to deny, the other learns to do something by myself. And they both now know that the limit exists. And both the better for it. published  
Author: Pauline Gaverdovsky  
P. S. And remember, just changing your mind — together we change the world! © Join us at Facebook , Vkontakte, Odnoklassniki  
Source: bilet-v-zirk.livejournal.com/tag/%D0%BB%D1%83%D1%87%D1%88%D0%B5%D0%B5