Wired magazine published a fascinating story Jason Dance about how the elite of Silicon valley decided to destroy and re-build education. We put him with some cuts.
Salman Khan sits at the head of a long table surrounded by a dozen children, and talks about Hitler. This is the end of June, it's been nine months since the launch of the Khan Lab School, an educational laboratory Khan in mountain view. In most schools students counting the minutes until summer vacation. But Lab School abandoned most of the traditional attributes of schooling — including holidays. And children here do not seem especially restless. In any case, no more restless than any randomly selected group of 9-12 year old children sitting in a warm room and analyze the decline of Weimar Germany.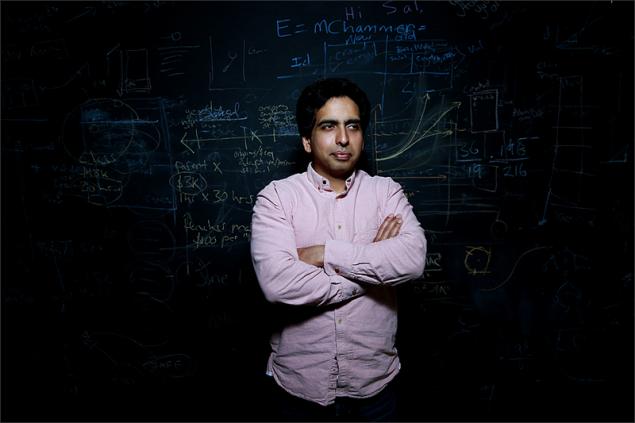 Khan — the famous Creator of Khan Academy, an online colossus, which offers thousands of hours of free video courses to anyone with Internet. Many influential in the world of high-tech figures — from bill gates to Walter Isaacson — Khan Academy lauded as a breakthrough because it is a system that allows students to learn at their own pace and the most convincing example of technological revolution in education.
But a few years ago, Khan began to say that video tutorials is not enough. They complement traditional education, but they need to rethink the entire system.
He wrote the book The One World Schoolhouse, which offers completely abandon old methods — homework, lessons, 40-50 minutes, assessments, and classes organized on the basis of age. Khan proves that the traditional approach-where all students learn the same thing on the same schedule — it is primitive and anachronistic.
Children are able to learn faster, make you slower, and many are forced to move on before they really mastered the subject, and condemn to life full of misunderstanding. Instead to inspire children to creative ideas, reading lessons are intolerably boring lectures and demand conformism and obedience. "This is a passive way of learning, and the world requires more active processing of information," writes Khan.
He's not the first acts with the criticism. The reformers of education have been saying this for a century. But Khan said that the digital revolution creates opportunity for more flexible, inspirational and accessible model of education. He proposed to create a school where children work at their desired pace and master the key skills with the help of the software, while teachers monitor their progress and help if necessary. Most of the day will be spent on creative projects in mixed age groups.
Today, he recognizes that many of these ideas are theoretical and utopian. But technological entrepreneurs, they seem to be irresistible, and they raised a million dollars to Khan was able to open a school of their dreams.
Engineers and programmers attempt to alter the school system for decades. But progress is slow. 100 million invested mark Zuckerberg to the schools of Newark, disappeared without a trace, and the plan of the Los Angeles authorities to issue each student an iPad failed. But it's hard to blame parents and teachers in the conservatism. Technology industry advocates failures and mistakes on the way to their omelette you have to break millions of eggs. But what works in business, it is inappropriate when talking about children.
Therefore, technologically savvy parents and entrepreneurs are building their own alternatives. In the technological community came into fashion home training. In Google it just rolls over, says Han. Elon Musk hired for their children, local teachers and opened a school for 20 people without the ratings and classes. Zuckerberg and venture firm Andreessen Horowitz participated in raising $100 million for the project AltSchool — private educational program is a former employee of Google. Facebook, along with Charter schools, developing new teaching software, to make education more flexible and individual.
Nothing new: children of wealthy people get honey, fine education, and all the rest at the mercy of the state system. Khan admits that while most of the kids at his school — from a rather wealthy families in Silicon valley, but says that in his school tuition is $22 000 a year — far less than many private schools, especially since the lessons are held year-round and classes can last almost all day. He plans to reduce the cost of training up to the amount that public schools spend per student.
And he wants not just to organize one fashionable school, but to develop and test a new model of education that can be implemented in other schools in America and in the world. His team carefully monitors the progress of each student and shares them with parents and employees. In a sense, pupils of the Lab School laboratory mice which are subjected to never-tried ideas, and then adapt these ideas and try again.
Here the students returned from lunch, stood in a circle and share praise.
"I want to support Mary, because when nobody wanted to take me to the bathroom, Mary is made to declare one of them. — This speaks of the consciousness and social intelligence."
After each compliment all the students waving their fingers and chanting: "Fantastica!"
These moments can happen in any other school, but there is a difference: the school Director Orly Friedman asks students to write every comment in Google Docs. Eventually, says Friedman, it will have a detailed analysis of the character development of all students.
This is an excellent illustration of the Lab School approach to education: on the surface everything is so emotional, but behind this lies meticulous collection of data about all aspects of academic and social achievements of the student. Each week students set themselves academic goals — how they plan to proceed in mathematics, how much time to spend on reading, etc. during the week they use Khan Academy and other educational software, trying to accomplish these goals. All is fixed, so that teachers can see where the student is having problems and offer assistance. In the afternoon children usually are engaged in big and real projects: for example, to rebuild the school library. The class selects a common theme for the next two months. Last time it was "endangered species".
Unlike many progressive schools, Lab School attaches great importance to the test: students assess three times a year. "This school is unacceptable to grow below expectations, says Khan, and I hope that they will exceed expectations in two or three times."
Khan fantasized about building such a school from my University times. But whenever he struck up conversations about it, he was disappointed. Real estate in mountain view's outrageously expensive, and liability insurance — a pain in the ass, not to mention the bureaucratic obstacles that were arranged by the local authorities. But in 2013, Han thought about what education will get his four year old son. This year it held its first summer camp for young children, and one of the parents began to persuade him to turn this into a real school. "It's now or never," thought Han.
A typical school day
Khan Lab School, like a real startup, constantly changing my schedule to adapt to the current task. Different age groups follow different programs, but here is an example of one day in the Lab School.
9-9:15:
morning meeting
. The children will learn about the latest news, learn about each other's work and communicate.
9:15-9:45:
advice
. The disciples privately communicate with their mentors (teachers) and set personal goals.
9:45-10:45:
Lab literacy, part 1
. Teachers talk about basic skills, from developing ideas student projects to writing blog posts.
10:45-11:00:
break
11-11:30
Lab literacy, part 2
. Teachers assess reading skills and work with children on issues of concern.
11:30-12:00:
the internal well-being
. Students practice awareness and improve their attitude.
12-12:45:
lunch
12:45-1:00:
the daytime meeting
. Another school-wide Assembly
1-2:30:
mathematics and programming
. Students practice math with Khan Academy. Younger children communicate more with teachers, and the older work on joint projects.
2:30-3:00:
physical activity
, including sports and gardening
3-4:
housekeeping, reading aloud, rest
4-6:
work in the Studio
. This is not a required part of the graph; students work independently and teachers to help if necessary.
In the first year the school had 30 children, mostly children of employees of Khan Academy and their friends. Space for programming was identified, Google. Khan, meanwhile, has rebuilt his house and his wife just gave birth to her third child.
He hired a couple of teachers who have used Khan Academy and were fans of his book. 15 Sep 2014 the school started.
Lab School children play an active role in the curriculum, and a significant part of the school day is devoted to actual discussion of the school — for example, the development of new lockers for clothes and backpacks, new power system and thinking about how to integrate into school life a new set of students in September. At such moments children remind technology entrepreneurs: they talk about "rapid prototyping" and "design thinking".
Not everything still works. In July, one outstanding teacher from Virginia, whom Khan hired, resigned. It struck the whole team. "But this is a lab, says Christopher Chan, a new employee of the Lab School. — I was worked with Bacon, not because he knows all the answers, but because they have to try things and to understand what can be wrong".
But most parents with whom I spoke — many work in the technology industry, was excited about the new approach to education — the principle of "move fast and break something." The idea that not everything is perfect, they even attracted: they thought that children can get acquainted with the school at the time of her birth and the setting. "My daughter is by nature not very prone to experimentation and risk, says one mother. And here she will be able to take a risk and try something new."
I assumed that from this point of view, the school will eventually become less interesting and lose the spirit of experimentation. But team Khan insists that the process will never end. Experimentation is not a means to an end, but the goal itself. They learn themselves and teach their children to work in the new environment — environment of the XXI century. Sometimes eggs break, not in order to make the perfect omelet. Sometimes the whole point is to break the eggs.
Lecture Khan at the TED conference:  
P. S. And remember, only by changing their consumption — together we change the world! ©
Join us in Facebook , Vkontakte, Odnoklassniki
Source: ideanomics.ru/?p=4981