The living room is the center of any house and apartment, in this room people gather in the evenings the whole family to relax and discuss future plans, here spend family celebration and it is here are hosting. No matter where you live in the apartment or in a private house, to the design of the room should be taken seriously. Every year some new-fangled trends in interior design are replaced by others, and 2016 will be no exception. Thus we offer you to look at photos and discuss modern living room design ideas that will be relevant in the new year.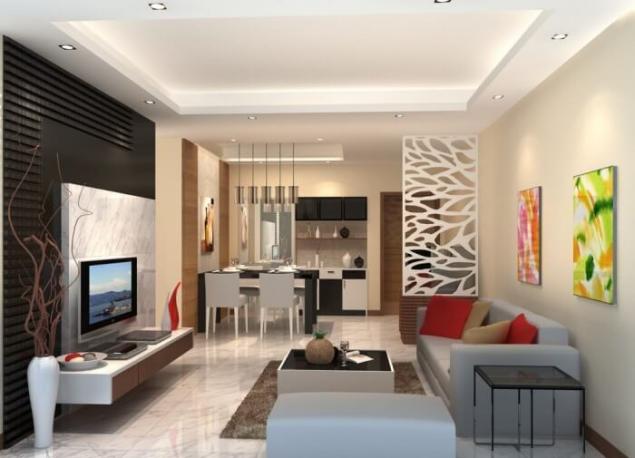 Modern design guest room
To the interior of your guest match with fashion trends in 2016 and have long been relevant, is not necessary to follow trendy ideas to make repairs and to buy fashionable Wallpaper. A more rational solution is to choose a certain style, for example, the classic, which can be from time to time to update the new-fangled parts, interesting accessories and other decorative items and novelties.
Today many owners are concerned about the construction of his home in the modern style. That's why people are viewing pictures modern interiors. The overall design of the house, like a guest room in particular, is of great importance. Designers are advised to pay particular attention to the stylistic design of the apartment and the hall.  
Tip:
forecasts of leading experts specializing in trendy interiors, say in the new season the most popular will remain ethno-, eco-style and minimalism. Will not hand over their positions and eclectic. Whatever style you prefer, remember that in 2016, the need to minimize all the excess and wealth in the interior.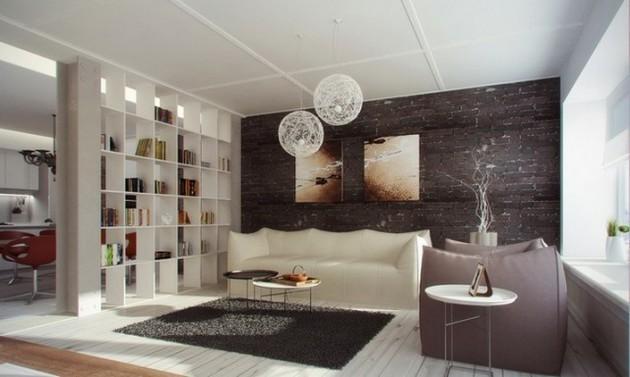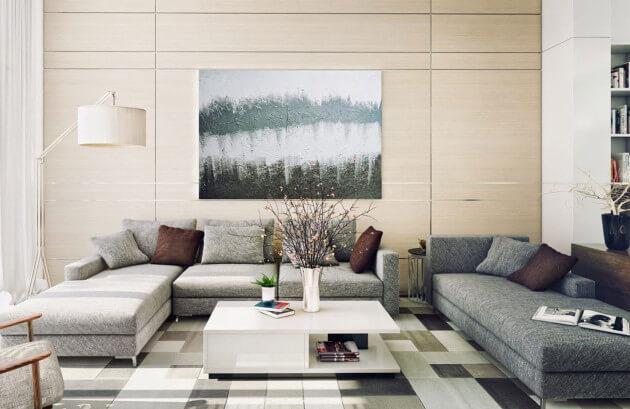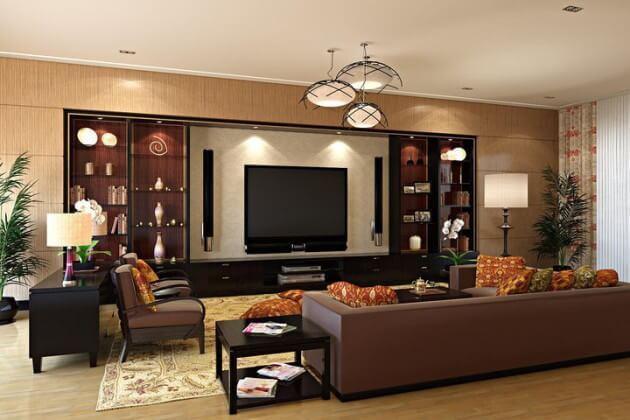 Eclecticism: a mixing of different ideas in one room
the Feature of this area is a combination of several (two or three) of diverse styles, that quite successfully and harmoniously together in the same room. You think it's impossible? Look at the photo, where the right combination of diverse ideas looks like a single composition. Focusing on eclectic, please note the following points:
the details must help in the proper organization of space: all must be traced rationalism;
despite the fact that the guest may blend several styles, color should be unified and well thought out;
to achieve harmony will help use the same textures.
"flashy" accents should be the minimum, if you have already managed to see the photos, you probably noted about this time;
in the design of the window opening plays an important role competent drape. Buy beautiful tulle and curtains in the room with the wings, tassels or fringe. If the curtains have little in common with the interior, decorate them with valances or decorative holders that will allow you to visually unite these elements.
An audience that is sympathetic to the eclecticism, is first of all a strong personality, prone to independent decisions and presentations of their individuality, are able to appreciate unconventional ideas.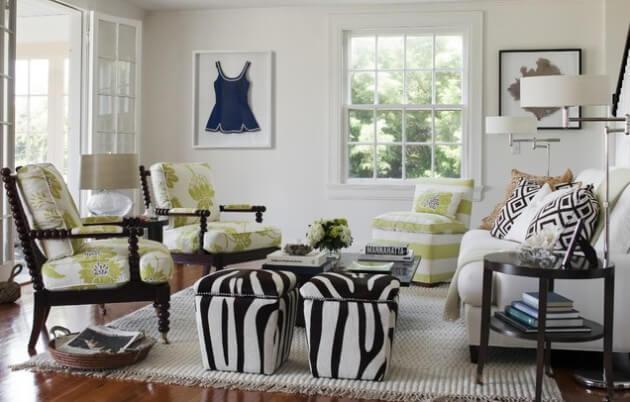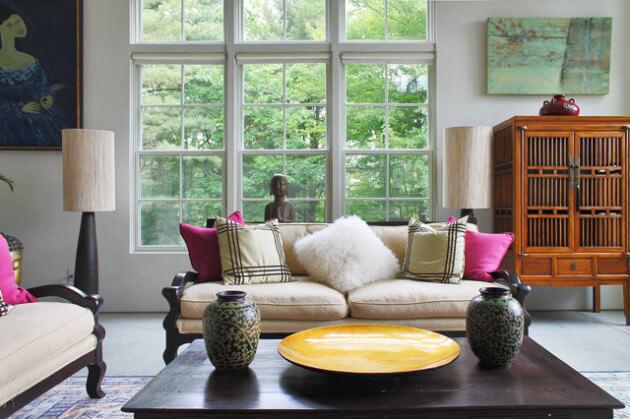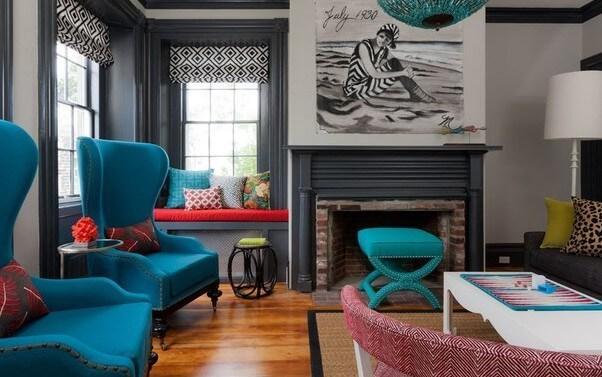 Ekostil: breath of nature
Design in eco-style should be performed using not only natural, but environmentally asnych materials. Flax, jute, calico, poplin bike and will be a perfect base for curtains, upholstery and other textile materials. The carpet in eco-style can be made of nettle, flax, sisal, bamboo or wool. And wool is the traditional material for carpets and rugs. Undyed wool with minimal processing can be considered environmentally friendly and ideal for the room are designed in the best traditions of eco-style. Speaking about the distinctive features of ekostilya, it is necessary to highlight that:  
particular attention is given to natural materials, which help to create the right atmosphere in the room;
an important role plays the presence of free and clean space: in the eye should not throw anything extra;
great attention is paid to lighting, it should be soft and natural;
the furniture should be made of wood.
In the room will look good photocurtains with a pastoral figure, and thematic landscape. If the room is small, then the photostory with large images it is better to replace on "afar" picture. They visually increase the space. If the room has low ceilings, they can be a little "lift" by ordering photocurtains with vertical pattern. In the narrow room appropriate curtains with a horizontal pattern.  
Tip:
photocurtains with an animal print will be a great addition not only for eco but also for Africa. Most importantly, choose an animal from the relevant habitat (for example, photocurtains the elephant for India, with a lion or a Zebra – to the African Savannah, etc.). The Wallpaper in this case it is better to glue a solid.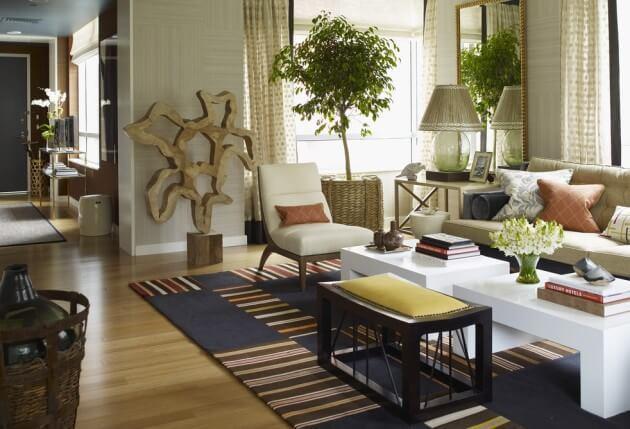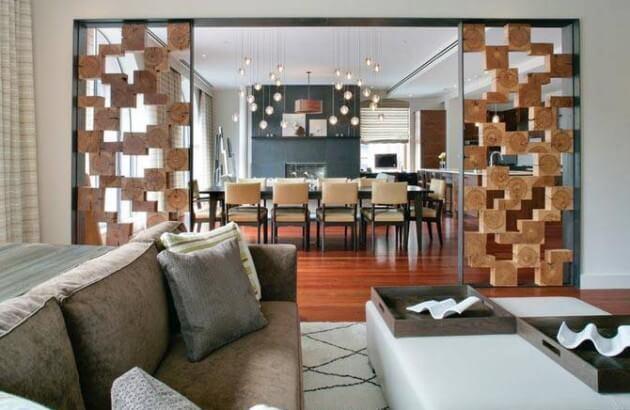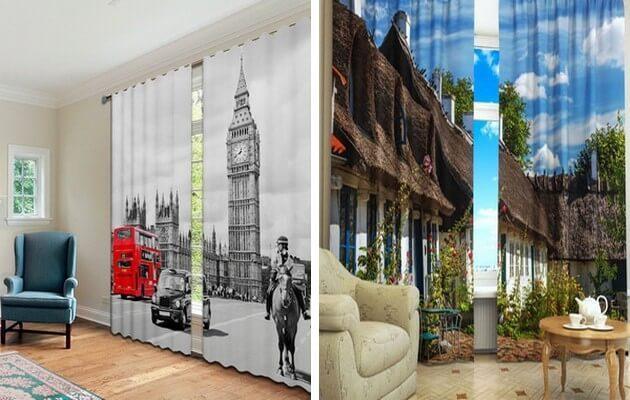 Minimalism: the elegance of simplicity
Minimalism is a good solution for small or small living room. Leather furniture simple forms, austere facades, simple geometry shapes and deep shades of the main differences of this style.
The leading value in minimalism has competent lighting equipment. In a minimalist and high-tech interiors should be plenty of light. Here to replace traditional blinds with curtains, lambrequins and tulle usually come to Roman, roller and Japanese curtains. Perfectly fit into this style and photostory. They can become the main element of decoration of the room, and can only underline the main idea, setting off the rest of the elements. The following photostory can contain an image of urban landscapes, famous tourist centers, etc. Choosing photocurtains, keep in mind that they look good on the monochrome Wallpaper, deprived of the relief and ornament.
In this room you can lay a soft carpet and on the sofa to put decorative pillows in different textures. For small guest rooms fit a small wall in the form of smooth modular sections provided by mechanical pressing. Modern walls are often made from recycled wood or plastic, and the top is decorated with a decorative glossy film. Shining coating of black, white or bright colors will bring at dynamic touch.  
Tip:
these wall due to its shape is also suitable for small living rooms, because you can attach them to the wall, freeing up the necessary space on the floor.
The main differences of minimalism:
concise and modern form;
strict and saturated colors;
all items of furniture, including furniture and fixtures should be created from innovative materials that are proper metal and chrome plating.
Minimalism typical of pure color, smooth surface, in this interior will look good mirrors, glass and various stone products. Here every detail is important, because the abundance of light exposes all the flaws.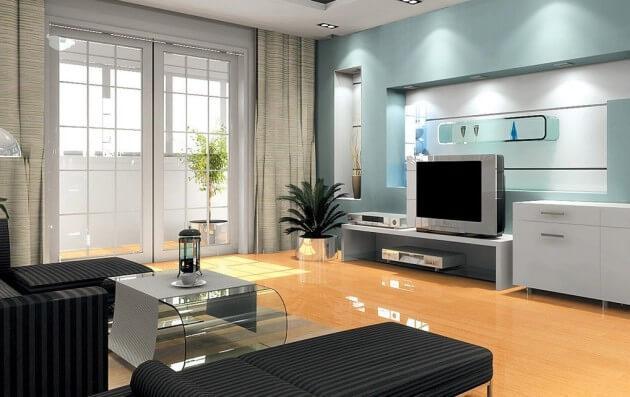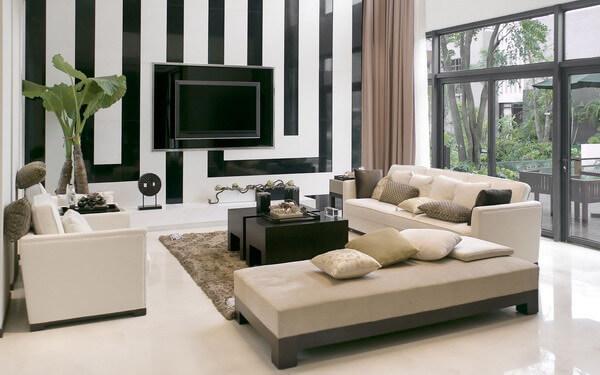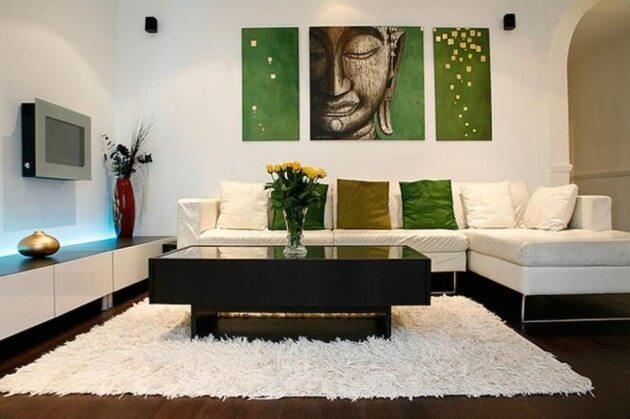 A timeless classic,
Classical style for more than 500 years. Despite the abundance of newfangled trends in interior design, it will always be popular, because classic is not boring. It creates a unique feeling of comfort and elegance, and all this is intertwined with luxury and good quality. However, the guest, decorated in this style, does not look too grandiose due to the presence of the correct geometry and muted colors.
The basic signs of the classical style:
precise geometry, high ceilings and feeling of space;
expensive natural materials: leather, wood, stucco, stone;
light pastel Wallpaper, walls and ceiling;
as the flooring is most often used flooring dark tones;
curtains with swags, fringe, tassels and original lacing create an atmosphere of home coziness and calmness. In the new season are as relevant as ever layered curtains (curtains tulle);
crystal chandeliers, floor lamps and lamps give the room grandeur;
antique furniture adds charm and gentility.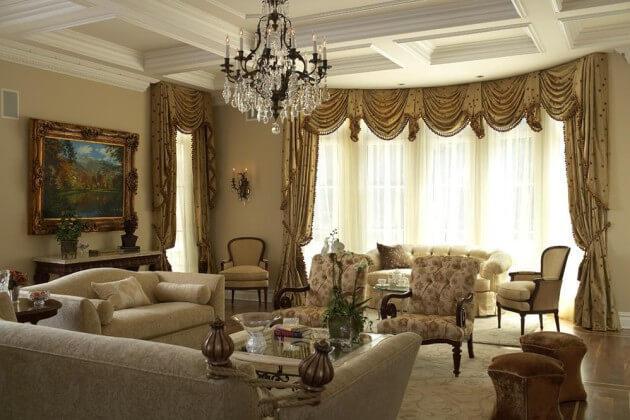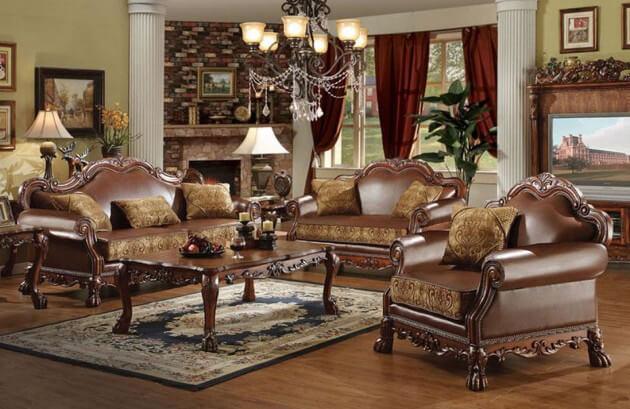 Actual color 2016
Main fashionable color of the next season according to Pantone Inc. (a recognized world authority in the field of color) – "Marsala" — a muted Burgundy with a brown undertone. Elegant and rich hue is so like the designers, now it can be seen in many new-fangled living rooms. This color is the perfect choice for curtains, Wallpaper, rugs and furniture upholstery. In addition, the "Marsala" is perfect not only for the audience but for the kitchen or dining room. Modern curtains for kitchen in this color look appetizing, they will easily create an atmosphere of comfort and warmth.
No less interesting and the grey hue of this season, entitled "storm weather", it blows cold, this color is ideal for minimalism and high-tech style. By the way, he is perfect in combination with the sensual "Violet Orchid" and the elegant "Cashmere rose", which is also the height of fashion this season.
Fans of warm colors can choose orange-coral shades. I wonder will look blue-green tones. Fans of eco-style is likely to prefer olive and green shades, which are full of fashion photo catalogs. They are equally fit well in the decoration of not only living but also the cuisine. Not lost its relevance beige and brown tones. It is also in fashion, the contrast of black and white.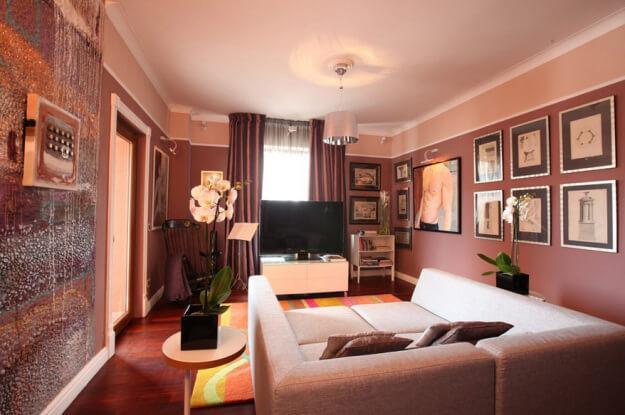 Photo: living room designed in the color "Marsala"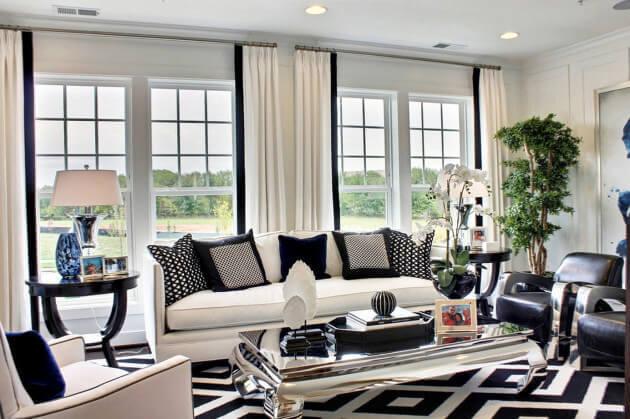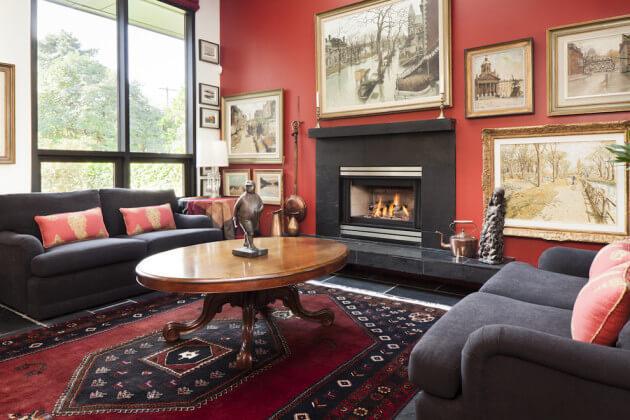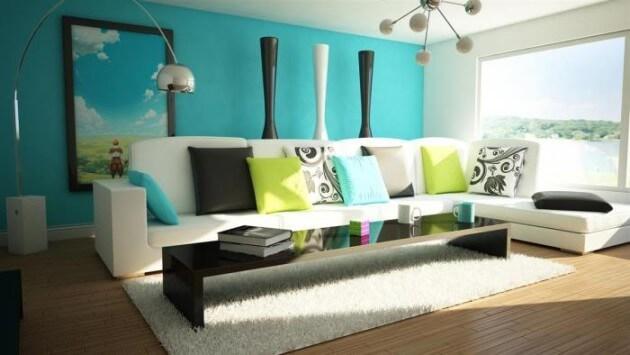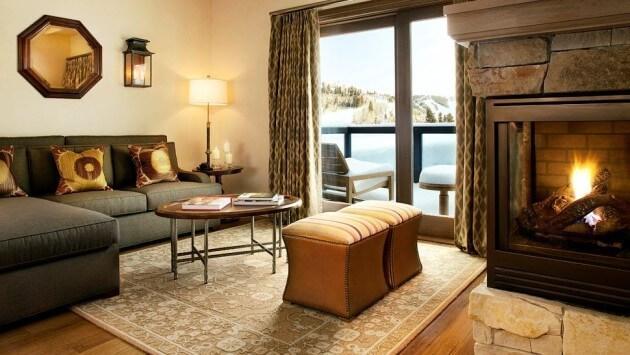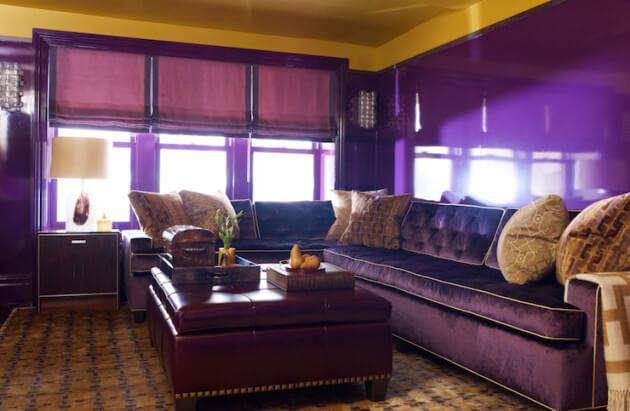 Photo: living room designed in the color "Amethyst Orchid"
In summing up
so, summarizing the above, we can draw the following conclusions: to the decoration and design of your guest have been trending in 2016, don't forget to consider:
the availability of free open space, full of sunlight and clear air; a minimum of furniture. It must have broad functionality; creating simple interior, do not neglect the comfort; skillfully combine incongruous: use the furniture and decor are different stylistic orientation; guest decorate with plants and natural materials. The physical sensation of naturalness should suppress visual. Trendy living room interior is almost devoid of any frames and borders, thus providing more opportunities for realization of creative ideas. The combination of styles allows you to create your own unique design, where every detail has its purpose.published  
P. S. And remember, only by changing their consumption — together we change the world! ©
Join us in Facebook , Vkontakte, Odnoklassniki    
Source: intererro.ru/livingroom/dizajn-gostinoj-2016.html