Like green vegetables for cheerful color, delicate taste, vitaminsthe – green we associate with this quality, for the ease of cooking, the ease they give.
Spring always desperately want green, so we often eat young peas, and beans, and green beans, and spinach, and salad, and lots of herbs. Little pupyrchatye cucumbers already smell really, markets appear young shoots of garlic, will soon grow spring Krapivka and sorrel in the stores will lie shaggy heads of young cabbage, dark green outside and pale green inside.
I await with impatience and anticipation. And while he got us a cute little Kale — Bok Choy, which we highly appreciate and are always ready to eat it. One of the Chinese memories – a big plate of emerald green Bok Choy, a little poached, drenched in the sauces, we were ready to eat each day.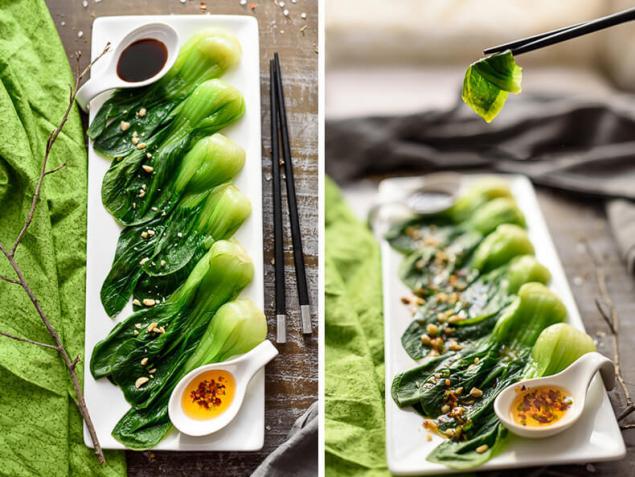 So the question is what to do with this cute little cabbage, are usually not worth it. Although she is beautiful and stirfry, and in soups, but we love most in the simplest form.
Bok Choy with spicy sauce (6-8 kochanchikov baby Bok Choy)
ice
soy sauce
roasted peanuts
For hot sauce:
1 tsp sesame oil
1 tsp hot pepper flakes
1/8 tsp. grated lime zest or lime kafir
1 tsp lime or lemon juice
1/8 tsp spicy chili oil
4 tbsp vegetable oil
salt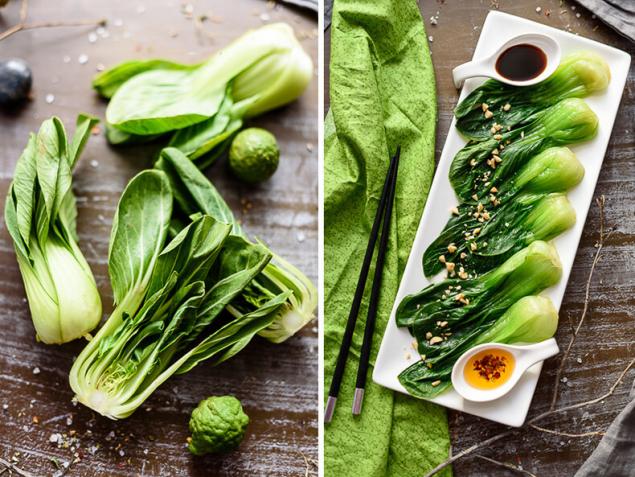 How to cook:
Mix all the ingredients for the hot sauce, stir and leave to infuse for half an hour.
Bok Choy cut in half lengthwise, wash thoroughly under running cold water.
Cook in boiling salted water for 3 minutes. At this time pour into a large bowl of cold water, put it in the ice. Remove the Bok Choy with a slotted spoon and put into the prepared cold water with ice. After 5 minutes, put the Bok Choy in a strainer or colander to drain the water.
Chopped peanuts. Put the Bok Choy on a plate, sprinkle with nuts, pour the taste is spicy and soy sauces.
Of course, Bok Choy is not always easy to purchase in our stores, but there are alternatives like spinach or young Kale.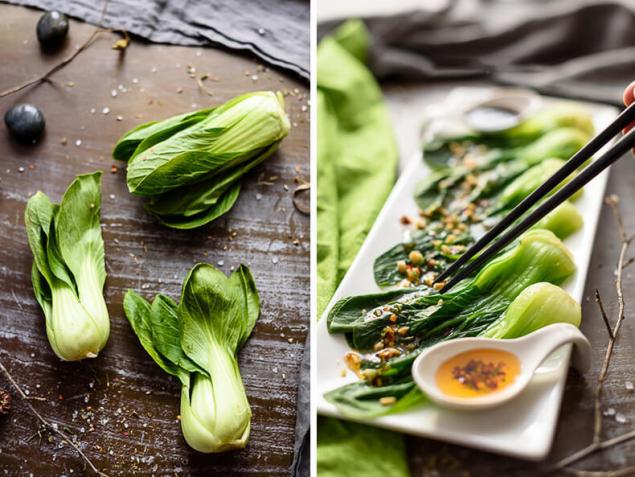 We like this kind of steamed fresh greens, even with no sauces, only lemon juice and olive oil.  
Cook with love!  
P. S. And remember, only by changing their consumption — together we change the world! ©
Join us in Facebook , Vkontakte, Odnoklassniki
Source: zveruska.livejournal.com/161872.html