Did you know that eating spices affects the character, and with the help of culinary wisdom, you can help yourself and your loved ones to improve personal qualities to cope with fears and to harmonize various aspects of life?!
Spices is a unique helpers in our spiritual growth, because they positively affect the character of a person, and knowing the characteristics of a particular spice you can add it to the diet to achieve a specific goal.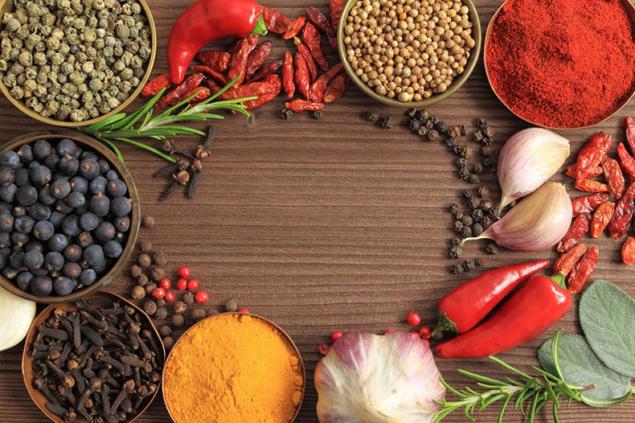 Asafoetida
— this spice in their food will give Your character the tenderness and tranquility. Asafoetida helps to establish good relations with our relatives. It helps to improve the complexion, restore skin elasticity, smoothing fine wrinkles.
Black mustard
— helps to relieve tension and restlessness. Black mustard is able to treat depression, and sleep disorders. A positive effect on the formation of a soft and calm character.
Ginger
— helps to enhance mental performance, improving memory, countering difficulties. Ginger relieves fatigue after emotional or physical tension and stress, and allows all day to stay awake. The use of ginger in food is beneficial to the development of the character of a man of purpose, courage and determination.
Kalindi
— is an indispensable seasoning when you need a swift and clear solution to the problem. Through the use of kalindi in food, thoughts become bright, fast, improves short-term memory, strengthens faith in their own strength and optimism.
Cardamom
— helps to get rid of the stress when you need to communicate with unpleasant people, from thinking about unnecessary purchases. Cardamom allows you to learn to forgive the offender, to avoid quarrels in the family, tolerant of children and elderly people, to be generous.
Curry
— favors the appearance of calm in the soul, the freedom from internal contradictions, laziness and overreach. Helps discreetly and without fuss to solve problems.
Coriander
— ability to develop resistance to the unpleasant factors of the world. Eating coriander in a small amount, it is possible to tolerate rude, arrogant and irritable people. It is recommended to take in food for those who work in difficult psychological conditions.
Cumin
— allows you to quickly deal with bad habits, and become independent from bad opinion and gossip in your address others. Helps to establish a routine, tones the psyche.
Turmeric
— promotes the gradual development of tolerance to daily stimuli, freedom from fussiness, self-doubt. Turmeric develops a calm and sober assessment of reality, gives strength to accomplish the task.
Mangoes
— consuming mangoes, one becomes more alive, happy and cheerful. Appears in the character of openness, optimism, sociability. The understanding of the meaning of life and the joy of life.
Nutmeg
— helps to overcome challenges, quickly find solutions to any problems. Nutmeg promotes an active lifestyle, focus and strengthen the will of man.
Fennel
— relieves fatigue and tension, makes the character more flexible, calm, patient. An ability to gently and gradually solve all the problems. Disappears excessive directness and irritability.
Chile
— this spice helps to get rid of rudeness, hustle and anxiety. There is an ability to perform even the most uninteresting work, find a personal approach to people, to feel mutual understanding when communicating.
Shambhala
— the use of this spice in their food favors increased gentleness, complaisance, balance and goodness in human nature. Restored cordial relations with the people disappearing excessive excitement in children. published  
Also interesting: Three deaths: the age At which a human life hangs in the balance? Excite and encourage: where you live hormones
P. S. And remember, only by changing their consumption — together we change the world! ©
Source: www.satvaom.ru/ayurveda/treatment/vliyanie-specii-na-harakter-cheloveka/