Often looking at numerous pictures of beautiful gardens any Amateur catches myself on thought that to realize all of this is too much work and money. And I want to have one buying everything became more beautiful, more interesting and more picturesque. Today we present you a photo-a selection that pushes the boundaries of your creativity and allows you to do something exotic in your garden in one day!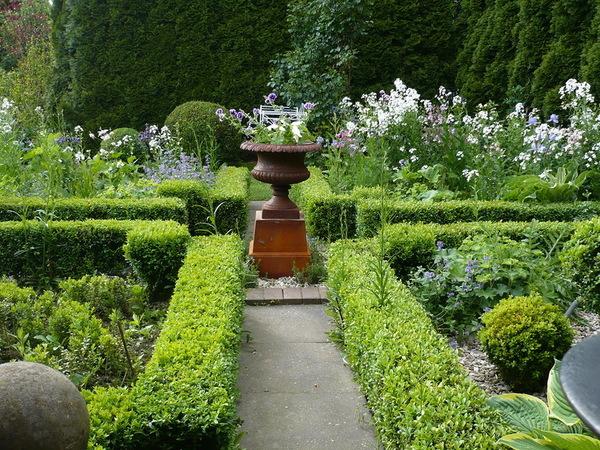 Idea # 1 — decorative flower bed on the pedestal
do Not think that it necessarily needs to be surrounded so that sheared the bushes and stand necessarily at the elite French mansion. This bed is very easy to buy in the store, or even make from scrap materials. In fact, she doesn't even have to be clay and resemble something European. The main thing in this idea is a pedestal, which makes her accent. She will be different from other pots, even if it is.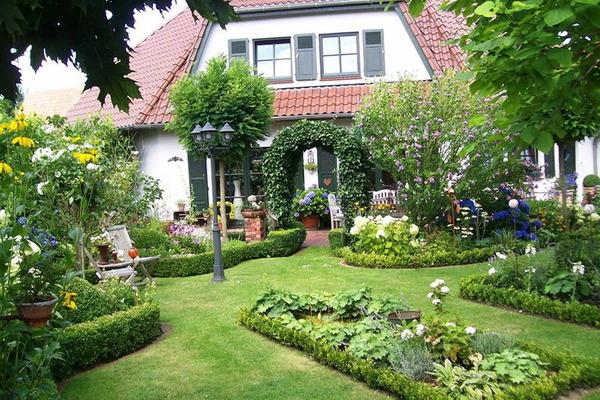 Idea # 2 — decorative lights in the yard
, This idea may particularly appeal to fans of the English style and really convert the entire backyard patio at the Grand entrance. To put it best near the areas, but not too close that the light was too bright for the eyes. Especially good if it will be seen from the bedroom Windows, and lighting can be included directly from home, but better — with beds. After all, it is amazing to use this lamp as a night light!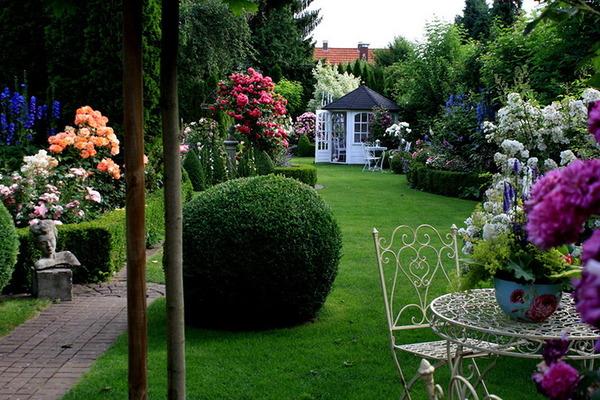 Idea # 3 — single ball-shaped topiary
If you want to practice this art, it is best to start with spherical shape. You will in time learn quickly and deftly to create what is just an idea in your imagination. Then you can switch to more complex things, but in any case, ball-shaped topiary will be a great start to the collection. To put it best on the most prominent place. By the way, don't forget that topiary can be potted.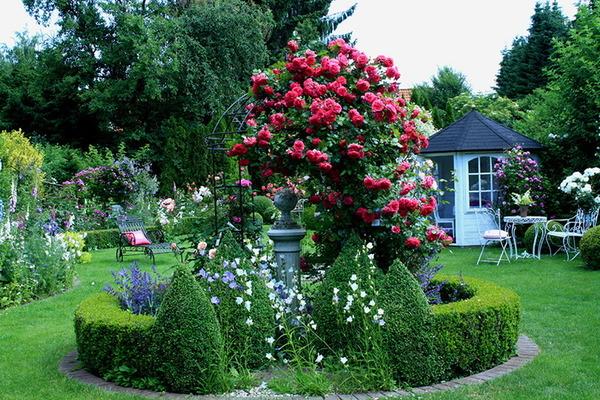 Idea # 4 — iron pergola of roses
For this, let's be honest, you need to buy two things — the very gazebo and beautiful plant climbing roses, which also will cost not cheap. But with enough skill and desire to cook a gazebo yourself or ask to do the neighbor or the master of a neighboring village. And the sapling if to ask the neighbors, too. The main act!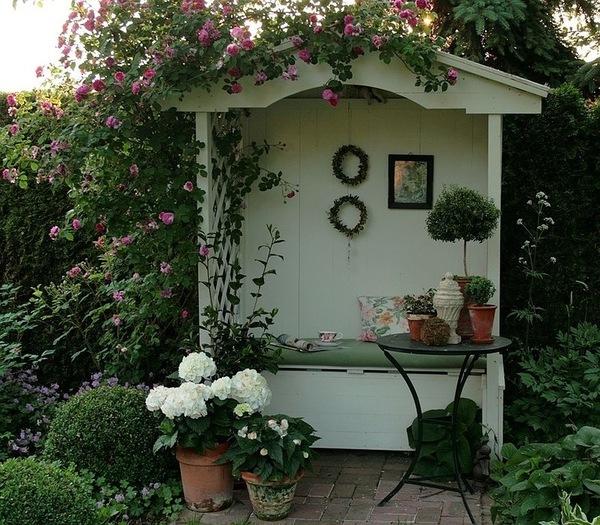 Idea # 5 — create a cozy nook for drinking tea alone
When we talk about how to build on a plot dining area is usually referred to a place where it would be possible to gather the whole family and spend fun time. But in fact in the country no less important and relaxation alone when you can fully immerse in your thoughts or read your favorite magazine. This place will definitely have a huge therapeutic effect, if you constantly were out of sight of their family and neighbours at the cottage. Try to make the area more private.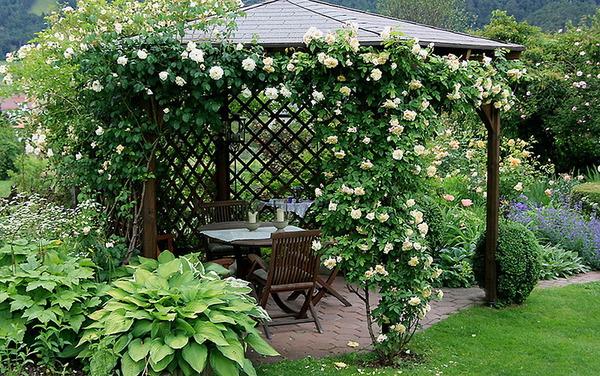 Idea # 6 — creating a gazebo exclusively of screens
If you are ready to begin, pour a full Foundation under the entire gazebo and decorate it with carving, we offer you the easiest method of its manufacture. A flat meadow, a few poles (concrete still required) and screens that can easily be done by hand. The roof can be for the first time and even a tent if you want to shorten the time to the first tea tasting in his new gazebo.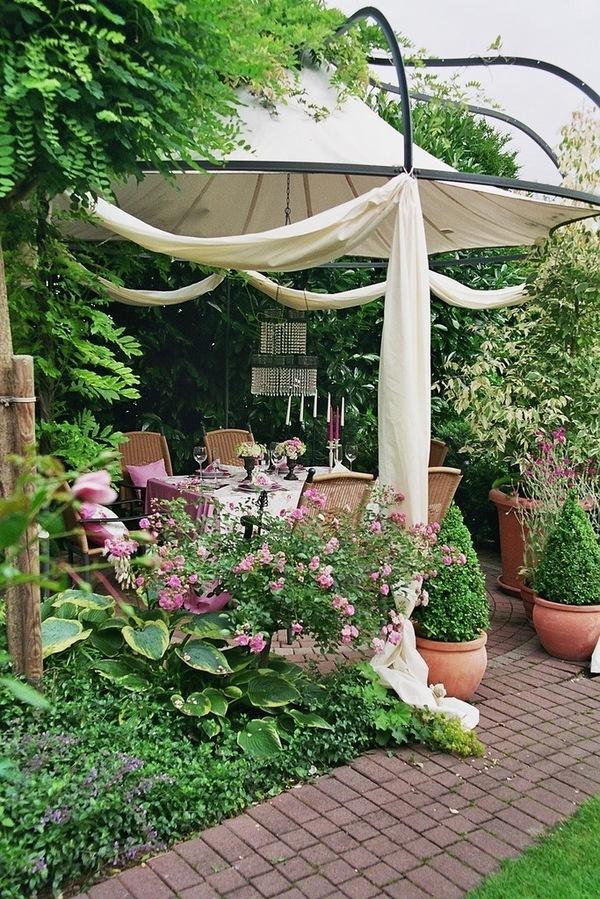 Idea No. 7: one colorful tea party
If you already have a place for alfresco dining where you can sit and relax, we invite you to spend at least one colorful and really nicely decorated tea party. To do this you need not so much as it seems at first. Look at the list of the necessary and see for yourself:
tulle or a beautiful fabric to create the canopy;
garland Christmas;
old crystal chandelier;
small vases for roses you will put on the table;
a couple of decorative pillows;
candlesticks;
elegant tablecloth.
Probably most of these things you already have at home, just need to buy one more item, which would be the center of the composition and was especially beautiful. The secret in the arrangement of a tea — single color scheme. With its help, you can achieve amazing effect very easy!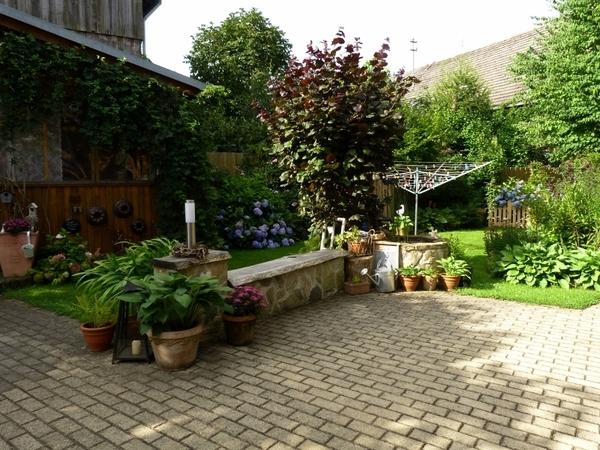 Idea # 8 — potted plants everywhere on the site
, Many gardeners choose the easiest way to create such compositions is to buy plastic pots of assorted colors and put them first more or less suitable place.
This decorative effect achieves a naturalness, and hence it clay pots and best of all — undyed. Potted plants in these pots themselves feel almost like in the land, but for you it is a little piece of Greek Paradise on a plot, all-natural and natural.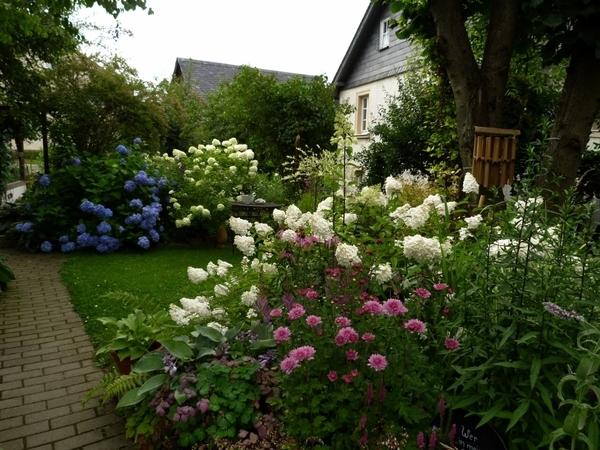 Idea No. 9 — the singing bamboo tubes
Special Oriental atmosphere to your garden can bring such eco-friendly decoration, such as bamboo tubes. In the wind they hit each other and literally sing you a tune, never before heard in this world.
It is the real art, besides being still the mascot of Feng Shui. Using such small elements of your garden into a place that nourishes you with energy and awakens the awareness of beauty and nature all around.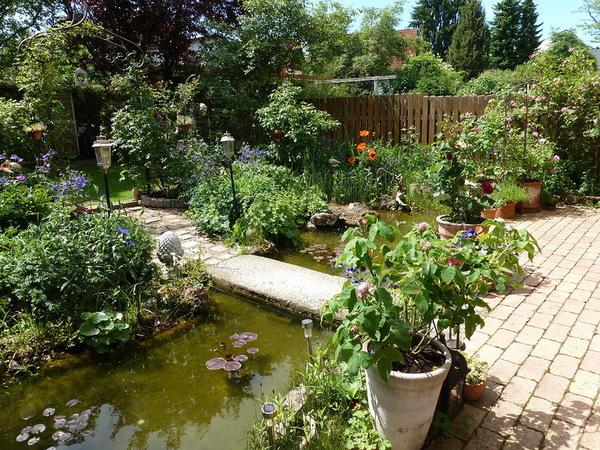 Idea # 10 — a simple concrete bridge across the pond
of Course, this idea is suitable only for those who already have a pond, but it is a very easy replacement of the decorative wooden bridge, which so often do not reach to make the hands. The same concrete bridge looks quite nice for any garden, while on top of it and you can still decorate with pebbles brought from the sea.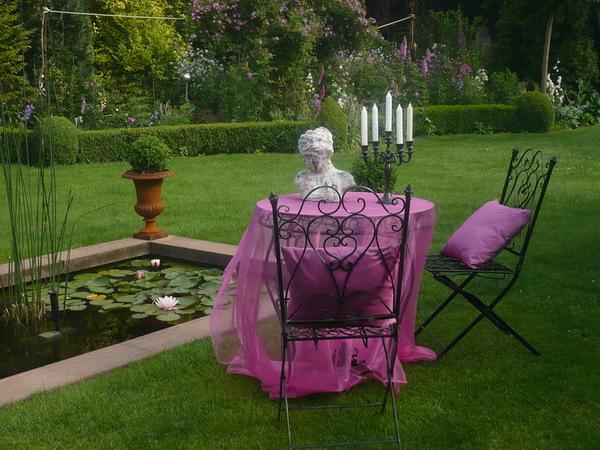 Idea # 11 — color tulle for a table
a little innovation will add to your patio glamour and sophistication, solemnity, and even a bit of greatness. A couple of pillows of the same color at all will make you believe that you are somewhere on the French Riviera. The important thing is to choose a really seductive color well, and enjoy the decor in the dark with candlesticks.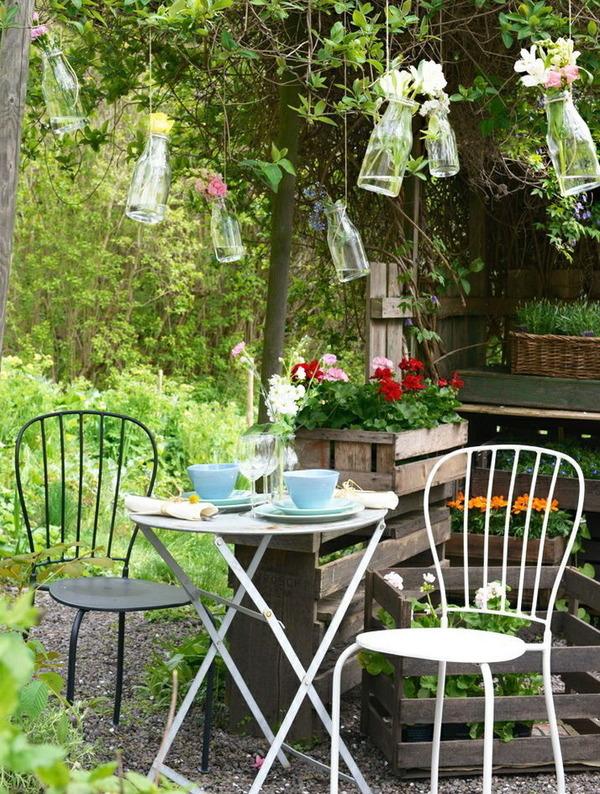 Idea # 12 — a vase of flowers from a suspended bottle
So uncomplicated in its simplicity a very romantic idea can be useful for those who have several unused glass bottles. In a pinch you can go to the store and buy lemonade in a beautiful container, not for drink, but for the sake of the glass. Be sure to make this innovation a surprise for his relatives — that they will appreciate!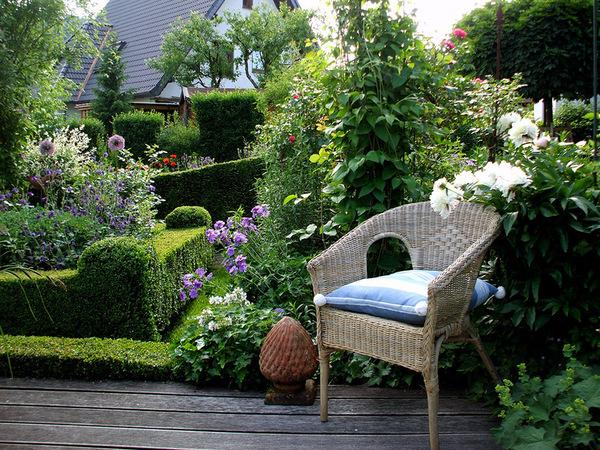 Idea # 13 — one wicker chair
If you create a large patio or lounge area you do not want elementary or no place, even one beautiful wicker chair can radically change the mood of any area. It is better to buy those which you can sit, slightly leaning back, and not as the chair. After all these it will be possible to read a book and just stare at your favorite garden and flower beds.published    
P. S. And remember, only by changing their consumption — together we change the world! ©
Source: www.7dach.ru