Many developers who are engaged in the construction of a private country house with his own hands, wondering how to install attic stairs correctly. Of course, there are a wide variety of ready-made solutions, but they do not always fully satisfy the tastes of property owners. To produce attic stairs own is not too difficult as it might seem at first. And if we take as a basis the ease and speed of manufacture, it is possible to build a ladder to the attic without much effort.
Preface
Before the attic were only a place for storing unwanted things and things that long time owners did not use. Today, however, the attic has been increasingly used as an additional area in a private home. Its interior developers are paying as much attention as belongs to the main areas of the home.
Attics equip not only in private houses but also in baths, sheds, garages and barns. Therefore, in such business premises also need to install attic stairs with their hands, but the choice should be made not in favor of a folding ladder, which costs a lot of money. Whether a private home or utility room, staircase to the attic is better to make independently.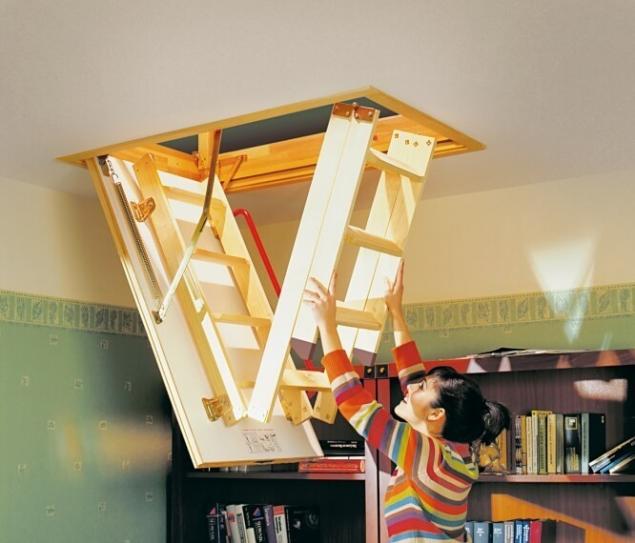 It is worth to specify that, for such stairs, attic hatch should open up. Well, if it is located directly near the wall. Before the actual construction of the attic stairs should be determined with the function of the attic, because the positioning of the attic stairs.
Stairs to the attic are usually composed of several sections. The usual option when they are folded out manually or by actuator automatically. The main advantage of such ladders is of compactness, cheapness and ease of operation. And if you put on the attic stairs gate of the castle, you get to limit access to the loft or attic space children. Also you can stop to enter your home through the roof uninvited guests.  
Construction of attic stairs
it is Necessary that a folding attic ladder in the unfolded form was compact. Today, all attic stairs are folding or sliding, made of metal or solid wood. In the construction of stairs to loft the main thing is to stick to one principle – to do the design so that it takes a minimum of space.  
Foldable stairs for attic
stairs these usually consist of 3-4 separate elements fastened together. The height of the folding attic ladder with their hands to adjust simply. To foldable stairs include so-called "bunching," which can cover as close to the ceiling without occupying at rest, no space.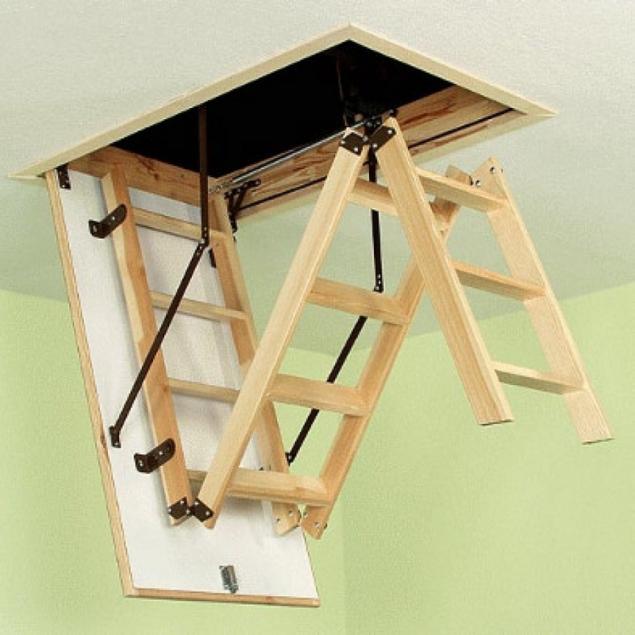 Ladder for attic
Construction these stairs consist of 2 elements and are attached to the hatch. Fitted with loft ladders sliding type rails. To the ladder to set accurately, first of all calculate the size of the opening into which it will be attached.