Why to rinse hair after washing?
Since ancient times, women knew about the power of herbs, gives your hair health and beautiful. Rinsing – it is a mandatory procedure in the care of the hair.
Rinsing has its purpose:
Softens hard water.
Nourishes the hair follicles with nutrients.
Removes plaque from salts, enveloping the hair when washing.
Smoothes the hair cuticle, making it smooth.
Easier to comb.
Removes static electricity from the hair.
Enriches hair color.
Normalizes the sebaceous glands.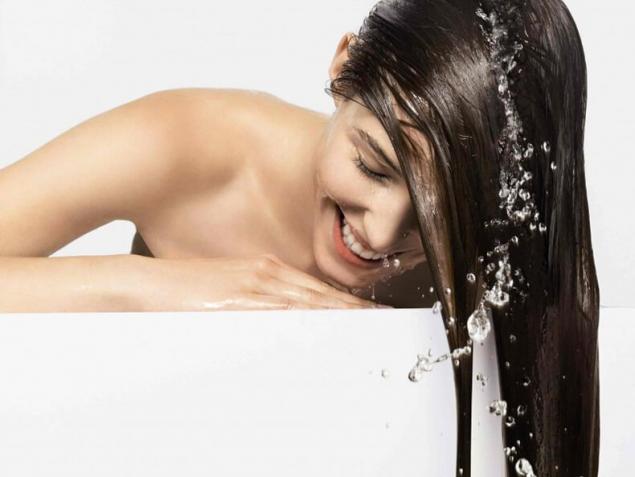 After washing your hair is useful to rinse infusions and decoctions of herbs with the addition of Apple cider vinegar or lemon juice.
It softens the hair, adds Shine and stimulates growth.
About it knew in ancient times: women with a special love caring for hair and knew how to rinse hair the best.
Beautifully softens the hair acidified water with lemon juice or natural vinegar.
SERIES – hair care.
In the old days the hair comb wooden comb dipped in a decoction of a succession.
Series has the ability to eliminate Shine, soothe irritated skin, prevent the appearance of dandruff.
When brittle, dull, lifeless hair regular rinsing them even a weak decoction of a succession fills the hair strength, return elasticity and Shine.
Series used masks to enhance hair growth.
A decoction of succession for weakened oily hair.
2 tbsp dry series pour 200 ml of hot water.
Insist to cool completely – 30-40 minutes before the broth is filtered and diluted with 1 liter of warm water. The diluted broth is impregnated with a clean, damp hair.
A decoction of a succession of dandruff.
4 tbsp succession pour 200-300 ml of water, boil on low fire 5-8 minutes.
The strained broth is not diluted and Luke warm rubbing massage to the root of the hair.
FOR ALL HAIR TYPES:NETTLE:
The water for rinsing hair is useful to add the juice of the fresh herb of nettle. After the hair will have a beautiful Shine, their roots will be strengthened to improve blood supply.
Rinse the hair of any type, you can use nettle infusion, of chamomile, Linden, peppermint, burdock or other plants (1 tablespoon per 200 ml water)... Rinsing the hair, massage the scalp.
BIRCH
Rinse the hair of any type can also infusion of birch leaves: 1 tablespoon chopped leaves pour 1 Cup boiling water, insist 2 hours and filtered.
CALAMUS ROOT
4 tablespoons calamus root pour 2 cups of hot water, insist 30 minutes, then filtered. This conditioner is recommended for use for 2 months to improve the hair growth and against their loss.
FLAX SEEDS for hair.
LEN will return the hair Shine and strength. Pour 1-2 tablespoons of seeds with 1 liter of boiling water. The broth should infuse for 8-10 hours. After that, strain the broth and use as a rinse for the hair. After the first application, hair becomes manageable, shiny, creating the effect of lamination of hair.
ONION PEEL.
A handful of onion peel pour 0.5 liters of boiling water, insist 15 minutes, drain. This tool strengthens hair, eliminates dandruff. Rinsing the hair with this decoction after washing.  
FOR HAIR PRONE TO FATSt. John's WORT
5 tablespoons of St. John's wort pour 2 cups of hot water. Insist 20-30 minutes, then filtered. Conditioner gives the hair easily, reducing the appearance of greasy roots.
SPRUCE
4 tablespoons of spruce pour boiling water, and simmer on low heat for 10 minutes. All strain and rinse your hair.
OAK BARK
3 tablespoons of oak bark, pour a liter of water, then simmer, covered with a lid. Boil the composition for about 10 minutes, after which the decoction can be strained.
FAKE
5 tablespoons lime flowers pour 0.5 liters of boiling water, to insist half an hour. Mainly for light hair.
FIR
Take 4 tablespoons of pine needles of fir and pour boiling water, simmer on low heat for 10 minutes. Drain and rinse with warm infusion hair.
CHAMOMILE-lemon
Blond hair is recommended to rinse with infusion of chamomile (2 tbsp in 2 liters of water) with lemon juice or citric acid.
HOP
Pour 1 Cup boiling water 2 tbsp. of hops, leave for 30 minutes. Strained infusion to rinse hair.  
FOR DRY HAIR TYPEMINT
4 tablespoons herb peppermint pour 2 cups of hot water and infuse for 20-30 minutes. Before use, the broth is filtered. Mint conditioner softens the hair, making it smoother.
BIRCH
1 tbsp. chopped birch leaves pour 1 Cup boiling water and insist 2 hours.
Strain and rinse hair.
SAGE
Pour 1 Cup boiling water 2 tbsp. sage, to insist 30 minutes. Strain the infusion and rinse your hair.  
9 arguments in favor of washing oil5 natural remedies for skin rejuvenation
FOR WEAKENED HAIRHERBS
2 tablespoons nettle leaves, mother-and-stepmother, horsetail, burdock root and calamus blends. Herbs pour 1 liter of hot water and boil for 3-5 minutes. published  
Source: vk.com/sekretolgi?w=wall-77748302_7527