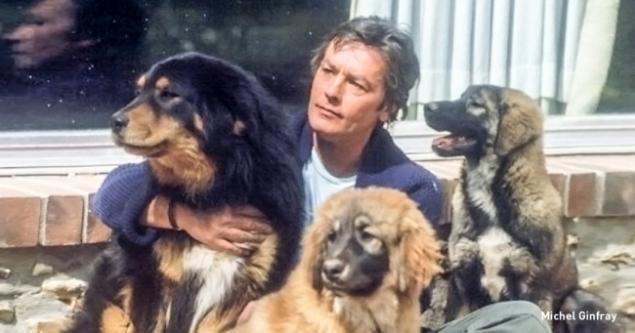 Invariably elegant beauty of France Alain Delon is familiar to everyone. Someone is going crazy in his appearance, and many admire his acting talent. In any case, his name has become a household name. But besides that he became the idol for millions of people, he also became a true friend to hundreds of dogs.
The website
wants to share a story about the great love of the actor to our younger brothers, after which I would like even stronger shake his hand.
//embed.gettyimages.com/embed/110146841?et=VqhoatUqQlFCyXUkciifTg&viewMoreLink=on&sig=NyqK5cEGixaK2OJVSIjqHx1L9sVeDPsryUBHSn6jN0Y=&caption=true
In his youth Alain was wearing military jackets to make it easier to warm all of the puppies, whom he met on the way. Today, the French actor, who is 80 years old, has 5 kennels for stray dogs and cats.
"In my house there are always a lot of dogs, I even brought a special breed.
Dogs remind me of the sick children that life is measured out in just ten to fourteen years
".
Delon has been living in Switzerland and it deals with dogs. He even tries to ensure that the dogs were private lawyers. According to him, animals also have the right to protection.
The actor's love for dogs started in childhood, when he had Dobermans named Gala. "One day I blew up at her and even hit. She sat down and looked at me. I saw that she was crying. Since then I understood and now my dogs are always smiling".
"I was particularly touched that the dogs don't care who their master is. The person they love as a father. You think my dogs know that I'm famous all over the world? They do not care! They don't know who I am, what I'm doing. They just love.
It is love without thinking, unconditional, complete, and true love!
"
Alain Delon is the Society for the protection of animals. On his estate live 8 dogs. There is a cemetery of all his former dogs: there were 45. In the midst of this dog necropolis he built the chapel. And after numerous appeals received official permission to be buried there when this day would come. He argues that it is the highest luxury.
But the actor is concerned not only about the dead animals. Live in need of assistance, concerned him much more. He and his girlfriend Brigitte Bardot ready to use all means to protect them.
Photos on the preview Michel Ginfray
According to the materials of Masha Slonim
See also
The athlete refused to participate in the Olympic games to save his horse
The dog ran 100 km and showed the world what true loyalty
via www.adme.ru/zhizn-zhivotnye/etot-pes-probezhal-100-km-i-pokazal-vsemu-miru-chto-takoe-nastoyaschaya-vernost-1334165/