Any crisis in the world, as a rule, brings new ideas to create cheaper and more affordable technologies. refugee crisis in Greece gave birth to one of them. For stranded here of refugees and migrants, the smartphone is a lifeline - it lasts until the battery - say the creators of the new technologies. However, access to electricity is difficult in overcrowded camps, and for example in the cafe when the crowd expect access to a power outlet that would call home.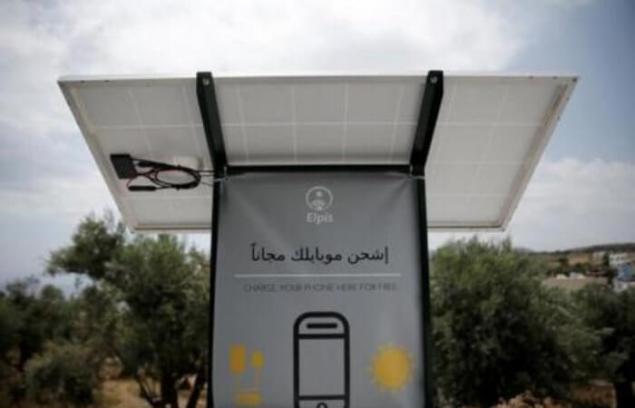 This situation has prompted a team of students from the University of Edinburgh (Scotland) to create a charging station for mobile phones running only from the sun - what abounds in Greece
. At this point already has two such units in camps, each of which is capable of producing electricity for operation up to 12 outlets per hour using only solar energy and providing power to the device 240 (and therefore to the flow 240) daily.
The idea was born last summer after a trip to the island of Samos (point to other islands for entry into Europe), one of the founders of the project, the 20-year-old Alexandros Angelopoulos.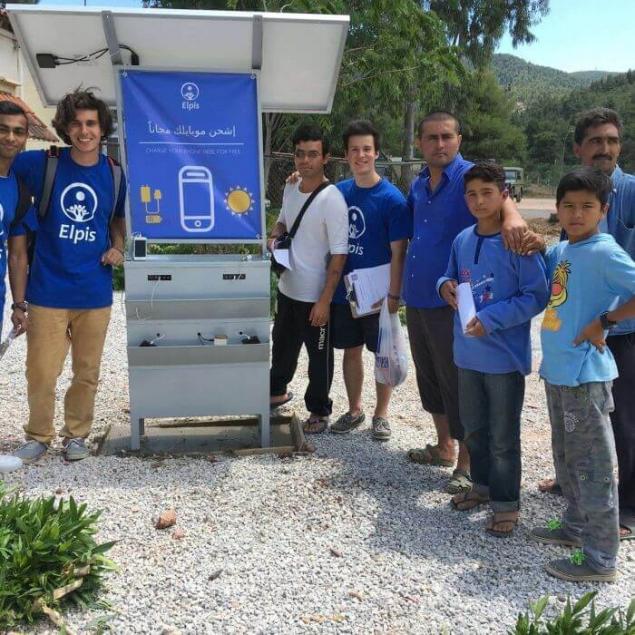 Hundreds of arriving on the coast of the island every day from Turkey usually seek rejoicing immediately put in a network of his own photos (selfie), enter one of the messaging application or Google Maps (Google Map), to plan your route to Northern Europe.
"People often asked for my phone to call family or use the Internet," - says the founder of the charging station. "Often, they can not move anywhere on, just because waiting in line somewhere in one of the sockets."
"We just wanted to make a positive contribution to the local community through the use of renewable sources of energy", - adds one of the founders of the 21-year-old Samuel Kellerhals
. The first two modules of the project under the name of Elpis - which means "hope" in Greek - was designed and built with the help of the Greek solar technology company Entec.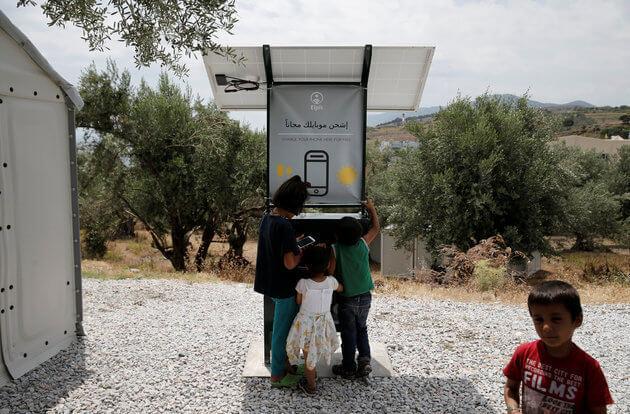 "At first it was quite difficult, had to overcome red tape, without which nothing in Greece '- Angelopoulos raskazal
. Currently, three modules are under construction on the money raised through crowdfunding - method of receiving funds from a large number of people through the Internet. Their creators are hoping to reach dozens of camps all over Greece, as much as possible.
The first unit of solar charging station has been installed in the camp of Kara-Tepe on the island of Lesbos, and is reported to the authorities and the residents were delighted.
"I told them - you had to bring something similar yesterday and not one, but four," - says Stavros Miroyannis, managing a family camp, which is run by the local municipality. "They promised me a three, and I'm waiting for them with great impatience.»
Miroyannis hopes one day to provide solar power the whole area, where solar panels have replaced the street lights.