What I love flip-flops, so it's a wonderful time-saver! Shoes without buckles amazingly comfortable ... However, in the comfort of having to pay a heavy price
Cheap summer shoes -. All kinds of slates, flip flops and flip flops - conceals the danger, of which very few people know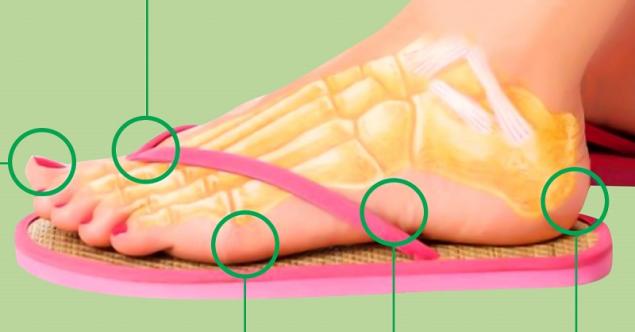 Harmful shoes pain in the knees and lower back
If you wear flip-flops more than 1 hour per day, there is a risk of back pain and leg joints. All the matter in the absence of arch supports, which should support the arch of the foot. The load on the tendons and bones
The flat thin sole has a bad depreciation, because the legs while walking in this summer shoes are suffering. Stop beating on the asphalt, and indeed the shoes at every step painful strikes on the feet. The lack of protection when walking
Such open shoes do not protect the legs, because the risk of injury to a stone or piece of glass is very high. Risk of infection
The blisters and abrasions that occur when walking in flip-flops, can cause infection of the body - through micro cracks on the skin of bacteria and viruses is easy to get into the blood

. Flops can and should be worn only on the beach and by the pool, never - in the city! Try to actively walk in them no more than 1 hour a day, because these shoes are not designed for serious load. There is summer orthopedic shoes similar models, but due to the high cost it is not enough available. So what are your favorite sandals with straps - the best choice

! Kids these shoes, by the way, is completely contraindicated. Share this article with your friends, who can not imagine my life without flip flops! They will be useful to know this.