Energopolozhitelnye home. Local high-yielding production of organic food. Integrated use of renewable energy sources. Recycling and waste water. Empowerment of local communities. These are the five pillars of the new concept of autonomous ecovillages or ReGen Villages project of urban eco-community.
By 2050, world population will reach 10 billion people. This number of people is in great need of regenerative housing and community development. Precious water, healthy food sources and a lack of arable land in the forefront of pressing global problems that must be addressed today. That is the goal set itself a new Dutch project.
In Almere, in the central part of the Netherlands, is in full swing construction ekogorodka pilot, which will be absolutely independent from the central power grid and have a finished food production cycle and waste management. It is expected that settlement of 100 passive houses will be able to take tenants this summer.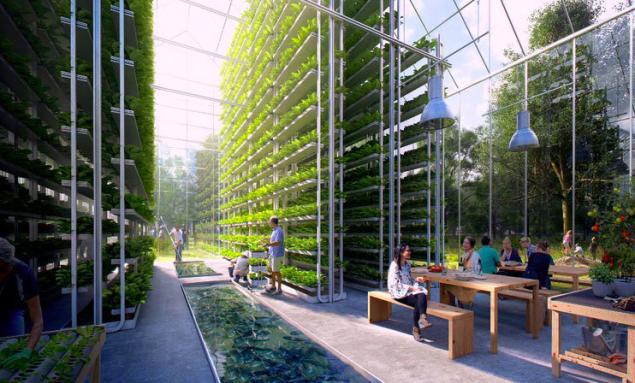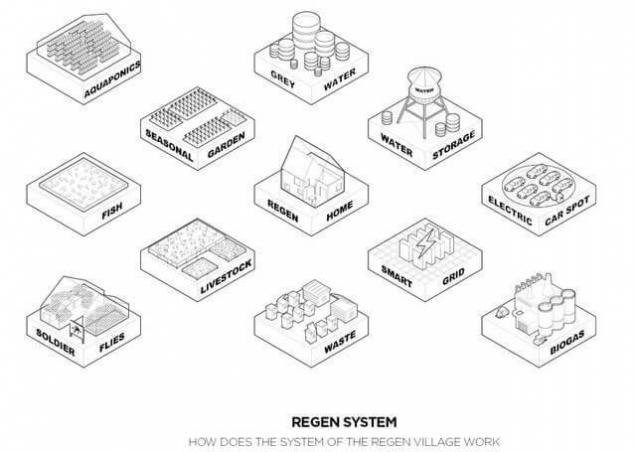 The scheme of ecosystem ReGen Villages
Autonomous towns today do not surprise: from a dozen eco-villages throughout Ukraine and finishing the Amish communities. However, in these cases, a way of life involves minimal use of modern technologies: the life of religious adherents has more in common with the 19th century than the 21st, Ukrainian ekoposelentsy also live ascetically. Dutch as "commune" one of the priorities puts comfort and access to modern technology.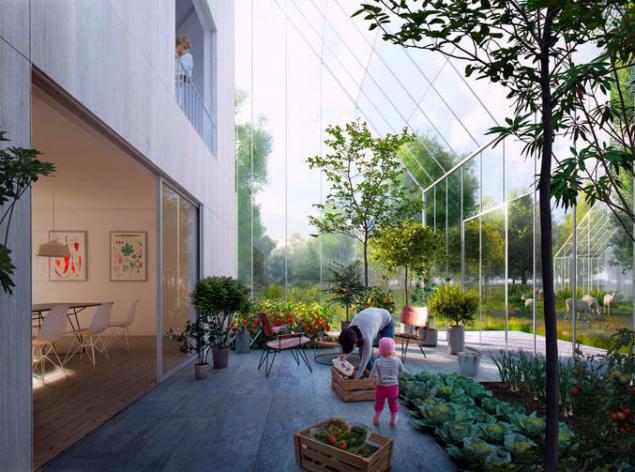 "Farmland" every dwelling house
Thus, every building in ReGen Villages will be covered with more glass and frame. This will improve the thermal insulation of homes will reduce heating costs in the winter and will enable year-round cultivation of vegetables and fruit in home gardens. Sami homes in the settlement are located all around, in the center of which are greenhouses, electric charging station, a small farm, fish pond, parking, outdoor gardens and public areas.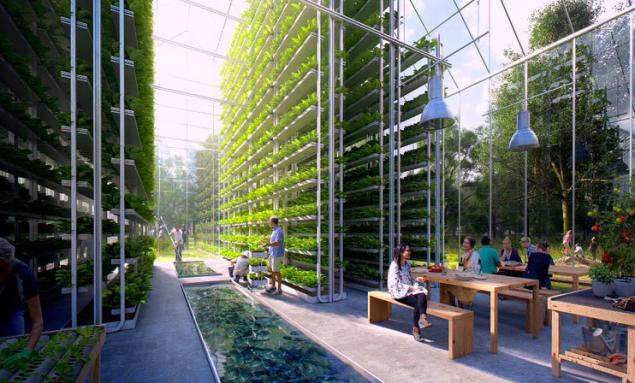 Private hydroponic greenhouse for growing vegetables
The project is implemented jointly with the company ReGen EFFEKT architectural bureau. Its main objective - the integration of food production with modern high-tech human settlements. Reasons to do this the company clearly explains the statistics: today for agriculture uses 42 percent of the planet's land. This is the main reason for reducing the amount of forests and shallowing of rivers and ponds. At the same time producers and consumers of food are often located at great distances: the average vegetable overcomes 2400 kilometers before to be in the hands of the person who eats it. Because of these logistical problems products are unevenly distributed: one-third of food produced eventually ejected in a time when one in seven people on the planet is starving
.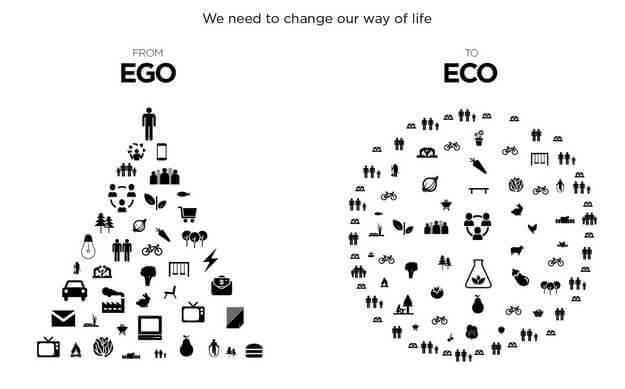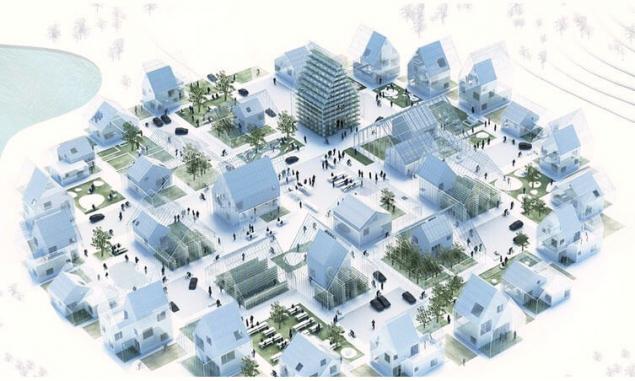 In the proposed model ReGen ecovillage focuses on hydroponics: instead of landing in open ground plants and usual irrigation, they are placed in special containers where the roots are constantly feeds enriched with nourishing water substances. It also allows you to plant the plants on the multi-tiered shelves - create a so-called vertical farms. Thus the area required for growing the same amount of fruit needed to 50 times less than in conventional agriculture. Water is used at less than 90%, and the plants grow to ten times faster. And given that the greenhouse will be in the center of the settlement, transport costs are close to zero.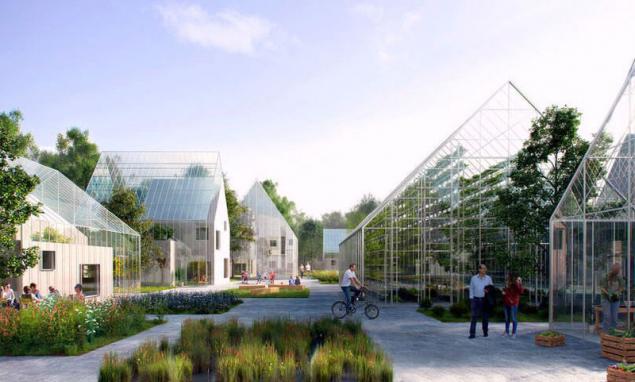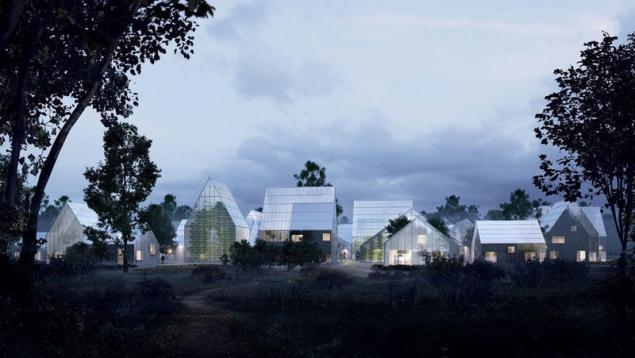 The ReGen also calculated the area of ​​land, which would be enough to provide food and a family of two adults and one child. In conventional farming, it takes about 8100 m². This measure - and living space, and gardens, and orchards, and farm area for the animals to eat these people, and the area of ​​storage tanks of water throughout the year. In the model of a new settlement in the same family spent 639 m². The territory is divided so:
House - 120 m², greenhouses - 40 m² complex with hydroponics - 300 m², Traditional seasonal vegetable garden - 100 m² farm - 25 m² solar panels - 34 m², fresh water storage - 20 m²
.

In general, for the settlement of 75-100 residents need to 15450 m². This land will be distributed as follows:
It called in the previous scheme place Add a home for community and public areas (playgrounds, parks, benches, tables), infrastructure facilities and a place to recharge electric vehicles.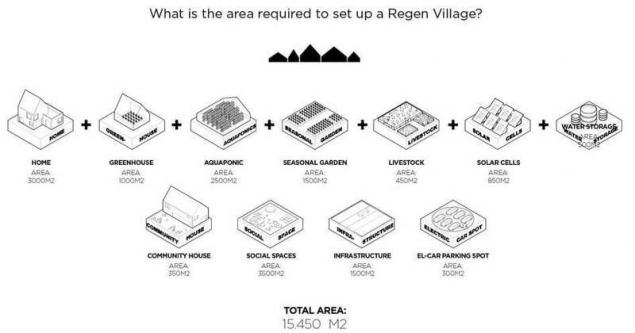 If successful, the pilot eco-village ReGen Villages similar settlements to be built in Northern Europe and the Middle East - where the natural conditions are particularly harsh. If it succeeds in the Nordic countries or, for example, in the United Arab Emirates - so it will be possible to create such settlements all over the planet.