A third modification of the innovative family of electric vehicles «i», BMW is equipped with a full autopilot and will hit the market in 2021. It was at the annual general meeting of the German brand BMW said the head of Harald Krüger.
"In 2018 we will launch the production i8 Roadster model. After him, in 2021 it will be BMW iNext, our new high-tech electric vehicle with an unmanned control, digital communications, intellectual light design, a completely new interior. Finally, it will mark the access to the arena of the new generation of electric cars, "- said Kruger in a meeting with shareholders
. It is possible that in the models BMW i NEXT apply a number of decisions, shown in concept electric car Vision Next 100, debuted in early 2016 at the CES Consumer Electronics Show in Las Vegas.
This Kruger declined to specify which body will have a new i-models. According to preliminary data, it will be a sedan, which will be known as i5 and be able to compete with Tesla Model S. There is also information about the "crossover" vehicle of the future.
In the conversation the head of BMW has once again confirmed that in 2018 the company will release the i8 roadster, a prototype of which was shown at the 2012 Beijing Auto Show. In addition, in 2018 the Bavarian brand will present its largest coupe, which will be called X7.
BMW recently uses for its futuristic projects the word «Next». Prototype Vision Next 100, shown in the picture, has many of the characteristics mentioned by Krueger in his speech to shareholders. How close to it in design would BMW iNext, remains a mystery.
Earlier it was reported that BMW is planning a massive electrification of all models. Cars will have a hybrid or fully electric motors running on version. The company's goal - to reach average CO2 emissions of 95 g / km by 2020
.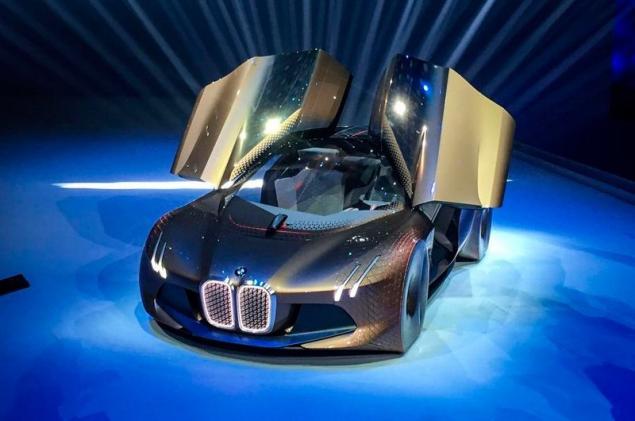 Specially for this purpose the BMW Group in collaboration with Daimler began developing a wireless charger for electric vehicles and hybrid vehicles. By car batteries charging speed of the new technology will not yield to cable counterparts, but surpass their usability.
As described in the German company, at the moment already established a working prototype of the new system. The device has an efficiency of 90% and can be fully charged BMW i8 battery wirelessly in less than two hours. Developers plan to increase the capacity of the charging station to 7 kW, which will significantly speed up the process of charging electric vehicles and plug-in hybrids.