Sure enough, by selling its electric buses on the American and world markets BYD Company has decided that it is time to offer US companies on electric commercial trucks.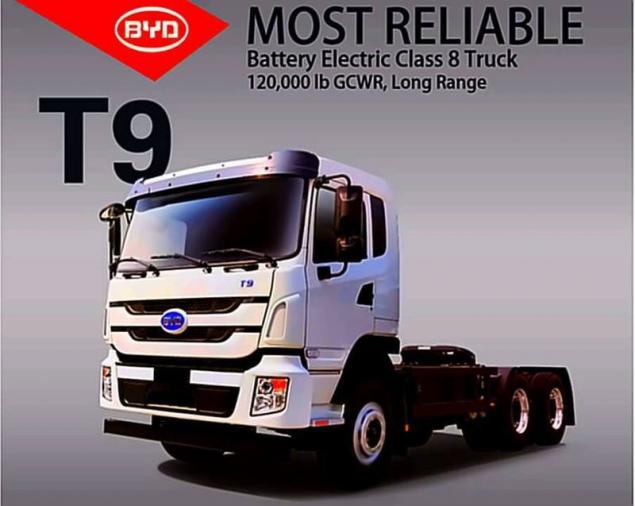 On passing in Long Beach, California, the exhibition Advanced Clean Transportation Expo Chinese rolled out a series of trucks of various carrying capacity at a sufficiently bold slogan "Official sponsor of Mother Nature»
"This year, BYD makes a bold step forward, demonstrating a new line of machines powered by batteries, providing customers with more ways to save on fuel and operating costs,»
said Stella Lee, president of BYD Motors.
"We are confident in the quality of the batteries, we know that this technology is safe and ready for wide use in various fields. As a leading company in the industry, of BYD gives a guarantee on their products 12 years, transportation companies, managers can be confident that these vehicles will operate reliably for the entire life of the vehicle, that allows them to save tens of thousands of dollars per year per vehicle for the time of his life. »
BYD new line for North America will be just a few miles from downtown Los Angeles, California, in the sunny city of Lancaster. It is a modern enterprise, which is being manufactured electric buses, has more flexibility as well as high-tech approach to the development of high-performance electric vehicles.
It is planned to produce five new electric vehicles.
The simplest of these is a forklift, it is the highlight of the ultra-fast charging time: up to 80% in 30 minutes. A full charge takes about an hour, after which he was again able to work two full work shifts.
But the most interesting of course trucks.
The first of these, and the largest is the T9, which displayed a photo in the message header.
The maximum speed of 60 miles / hour (100 km / h), the battery capacity of 188 kW / h provides running a little over 100 miles, and takes charge of the truck 2, 5:00.
Next elektrogruzovik T7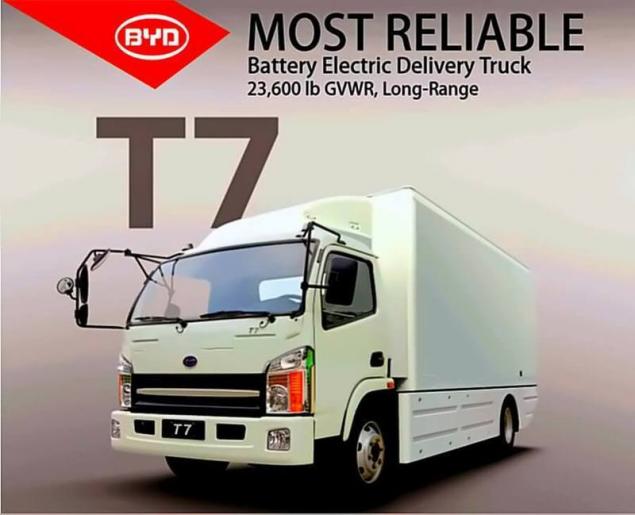 It has a battery of 175 kW / h, which provides a cruising range of 124 miles. The maximum speed of 56 miles / h (90 km / h). Charging the car takes 4, 5:00.
Machine length 7437 mm width 2250 mm height 3299
Model T5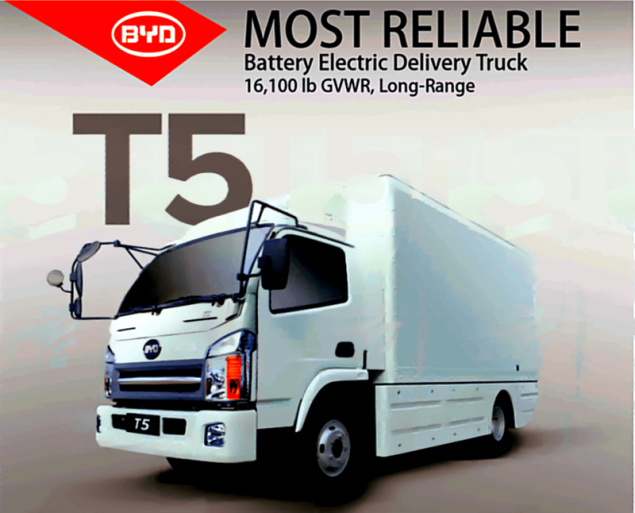 Offers greater autonomy - 155 miles is a small electric vehicle. Its length is 6 meters, width / height 2049 mm / 2948 mm
The battery capacity of 145 kW / h is charged for 3, 5 hours. The maximum speed of 60 miles per hour (about 100 km / h)
The fourth truck, called Step VAN, built with an eye to small and medium businesses, as well as postal services, it was designed in conjunction with UPS - an American company specializing in express delivery and logistics
.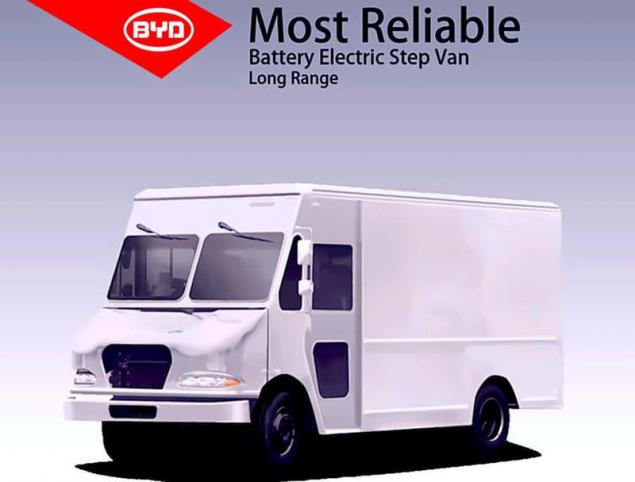 Machine length is 9 meters and the volume of transported cargo 32, 5 cubic meters. The maximum speed of 65 miles per hour (105 km / h)
The battery capacity of 145 kW / h, charging 3, 5:00, and provides a running electric car a little more than 100 miles (160 km), which is considered optimal for city and suburban deliveries.
As the company says, all of BYD electric cars, presented at the exhibition, you can charge the current capacity of 40 kW, 80 kW, 100 kW and 200 kW. charging time depends on the selected model and a charger (1 to 5 hours). Even after 10,000 cycles of charging, BYD batteries still retain 70% of its original capacity.