"Over the last 10 years I have lived in five different countries," - says Manon de Heus
. It was an amazing adventure that taught me a lot, told me about life, love, fear, and that education and self-help -. The most important things in life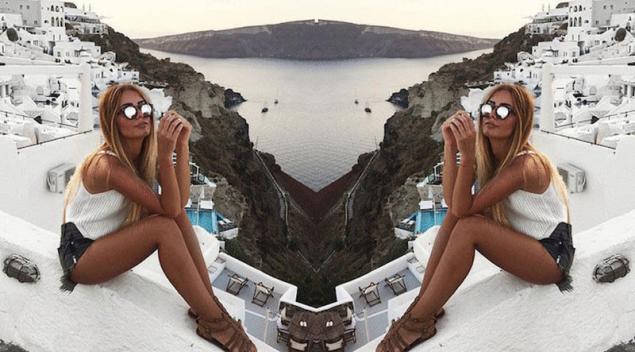 Arrange a new life away from home, away from everything you know and what they believed in - this is the most incredible feeling you can only experience
. People who have gone abroad, probably already nodding in agreement.
They will tell you that travel and emigration expanding horizons, they have made them more open to people. And that's all that matters in life.
But they do not tell you that emigration - it is also the loneliness and alienation, and panic attacks and feelings of guilt
. Emigrant tales do not exist. Here are five things that must happen in your life, if you ever decide to leave their home and escape for a dream.
1. Your family will be devastated.
Regardless of how often and how much you will embellish their new life, they will be devastated. Foreign travel - it is very, very selfish choice
. It's great that you're living your dream, and you have the heart to start to live (as it seems to you), as you have always wanted. But at the same time you made unhappy people who love you.
Even if your amazing family and amazing your friends you are blessed, they are still going through. Why did you not know it? Because they have done everything to hide from you these feelings.
They do not want to burden you with their doubts and fears. They do not want you to be there in the new land, asked himself the question: "What am I doing here?". They say only one thing. "! If you're happy, then so are we»
My parents did an impressive job on. For the first time, when I decided to run away from Los Angeles, they were at a loss. But then I was too busy myself to pay attention to their pain. But that day, when they accompanied me to the airport, I could see in their eyes a sadness that has never seen before.
During our last goodbyes, I looked back with them. And when the fragile people who look 10 years older than his age.
My adventure - their grief
. 2. You'll feel guilty. All the time.
Two months after I left Los Angeles, my best friend was a terrible diagnosis: cancer
. I tried to be close to her over the phone. I wrote him an e-mail. Still, she knew he really needed are not my words, and my friendly shoulder. Which it is not, because I dumped.
When my 80-year-old grandmother has slipped down the stairs and called me from the hospital, she was sad and lonely. "When you come to visit me, my dear?" - She asked. I did not know what to say.
In the few years that I was not at home, I missed almost all of the wedding of their friends. All birthdays. The appearance of children. All the best events in the life of his best friends.
And every time I had to make excuses, because I was invited to visit, and I could not come. When you are on the other side of the globe, you usually do not have time and money to go to a party of old friends. But this is a social choice that you have made for yourself!
A friend's wedding - it may not be so important, but what about the 60-year anniversary of his father? How to be a graduation ceremony your younger sister? What a choice between these two activities you do? After all, you probably will not have time money to go there, and there.
Even if you know that your life - it's your life, and continue to hope that close you realize you still often will feel terrible, horrible person. Eventually it goes, but I'm afraid that this will require more years than you think.
3. You will feel very, very lonely.
I've always been lucky: I almost always provided us with many wonderful people. I have never had a problem in order to make new acquaintances. I'm easy to find friends in any new city.
Nevertheless, though rarely provided somewhere alone, occasionally I feel so lonely as never before moving.
I will never forget my first Christmas, met with a roommate in exile. We both felt as if we have no family, no family, no tribe.
The following year, I spent the holiday in a foreign family companies. And something tells me that I was invited to go there out of pity: just that I was not alone in this holiday
. To build a trusting relationship with someone else, it takes time. So when you are ready to go abroad, remember: you will inevitably have to spend a lot more time than you think, for the sake of you, new genuine friends. A few years in a row, you will have no one to share your memories or stories about themselves.
It's like going to learn themselves in a school after moving with his parents. Only complicated: because Mom and Dad also not near you
. 4. You will never become local.
Living abroad will change you. You give up many old beliefs and beliefs, learn what never guessed, and become those who had never been.
It's about the pros. Now I will say about the disadvantages. How would you have changed to a deep, very thin, the level you will still feel alienated from the people and the place where you live. It's hard to explain, but sometimes there will be times when you will want unbearably call home.
You are traveling abroad, and, yes, you have not written on your forehead that you are a stranger. But you did not grow up in a local school. We were brought up in a different culture. So be 100% local - it is almost impossible
. You will find your new home in a new country, and it's a bit to fill pustotut within you. However, you will always miss the roots and history. You will never "his" 100%, no matter how hard.
That's why almost all immigrants and nomads, whom I met on prtyazhenii wandering around the world many years, are given the same existential questions. Who am I? What culture do I belong? Where is my house? Where do I want to grow old? Which cemetery I want to be buried?
These questions can not be answered. They occur again - and again and again, and again. Feeling at home - that is inevitably lost when they leave home. For all have to pay.
5. You will lose many dear friends.
Friends probably never thought that you could lose. There are people with whom you are friends from the kindergarten or at school. There are those with whom you traveled together to Europe, although the growing distance from each other.
But if you want to go to the emigrants leave for permanent residence abroad, we must be willing to sacrifice these friendly relations. Of course, in general, you will long continue to communicate, but it is unlikely it can be called friendship.
This is nobody's fault. At the same time it is for each wine.
You forget about their birthdays, because you're too busy hanging out around town with their new friends.
Old friends will accuse you that you could not get them to the wedding. They will accuse you that you rarely come to visit parents.
This old friendship end sooner or later. It's unavoidable. And this is life. Nobody said it was easy. Losing friends, you are bound to lose a part of yourself and of its history.
Do you think it's worth it? I do not regret that decided to leave and lead an international, nomadic lifestyle. Absolutely no regrets. My freedom is definitely worth it.
But I urge you to think before taking such a major decision in my life. Ask questions. Be curious. Try to study the experience of other immigrants. Think about what is important for you.