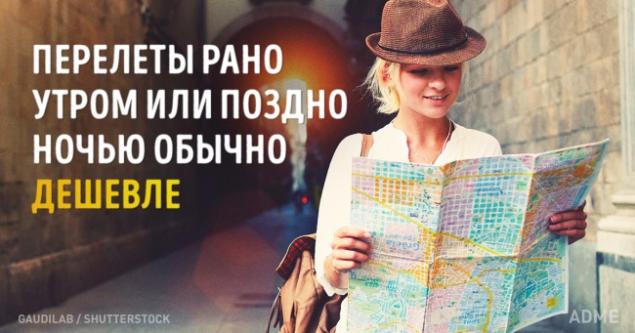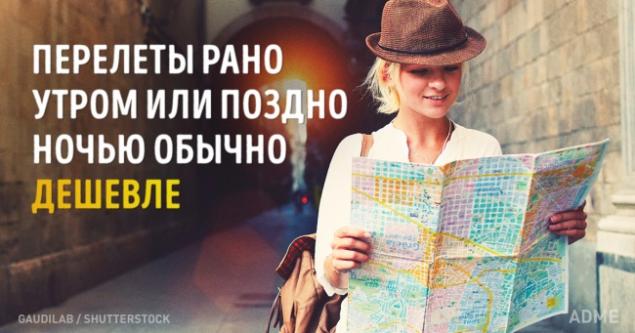 The holiday season is getting closer, so it's time to think about the upcoming trip.
< Website to create useful tips to help you comfortably relax and not go broke.
1. Rent an apartment or even sat down for free Boring hotel rooms are unlikely to be able to convey the atmosphere of the place where you come from. Try to rent an apartment (airbnb.com), especially if you are traveling to a place on a more or less long term. You not only save, but also get the opportunity to mingle with the locals.
Another great option - kouchserfing (couchsurfing.com). By registering on the site, you get to addicted in the apartment for free, and can in the future and make their own guests.
2. Flight from neighboring towns will help to save at major airports usually get much cheaper. Keep this in mind when selecting tickets: for example, if you decided to go to Nice, is likely to be easier and more profitable to fly to Milan, and then take the train
3.. Do not forget about the low-cost airlines and shares in airlines Cheap tickets can occur at any time - for this you need to follow the suggestions of the airlines, for example by subscribing to their mailing list. Loukosterov - another opportunity to save on tickets, but note that for luggage and meals on board will have to pay separately. In this case, you can travel light and bring a small snack on board.
4. The flights in the early morning or late at night usually cheaper Most people do not like to fly in this time of day, so airlines sometimes reduce the prices for such flights. In addition, night and morning flights can save vacation days - especially if it is not too long
5.. Use city bus instead of a tour to see the main sights of the many cities in Europe can be of a conventional city bus window. For example, in Berlin adorable tourist route number 100 goes from Alexanderplatz on the boulevard Unter den Linden, past the Berlin Cathedral, the Brandenburg Gate and the Reichstag, Tiergarten park, Potsdamer Platz and the Zoo in the heart of former West Berlin, and the fare will cost no more than 3 euros. In Venice, between the airport and city center runs a river tram, travel in which costs 15 euros, which is 6 times cheaper transfer by private boat.
6. Buy the museum card Museum Card - Special "tickets" that allow you to visit the museum free of charge within one, two or more days. They exist in all major cities of the world. With their help, you can save considerably if you plan to actively visit museums: card provides free admission to dozens of museums, and even allows you to jump the queue, which can stand for a few hours.
7. Consider paying in advance if you often pay for buying euros, better to have a MasterCard card, not Visa, which your bank makes write-offs are always in dollars (do not forget about the conversion). But in some countries pay the card altogether unprofitable: there exists a "Black Course", so to exchange currencies on the spot. And, of course, do not forget about cash.
8. How to reinforce the lunchtime cafe and restaurants usually take most of the visitors during the dinner. Therefore, in the morning and lunch are many schools offer discounts on certain courses, in order to attract more people. And do not forget about the rule: "Eat breakfast myself, share dinner with a friend, a dinner give to the enemy»
9.. Order the "secret number" Another interesting feature for those who want to save money and not afraid to experiment. Secret room - these are the rooms that are empty and are sold at a discounted price. You will not be known for sure which hotel room you've shot, but the discount can range from 30% to 50%. Assist resources lastminute.com and hotwire.com.
10. Use a browser extension to find active promotional codes In this age where it is more convenient to make purchases over the Internet - in preparation for the journey all the more. You will be the expansion of Honey - install it on your browser, activate, and when you wander around the net in search of useful gizmos, it will offer you coupons to help save money when shopping online
11. Try the local cuisine without going to an expensive restaurant in this service will help you hotwire.com: here at a reasonable cost to feed the locals offer tourists. Meet new people, great food - what could be more interesting in the journey
12?. Download the application to your smartphone for travelers and online map Find the application and maps that will work without the Internet.
13 Some of them may even replace the guide.
. Do not hesitate to ask for discounts and additional services at check-in possible bonuses, which you might not know, and when flying some flights are offered free transfers to the city. And do not forget to bargain (especially in the East): sometimes it can throw off the price when buying almost twice
14.. Get ready for the trip home more spontaneous trip - it's great, but if you plan your route in advance and spending, it is much more likely to save. Think about the transfer from the airport to find out about the free exhibitions, museums and events in the city, where to send, read reviews about restaurants with a local flavor - download all the information on your phone, add to your favorites or simply print
.
15. Rest now Those who travel alone, great overcharged for the room - from 10 to 50%. Well, if you go to Asia for the long term, the company of 3-4 friends can easily remove a luxury villa for small money.
According to the materials: quora, businessinsider
Translation and adaptation of the
Website
Photos on the preview: GaudiLab / Shutterstock





via www.shutterstock.com/ru/pic-360572705/stock-photo-cheerful-woman-wanderer-with-trendy-look-searching-direction-on-location-map-while-traveling-abroad.html?src=Jplz-_i8yr9TdKtR4gNjzg-1-1