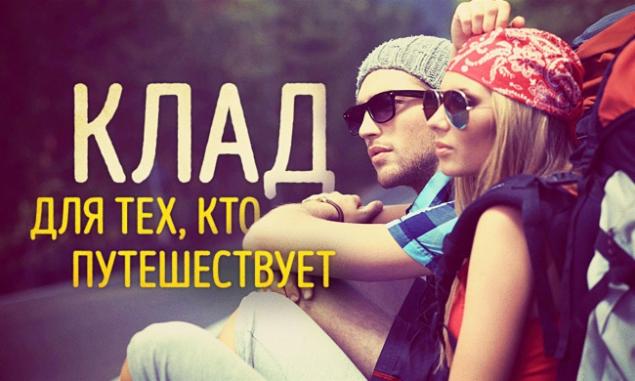 Travel - a sea of ​​adventure and inspiration. And it is quite expensive, if you know some travel secrets.
Website publishes the most valuable tips for trips by travelers' round the world traveler and journalist Vladimir Druganova.




Flights h3> Bilet.ru - site with the possibility of booking a flight and get your mail without pay. Bank burning tours and charters is online tourdom, see "Exchange", and in the last minute tourstanok. RTW-ticket from the three airline alliances do not include loukost company. Therefore circumnavigation will leave significantly more expensive. Access to business lounges in 600 airports around the world (120 countries) with the card Priority Pass. Shower, snacks for free. Discount of 500 rubles for every ticket / hotel at a promotional code VLADIMIR9813 online onetwotrip. Get a free ticket for the flight of "Aeroflot", collecting miles for reviews on tripadvisor. Do not drink coffee before and during the flight. It will only exacerbate the panic and palpitations. GateGuru app will tell you all about airports around the world. Where are the ATMs, which is in the shops Duty free. Drinks on board an aircraft, if it is not loukost not limited. You can ask for two glasses of juice and then one more for dessert. The airline loukosterov you can always get free plain water. Food film cheaper than services winding baggage at an airport.
Security h3> Rename phone contact family / important friends in English. If you suddenly something happens, doctors or the police will know who to call. «Mom», «Father» more understandable for English speaking employee MOE than "Mom" and "Dad." Arrange annual insurance, which includes all countries of the world and the period of stay abroad for 90 days. Wherever you happen to have broken any - you will always be protected. Upload scans of important documents on google drive. If you lose the originals, you can in any internet cafe to print the world at least a copy. Bring 3-5 credit cards and store them in different locations. If you lose the master card or have it stolen - safely lock it, put the money on the second card, and continue your journey. Make a "cover" an English / Spanish with the press (can be inlaid or fake) and your pictures - as in passport. Write down who you are, where to keep the path and why do you good. In all cases with the police is a great make your life easier. Want to street barkers worldwide from you behind? Learn the local language, the phrase "I'm here to work", and voila - you quickly lose interest. When renting a car / motorcycle take a picture of all the scratches and imperfections on your phone directly with the owner. To download an application from the Russian Emergencies Ministry. By pressing the SOS button in the application of your GPS-coordinates will go and rescue and smskami phones of your friends. Bring a first aid kit in a wide range of drugs. You never know what will happen to you. Bring to travel external battery. Then you can always stay in touch, even when electricity is not close to you for a week.
Leisure h3> Almost all museums in the world are the days of free access. Get to know them and drive yourself reminders to the calendar. If you transit through Singapore or Istanbul - do not forget to sign up for free sightseeing tours. What to look for in a new city? Read the article on the Internet "City 1 day" - they have collected the most important and interesting places. Food spotting - a mobile application that allows you to see the look of the dish and serving sizes before ordering. Excursions from the tour operator more expensive by 2-3 times, and performed by the same companies which cooperate street agency. Best off-Guide - application Triposo. Get up with the sun at dawn. Then you will see the sights without the huge crowds. And enjoy their greatness, not the noise of children and conversation guides. Buy tickets for tours / rides through the Internet - a sure way to save an average of 10% of the cost and avoid the queues. Make a guided tour of interesting places and attractions to each other, it was convenient to examine them consistently, not dodge from one end of town to the other and back again. Go to the party kauchserferov or visit the popular hostel - and there, and there you can find new friends, as well as interesting ways to spend the evening or the next day.


Moving h3> When hitchhiking around Europe / America can use a sign reading nearest town. This will speed up your movement. But if between foreign cities, and especially in Russia, many villages - it is better to vote without plates. Try to buy tickets for night buses / trains / flights. So you will save a great house. From any airport in the world can be reached economically by bus instead of a taxi. Look at Google, which companies run buses to the city center and where to look for a stop. Free guides and maps of the city there are many hotels on the reception or individual racks. The more stars - the better the chance to get them for free. Best offline maps - maps.me. All the underground world in a single application MetrO. The compartment cars Railways choose 37 and 38 place. Then you will have a compartment just two seats instead of four. Appendix Rome2Rio help plan your travel itinerary and suggest options for how to get to the destination, how long it takes and how much it will cost. Yandeks.Transport show when it's your bus, on a trip to Russia. On a trip around the world will come to the aid of Google Maps with its bus schedule. Sign up for the action of your favorite airlines, to be the first to know about a big sale and truly save. So it is possible to buy a ticket for $ 1.
Location h3> The hostel can arrange to spend the night in exchange for cleaning or other assistance. Get 8 nights in Bulgaria is free - just take part in the loyalty program from ayda.ru the cheapest place in the Maldives - an island Maafushi. Hotel 3 stars $ 48. And there are such places at all resorts. Take more time to prepare - and you'll be rewarded. The cheapest cities in Europe: Bucharest, Kiev, Belgrade, Budapest, Riga, Istanbul, Warsaw. Participate in loyalty programs of various hotel chains. Gift nights and a free upgrade to a luxury room - a nice bonus. Accommodation 2-3 from the beach line is 2-3 times cheaper than on the first line. Walk to the beach, not only economically, but also beneficial to health. And if it's not a popular hotel and housing from private owners - and then 4 times cheaper to. Just take a stroll through the city in search of tablets «Room for rent». If you have a house that you can take, you can earn excellent AirBnb, getting money directly to the card in US dollars during your trip. It is convenient and profitable. If you go to a warm country - do not bring a tent. Take modern hammock. It weighs 100 grams, and for his garter need any two points of support at a distance of 2 to 5 meters. And the rain will save tent that weighs exactly the same. Choosing between 8- and 10-bed rooms in the hostel, prefer more expensive option - a 6-bed room. It is almost always empty, because saving people usually populated 10-seater. And so there is a chance to be in one room. Using CouchSurfing looking night and day for 2-3 weeks, not later. Because the average response time is 4-5 days, and that you will find exactly the night and day, you need to start looking for her for three weeks prior to travel.


Other h3> participate in all competitions, which are played travel. I've already won three trips. Buy an inflatable neck pillow. It takes up much less space in your luggage, stuffed balls than analog. Do not bring your gadgets (including your mouse) on the batteries. This extra weight of batteries, and if the batteries - and charging even have to take with them. Take a universal technique that is charged by usb. You can take part in the carnival of Rio de Janeiro, just bought a suit in special firms. A part - it does not look the part. This is very different emotions. Best off-translator - application Yandex-translator. Best online translator - google translate. It translates as your speech in real time, and signs with photos. In supermarkets of America, Thailand, Hong Kong and other countries for 2 hours before the closure arranged discounts of up to 50% on perishables. Eat delicacies at a discount. Free Wi-Fi all over the world have in libraries, colleges and universities, not only in the McDuck. Bring things that did not throw a pity. In any country you want to buy something new. And so - throw the old thing, and in its place put a new one. Back, you will be grateful. Use Groupon. He is in 40 countries If you are a long time gone from home, for example, to tour around the world for three months, then to return can do recalculation for utility services. Looking for a boarding pass / ticket All currencies in one application Currency. Very convenient and helps not to get the money when the Vietnamese taxi driver asks you to 3 million dong, and you, looking into the application, you know, he throws you, and the trip should cost only 300,000 VND. Do not forget Tax Free, if you buy electronics. Create a blog / website. Group VKontakte also good, but it does not go far. It's a great base for earnings. Install the application Clashot for earnings on mobile photography. Use the service delivery travelers Gransjoy, to improve the karma, and possibly make some money along the way.

And the last, the most important advice that I feel about all of two years, while traveling: Listen to the world. He tells you what you need, and will indicate the correct way at the moment.







via www.background.uz/wallpaper/love/paren_i_devushka_v_ochkakh_s_rjukzakami_na_doroge/32-0-5997