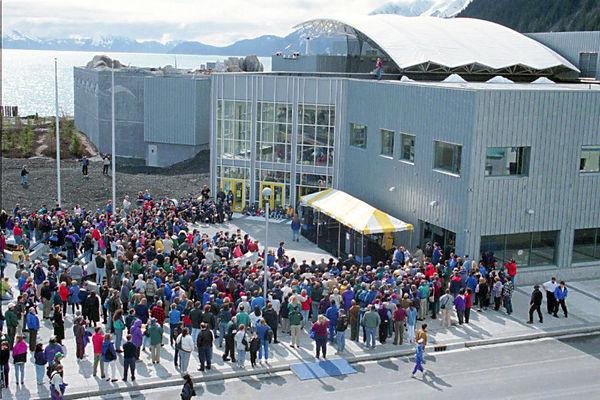 Aquarium and the Center for the Study of marine life in Alaska
Aquarium and the Center for the Study of marine life in Alaska (Alaska SeaLife Center, ASLC) entered into operation heating system using sea water and carbon dioxide. Now, this system provides 98% of all thermal needs of the Center. The new system, heated 11,000 sq.m. aquarium will save about $ 15,000 per month, and reduce greenhouse gas emissions by 600 tys.kg. annually, compared with heaters on fossil fuels.
The system was developed by Andy Baker [Andy Baker], founder of the consulting firm YourCleanEnergy. She picks up the ocean water of the Gulf of Resurrection, and heats the mixture of glycol and water. The heated glycol is reacted with liquid carbon dioxide, whereupon the latter boils. The vapor is compressed CO2 at a pressure of 130 atm., Whereby its temperature rises. The hot steam heats the water circulating in the heating circuit.
Baker explained that the uniqueness of the system is the use of heat pumps transcritical cycle. As a result, instead of carbon dioxide emissions into the atmosphere, it is used to operate the system.
Carbon dioxide has long been used as a refrigerant - it is worth remembering the "dry ice", which is used for storage and transportation of frozen foods. Liquid carbon dioxide, held under the stock number R744, is gaining popularity due to the fact that the currently used refrigerants substance safe for the environment.
Its use has been made possible thanks to the development of technologies for production of high-strength materials, as work on CO2 systems require a pressure up to 130 atm. Non-toxic, non-flammable and no harmful effects on the ozone layer of carbon dioxide can lead to the fact that it will replace the current refrigerant in industrial refrigeration plants, cars and heaters
Center for the Study of marine life in Alaska -. Public aquarium and marine rehabilitation center mammals, which opened in the Gulf of Resurrection in 1998. It is argued that it is the only center in the world devoted exclusively to the study of the environment of the northern seas.
Source: geektimes.ru/post/274992/