The list of diseases for which helps decoction of flax seed, is quite extensive. All of the following recipes are completely natural and are suitable for regular use.
Recipe one: get rid of the swelling
In order to get rid of the swelling need to prepare a decoction of the following recipe.
You will need these ingredients:
Purified or melt water - four full cups,
flaxseed (whole) - about four - five tea spoons
lemon peel - half teaspoon
.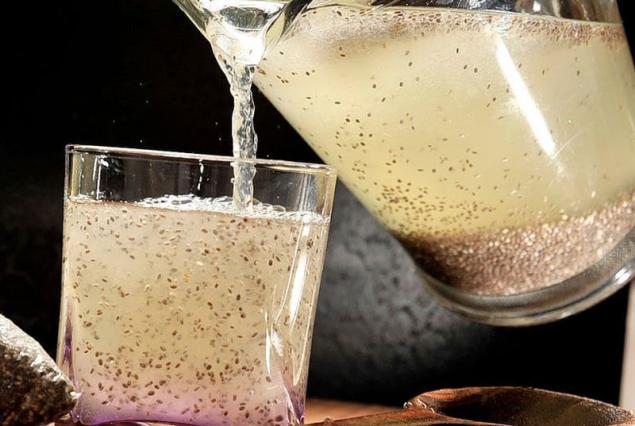 So, in a small saucepan, pour water, flaxseeds, and then put the container with the mixture on low heat and bring it to a boil, add honey.
Boil means about ten - fifteen minutes, and then remove the pan from the heat and, without opening the lid, leave to cool
. Filter means is not necessarily ready (optional) because thanks grains you will not only get rid of puffiness of the face, feet and hands, but also to organize the work of the digestive tract!
Application: use the broth for half cups throughout the day with an interval of two - three hours. Approximate duration of the treatment course: three to five days
. Recipe Two: to normalize blood sugar levels
For the treatment of diabetes using the broth, which is necessary to prepare for the next popular recipe.
Crush two - three large (canteens) tablespoons of whole flax seeds in a coffee grinder in the flour, then pour it into a small pan and pour two glasses of purified water at room temperature
. Now place the container with the mixture over medium heat and boil its contents for five - ten minutes, without opening the lid
. After this time, remove the pan from the heat and leave to cool.
After five minutes add the mixture of half a teaspoon of cinnamon and mix it thoroughly.
Ready broth consume once a day for an hour before eating. The duration of the course is one month.
Recipe three: for weak hair
If you want to restore weak hair health and shine, use the means prepared for this recipe.
Boil one liter of purified water a teaspoon of whole flax seeds, then place the container with the mixture on low heat and add to it a teaspoon of chamomile dried flowers (available at any pharmacy) and crushed in a coffee grinder dry burdock root (about half a teaspoon).
Boil the mixture for about fifteen minutes and then remove from heat, let cool it under the lid to room temperature and strain it through a sieve or several layers of cheesecloth.
Application: ready means used for rinsing and rubbing the hair roots
. After twenty minutes after applying the broth it is necessary to wash using warm running water. In addition to the main action this composition has the properties moisturize the scalp and prevent dandruff.