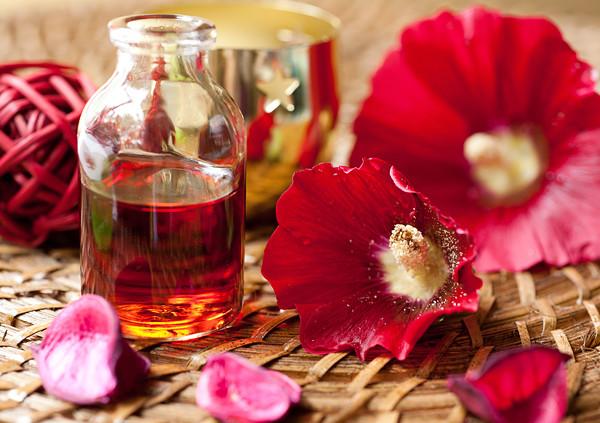 Orange - increases optimism, faith in their own strength, charm. Antidepressant. Opens aura of good and the perception of positive information. Revitalizes thinned layers of the aura after a long illness. Cleansing the aura. Well cleanses and stimulates the code of good luck. It attracts money and luck. It helps with energy depletion.
Basil - restores the objectivity of self, eliminates complex. Well removes nervous exhaustion. It helps to quickly relieve nervous fatigue, to get rid of mental overstrain, anxiety, depression, improves mood. It gives a burst of energy, clears and purifies the mind. It is an antidote to heavy people. It helps to give up hard liquor.
Geranium - Restores hormonal balance. Eliminates the mechanisms of self-destruction: an inferiority complex and, depending on other people's opinions. It helps recover from a bad communication or a small loss. Restores health evaluation behavior and motivation, it helps to restore the aura of the reference form. Well recovers aura with fatigue and exhaustion.
Ylang-Ylang - antidepressants. Converted essential oil, attracts love and positive energy to the world's energy levels a skin, restores symmetry promotes higher chakras. It attracts love and positive energy. Restores energy shell. It develops high chakra. It relieves anxiety, tension, irritability, fear. Crying, especially in children. Good for insomnia and high pressure.
Lavender - promotes self-knowledge, meditation, recover quickly. It provides complete energy relaxation helps resorption \ "scars \" on the energy shell. It protects against dark entities and negative energies. Reduces aggression, it helps to recover from envy. The fragrance of meditation. It provides complete energy relaxation. Helps dissolve scars on the energy field ... Reduces aggression vampires. It helps with energy depletion.
Lemon - allows you to quickly and smoothly adapt to the new conditions of life, to new people, it helps to quickly get used to and accept philosophically irreparable loss, strengthens the vital interest, inspires creative action in the work, in the family, in love. It helps obtain energy solitude and meditate even in a crowd. Good luck stimulates code. It helps with energy depletion., Clarifies the mind, eliminates drowsiness and dizziness. Refreshes, invigorates.
Melissa - a powerful shield against the ill will of others, it helps to get rid of old \ "tails \" and prevents the formation of new ones. It helps to be lucky and optimistic. \ "Cauterize \" areas, poorly saves energy and strengthens the mechanisms of energy regulation. Applied to the threshold of the house does not cause harm to others or to enter a home. Eliminate the evil eye from the apartment or room.
Juniper - is developing integrity and fidelity to nature, acceptance and recognition of lies, protects the aura of aggression, helping to find a quick and dignified way out of any situation. Helps \ 'gall \ "people get rid of inward self destructive irritation. Promotes the acquisition of well-deserved reputation by developing generosity and intelligence. Oil protects against attacks and voodoo spirits or entities. A well-guarded house (aromakulon hang on the door jamb). Protection from black magic. Oil meditation and purification space. It protects the aura of aggression. It helps to find a way out of difficult situations.
Mint - enhances breathing, pulsating, renewal energy layer. It improves communication between loved ones. Eliminates tension and expectation of troubles. Lets projection \ "black holes \" on their lives. It helps to overcome the disease. Aroma "yin". Clears energy breath. Restores energy field energy. It stimulates the mind, improves memory, strengthens the nerves, relieves headaches.
Patchouli - helps to cope with any situation that requires analysis and intuition, enhances the higher chakras, helps to experience the unique flavor of love and kindness, prevents the development of vampirism. The oil money (to put on the bills in your wallet or a box). Well cleanses the sexual chakra. It helps to awaken the Kundalini. It restores energy, helps with energy exhaustion, depression and exhaustion.
Rosemary - refreshes, revitalizes energy layer, enhances immunity aura, warm, inspires action and active lifestyle, returns extinguished interest in life, strengthens psychology and intuition develops heart chakra. It cleans the house from evil, magic, aggression and energy of mud (good to use in conjunction with juniper or incense). Wear on his aromakulone as protection against black magic aggression and attack of spirits. Restores bioenergy. Enhances energy immunity. Contraindicated in people with high blood pressure.
Fennel - helps to quickly get rid of the errors, misconceptions and unfair conclusions. It helps calm and soberly face the truth, protects the aura of injuries. Opens chakras from injury. Cleans and clears the mind, gives courage, determination, especially if you sit on a diet.
Thyme (Thyme) - enhances the beginning and strong-willed determination, it helps to overcome shyness. Increases energy and brightness of the glow of the aura, it helps to neutralize the destructive mechanisms inside, under the outer shell of the aura. It promotes the renewal of energy, strengthens immunity aura. Eliminates the vices (greed, envy, anger, etc.) are contraindicated for people with high blood pressure
Tea Tree - Oil oncologist. It eliminates energy growths caused by the adoption of attitudes wrong. Restores the thickness, shape, symmetry aura. The greatest impact on the "cap" (part of the aura above the head). Protects against aggressive energy of the outside world.
Sage - helps restore and healed after an aura of deception and infidelity. Contributes to the opening of new possibilities of expression of the individual. Good cleans the room for meditation or rituals. And after quarrels, scandals. Calms. It gives a sense of well-being and carefree. Indispensable for any stress. Contraindicated in epileptics.
Eucalyptus - Oil-savior, helps to quickly recover from the stress of the disease, a curse. It increases the amount of energy responsible for longevity. It helps to get rid of illusions. Contraindicated in people with high blood pressure.