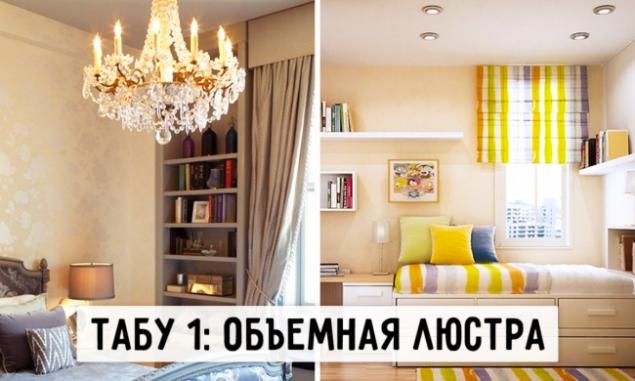 in a small apartment each subject should be given a role. Improperly selected furniture and accessories overabundance of clutter space and visually reduce it.
Website , together with Inmyroom compiled a list of what is unacceptable in a small apartment. Avoiding these taboos, you can create a harmonious interior.




Tabu number 1: Body chandelier h3> Overall chandelier in classic style - a colorful and expressive piece of furniture. It will set the mood and give the style throughout the room. However, in a room of modest size, this option would be inappropriate, because "eat" the precious space. Use around the perimeter of the complex composition of light in combination with overhead ceiling lights - it is visually expand the size of the living space and will adjust its shape.











Tabu number 2: Dark h3> Avoid dark colors that absorb visual light - a small room will look like "heavy" and uncomfortable. It is better to opt for bright colors: on the floor lay a laminate, imitating the bleached oak, paint the walls in a milky color, Organize the room with the help of a light beige furniture. To brighten the interior is always possible with accessories: decorative pillows and curtains, or lemon-colored carpet with a red and white geometric pattern.











Tabu number 3: Multilevel ceiling h3> A large room tiered ceiling looks appropriate, and even advantageous. But for this little bad option: it will look awkward and will weight space. Make a bet on an even and bright ceiling. It can be perfectly plastered surface or suspended construction. In the first case, you get elegant simplicity, the second - a large number of directional light (do not forget the spotlights or floodlights).











Tabu number 4: Bulky furniture h3> We will not argue, a sofa in the English style or antique dresser dimensional look luxurious and bright, but in a small apartment design advantages become disadvantages interior. Replace them with modern and light on the kind of items: let the kitchen appear chairs made of transparent plastic, and in the living room - a glass coffee table.

Note the convertible furniture. Bed-transformer in the children's room will give the extra square footage for a fun game you restless; organizes the workflow table and fun gatherings in a large company. Wall mounted cabinets and shelves without support legs - Hanging furniture adds to the space of air and lightness.











Tabu number 5: Partitions h3> The owners of small odnushki need to forget about the partitions they fit perfectly in the space of a studio apartment or a spacious country cottage, but in malogabaritki "will cut" non-functional space on the "cage homes". If you want to allocate a corner - just a little creativity. Organize the window a low podium, put it on a desk and chair, and - voila - the working area is ready. The goal is to divide the nursery for children of different sexes? Decorate one part of the room wallpapered delicate shades, and the other - more vivid. Requires highlight in the kitchen dining area - use the Desktop or masonry wall.










Tabu number 6: Massive doors h3> The doors of dark colors will delineate the boundaries of the small room, and it visually "break". A more practical and aesthetic option - the door leaves in bright colors. It is appropriate in a small apartment glass doors - they bring into the interior of weightlessness and elegance. Pay attention to the sliding doors, which are characterized by their compactness. And as far as possible and completely give up on them - leave the empty doorway, or make it a decorative arch.










Tabu number 7: Close the drawing and set of patterns h3> A large picture on the wall - a good design method. But in a small apartment to use it is very carefully: it will reduce the pressure and the visual area of ​​the room. Another common mistake in the design of a small space - a lot of prints. Even if you want to arrange the living room in style Shabby-chic, you should not choose the wallpaper, decorative pillows and furniture with floral print. It is better to stop for one thing: let the textiles will be with delicate pattern, and a sofa and a wall monochrome. Make one accent wall bedside or near the desk - there will be a major figure in the place.










Tabu number 8: Using more than 3 colors h3> With the primary colors in a small apartment, be extremely careful. Limit to malogabaritki - three colors. Avoid large amounts of contrasts - they will cut eye. Neutral colors combined with additional shades - something that is necessary for a small housing area.










Tabu number 9: Excess accessories h3> In a small apartment hard to create a minimalist interior. But it is worth at least try not to overload the space accessories. Make a bet on some bright parts. Option 5 points - decoration, performing aesthetic and functional role. Let it be in the living room vase unusual elongated shape, and in the hall - a mirror with a big relief frame.










Tabu number 10: Heavy draperies h3> Curtains French jacquard or velvet shimmering in the light - definitely not for small apartments. Heavy drapes create the appearance of yet another wall. And our task - to expand the space and create ease in the interior. Decorate the window curtains tulle or light colors - in the room will be more light that visually expand the space by all means.













via www.pinterest.com/zenobia0000/bedroom-ideas/