The situation around the obscene statements Lebedev Studio against Nokia begins to clarify whether, or even more entangled.
The network has the official statement by the representative of Nokia in Russia Victoria Eremin, which ambiguously states that the Finnish cell phone manufacturer alone terminated the contract with the Studio on the results of the tender.
"In accordance with the standards of the Nokia business and financial reporting SOX we must evaluate all service providers no less frequently than every three years. This assessment is carried out by the organization of the tender, with an invitation to other participants on an equal footing. In the case of the Lebedev Studio, which has been with us for more than 4 years, and a tender was held, and the studio could not win it.
In assessing the results took into account the whole range of factors: the quality of the Agency's work, the timing of their implementation, the ability to understand global requirements Nokia, the price of services and a team that will work on the project. The tender results were announced at the end of April, 2007 - won the Ukrainian agency E-Development, affiliated with the "Kvazar-Micro". The agency is well established in the work on the Internet site of Nokia in Ukraine »
Eldar Murtazin, a leading analyst of Mobile-Research Group: «For Nokia, in my opinion, is a positive development. There is reason to believe that, from this point, the Internet representation of the company would finally begin to adequately operate and function. With regard to the Lebedev Studio, the most likely impact of an event may be such that the company "closed the door" on the Western market ».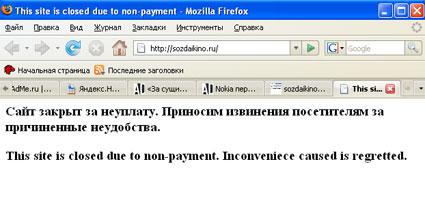 Comments from Lebedev is still there. In addition to the statement on the website artlebedev.ru there is an interesting site sozdaikino.ru, which develops Studio for Nokia - is now on the home page in English and Russian languages ​​written: "The site is closed for non-payment. We apologize for any inconvenience to visitors ».
via
sozdaikino.ru