Ten mobile phones, it has happened a small revolution in their cozy little niches.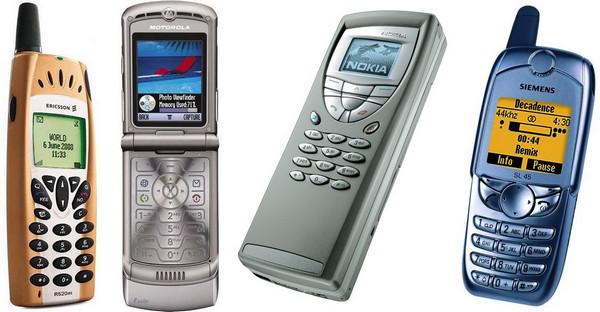 1. Nokia 9210 Communicator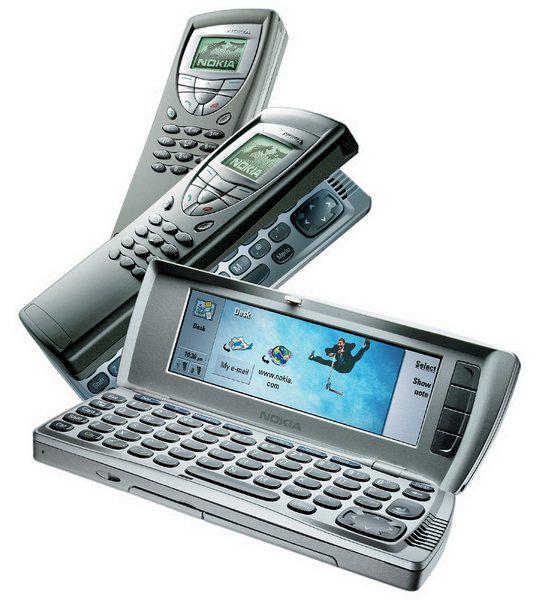 This seemingly ancient mobile Nutcrackers - very "reasonable" phone. This can guess by opening the device and looking inside. The device runs on Symbian v6.0, Series 80 UI, was equipped with a 32-bit processor with a frequency of 52 MHz and a screen diagonal of 4, 5 "and 640 x 200 pixels. Yes that there "was" and "work"! It is possible that to this day can be found running instances at radio or even in the hands of users.
To say that the smartphone Nokia 9210 Communicator ahead of its time - it does not say. Model released was in 2000. The phone could send emails, view documents giving Word, Excel, PowerPoint, PDF, has an infrared port, memory card support, external screen. Nokia was in the vanguard of technology. Later on other models, which you will find in this text, say that they first met in the last two functions.
Incidentally, the term "device" was introduced personally Nokia. So the company stood for their "smart" phones 9th line (to whom belongs the Nokia 9210), whose ability to combine the capabilities of your phone and PDA. Since then, the word "device" made a lot of confusion in the classification of "smart" phones, but the trademark belongs Communicator Nokia.
2. Siemens SL45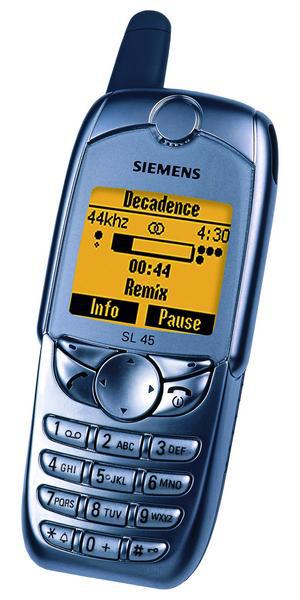 This model happened to see the light in virtually immemorial by the standards of mobile phones times - in September of 2000. In general, the 00-year was marked by several models that have unique features for its time. Benefon launched the first phones with GPS (Benefon ESC), Sony - polyphony (Sony J5), Sharp, together with the operator J-Phone somewhere in the vastness of the Japanese - a camera phone. A Siemens successfully continued its line SL first model with support for memory cards up to 32 MB and an MP3-player.
The phone weighs 88 grams and accidents was so tiny that he could easily get lost in the mighty fist businessman those years. Nevertheless, the model has been oriented in the first place on the segment (the other hand, even if one could focus the then mobiles in communication cost). Of all known communications, Siemens SL45 had only infrared and was equipped with a WAP-browser version 1.1. But its phonebook supports up to 500 addresses with 14 input fields. By comparison, today's extremely low cost Nokia can store up to 200 addresses, and then only with one phone number. In addition, business-hero of his time supports voice dialing and up to 300 voice recordings. A set of supply includes his headset Sennheiser, according to the source on the Internet. By the way, the battery capacity of the model was 540 mAh. If we believe the data preserved in the depths of GSM Arena, in the standby mode, this proud old man could live up to 170 hours and talk time - up to 4 hours. Who's there to complain about battery Android-smartphone?
The model has been extremely successful and popular, and the following year the world saw its updated version SL45i with Java and GPRS, and optional battery capacity of 1000 mAh.
3. Ericsson R520

Every time I hear the word Ericsson, before my eyes appear this rough and unsightly phone. Of this model was to be my first phone, he was presented in honor of his parents entering the university (at the time the model was year and a half). And remember, I was still immediately thought: "How can you do such ugly technique." Because it was so full of nice little round and Alcatel, strange, wild, but the popular Siemens. Were beautiful Nokia and Sony.
Oh, I did not appreciate in those days, that in my hands was literally a crown of mobile technology at the time. This R2D2 R520 is the first mobile phone with Bluetooth. This phone was also GPRS and e-mail. And, of course, infrared, WAP-browser, phone book for 500 numbers and the ability to download monophonic ringtones. Godsend for the business person of the sample in 2002, for which the mobile phone is not only a means of communication, but also an indicator of status.
4. Nokia 6310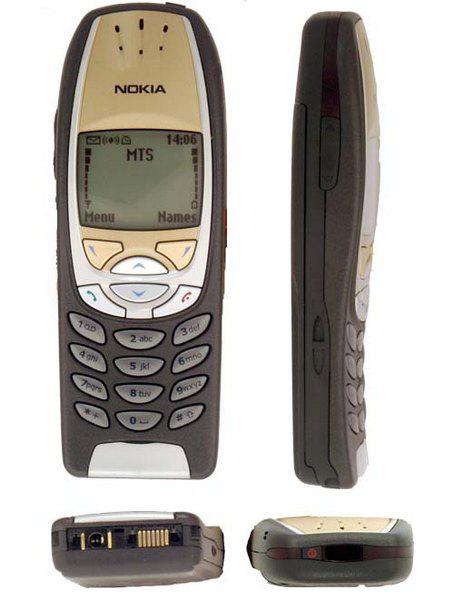 This legendary phone was released almost at the same time as the previous model. Nokia 6310 look and positioned as a business model. He does not yield Ericsson R520 in its capabilities. There was also a GPRS, Bluetooth, infrared, large memory for the magazine calls and messages. However, if you believe the mobile-review, vaunted Bluetooth in this device is still working very badly and did not want to be connected to the headset. But the main thing - in this phone was "Snake", which later during the years of constant presence in Nokia devices so kinship with the brand that without Nokia phones have been unthinkable, and any updates or changes in the schedule of the game disappoint.
Nokia 6310 with Nokia 6310i, which came out a year later, proved to be more popular model than the Ericsson R520. And I think that if you dig in the bins, approximately every second family is found abandoned and forgotten instance of this phone, which also had to go through a number of family hands and has almost become a relic.
5. Samsung S100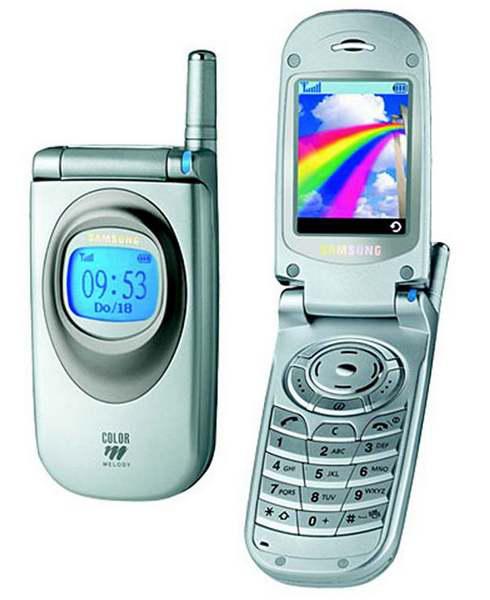 Together with the push-button telephones era goes into oblivion, and once incredibly popular form factor phones - clamshell. At the dawn of its popularity (I do not mean the year 1996, when Motorola launched the first ever clamshell, and a year since 2001-2003-th) it was really expensive and rare vehicles, equally desirable and strong and weak half of mobile users. Actively taken up the clamshell company Samsung, releasing a bed of "the world's first clamshell phone with ...". So, Samsung A300 is the first clamshell with an external display, T100 - with color display. After it was this cult S100 - though not the first in everything, but the more "popular". Despite the fact that in this model the screen is used weaker matrix compared with its predecessor T100 (STN against TFT), S100 was better from the technical point of view: it has been supports GPRS, was Infrared and twice memory call log. And that her appearance was the most memorable. Specifically, in those bins where not overlooked Nokia 6310, there is a clamshell Samsung S100.
6. Motorola RAZR V3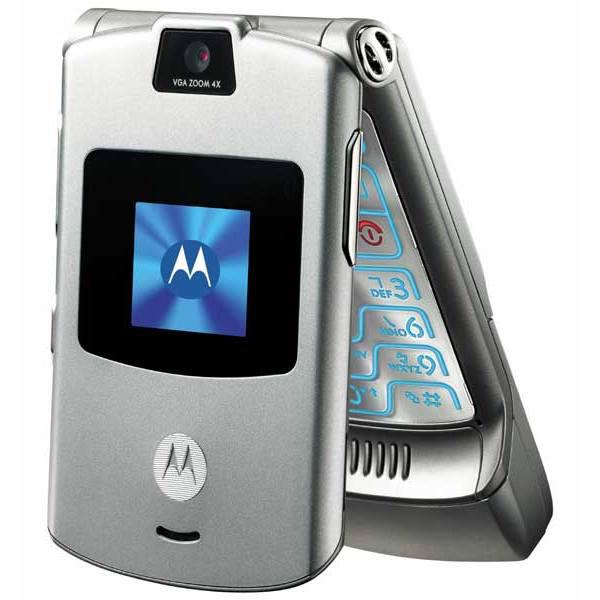 Motorola RAZR V3 saw the world in a year after the appearance of Samsung S100, and was a leader of the American manufacturer. And this phone also learns literally everyone who in 2004, ie in the year of release of model no longer walked on foot under the table. Thin metal body, crisp clean lines, cheeky appearance - all this justifies the name of the RAZR, that is, "the blade". Despite the fact that the model also was the flagship, its technical ability is not amazing: miniUSB-port, VGA-camera, GRPS class 10, the ability to play video, put calls MP3-ringtones, phonebook 1000 data.
RAZR design over and over again revived in each new model Motorola, becoming the face of a long phone brand.
7. Sony Ericsson T610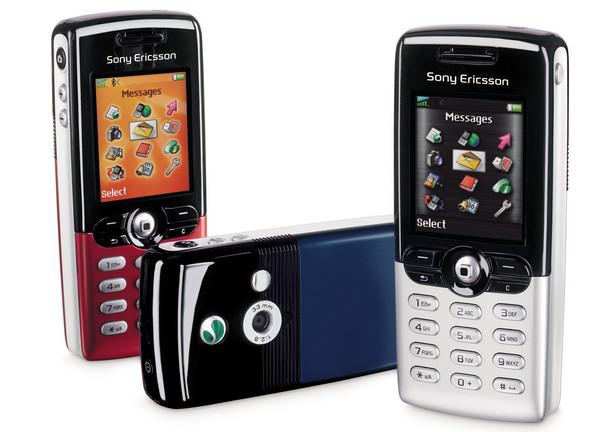 With respect to this model, and I want to say that she anticipated his time, although Sony Ericsson T610 is not carried within itself is nothing revolutionary. It was a phone with good features, attractive appearance, and perhaps the best mobile platform. The phone was great for its time display (in fact - a vertical orientation, which was unusual for a phone at that time!), The battery is capable to hold a talk time up to 14 hours, a camera with a resolution of 352 odd × 288 pixels and a similar position for a balanced model bed means for communicating with the world: Bluetooth, Infrared, GPRS, WAP-browser version 2.0. He was not as massive as the Samsung S100 clamshell or candybar Nokia 6310. But it was definitely a welcome and loved. And for a long time remained relevant. In addition, the T610 was used literally classical arrangement (and combination) joystick and keys, which subsequently is found in many other successful models of phones Sony Ericsson.
8. Sony Ericsson K750i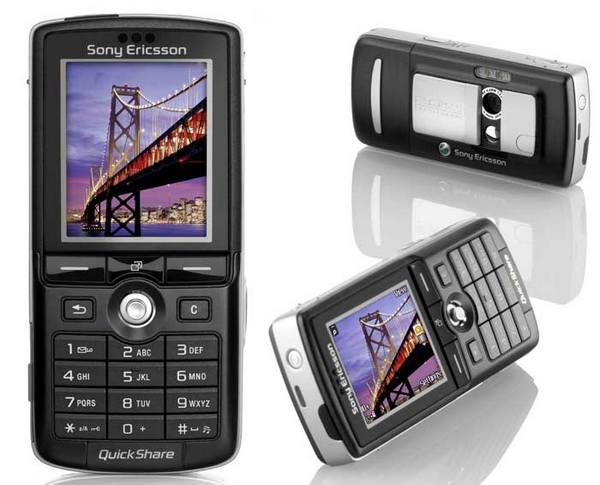 I still often meet him in the subway and miss him. Everything in it was okay: the design of the case, and the platform and controls, and even a built-in player. And belonging to the class of camera phones did not interfere to be an excellent, well-rounded phone. The phone was a wonderful handy player, and each function it was comfortable to use. Although it was a classic phone even without pretensions on capabilities of smartphones, it allows you to run multiple applications at the same time that it was akin to multitasking smartphones. And the simplicity and consistency menu brainchild of other manufacturers can only dream of. In support kamerofonistogo positioning Sony Ericsson K750i said successful camera function panoramic shooting and autofocus - first used in this phone.
Judging by how often you can meet people with the Sony Ericsson K750i and today, many share this opinion. Phone deservedly has long been a favorite - without unnecessary hysteria, without the annoying marketing, and so simply and sincerely.
9. LG KG800 Chocolate
If back in 2006-2008, the year you choose a phone on the characteristics of "fashion", "slider", "touch control", make sure you have stumbled upon a few models LG. Model KG800 Chocolate - one of those "horses." The emphasis in the model was placed on appearance - gloss black panel that appear red symbols buttons. And then disappear, as no longer necessary, and the phone again transformed into a beautiful trinket, like a bar of chocolate (based on the model name, the idea was such). The idea is that it should have been fascinating. Apparently, someone fascinated. In sufficient quantities to be attributed to this model cult.
10. Nokia N95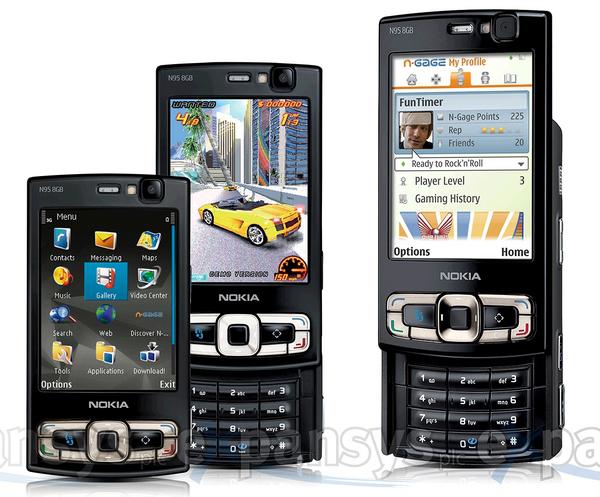 Frankly, almost every position in this small and indicative list been intense discussion and share of doubts but smartphone Nokia N95, the first entry in the list of iconic smartphone. This iconic model was released back in March 2007. She had five megapixel cameras, an unusual form factor (two-way slider) and very large sum of the sizes of its time, a complete set of communications, including HSDPA. He worked as a unit, as well as other smartphones of the manufacturer on Symbian S60. And around it was so much marketing that literally forces all want this smartphone. Who would know that just a few months the world will see the first iPhone, which will radically change the way people think about what can and should be a phone. And how unpredictable at the time way turn the fate of the Finnish giant mobile technology.