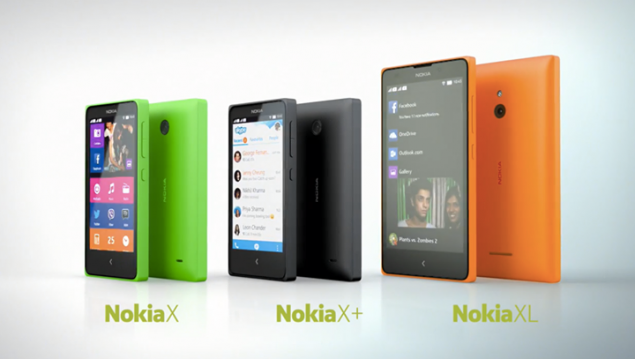 Information on the output line of Nokia phones based on the Android operating system was confirmed.
New line will be called
Nokia X
.
Judging from the performance - and the budget line is designed to expand the range of Asha.
It is worth noting that the system interface redesigned, and is made in the style of the line Nokia Lumia, based on the operating system Windows Phone.
In addition to operating the new phones also support two different simkarty and modest by today's standards as paremetrmi Camera - from 3 to 5 MP.
Earlier, the already available information on the output of Nokia smartphones based on operating system Android:
Nokia may release a smartphone with Android to complete the merger with Microsoft
// www.youtube.com/embed/_pdTuFWbcNI?wmode=opaque video>

UPD
At the request of readers - brief specification of new models (источник):
Phones
Nokia X
Nokia X +
Nokia XL
Display screen size
4-inch IPS LCD
4-inch IPS LCD
5-inch IPS LCD
Display resolution
800 x 480 px
800 x 480 px
800 x 480 px
RAM
512 MB
768 MB
768 MB
Storage
Up to 32GB
MicroSD
Up to 32GB
MicroSD (4GB card included)
Up to 32GB
MicroSD (4GB card included)
Primary camera
3 MP fixed focus
3 MP fixed focus
3 MP auto focus and led flash
Secondary camera
- - 2 MP
Processor
8225 Qualcomm Snapdragon
8225 Qualcomm Snapdragon
8225 Qualcomm Snapdragon
Processor speed
1 GHz dual-core
1 GHz dual-core
1 GHz dual-core
Network support
2G and 3G- ESGM 850/900/1800/1900
WCDMA 900/2100
2G and 3G- ESGM 850/900/1800/1900
WCDMA 900/2100
2G and 3G- ESGM 850/900/1800/1900
WCDMA 900/2100
Dimensions
115.5 x 63 x 10.4mm
115.5 x 63 x 10.4mm
141.3 x 77.7 x 10.8mm
Weight
128.66g
128.66g
190g
Standby time
2G = Up to 28.5 days
3G = Up to 22 days
2G = Up to 28.5 days
3G = Up to 22 days
2G = Up to 41 days
3G = Up to 26 days
Talk time
2G = Up to 13.3 hours
3G = Up to 10.5 hours
2G = Up to 13.3 hours
3G = Up to 10.5 hours
2G = Up to 16 hours
3G = Up to 13 hours
Price
Euro 89
(Rs.7587)
Euro 99
(Rs.8440)
Euro 109
(Rs.9292)
Price
Immediately
Immediately
Q2 2014


Source: habrahabr.ru/post/213667/