After the May super positive "citywide ladushek" for the largest cellular operator MTN South African agency Metropolitan Republic and production Wicked Pixels to create at least ambitious and least good movie - «Stickies» .Spot is a very brief summary of a few ideas of young people who might want to surprise the city: pasting in the building leaves the familiar post-it, they created a giant 15-meter man - a kind of pixel art. And then, perekleivaya leaves, they forced him to move.
Tagline: «Go Make Magic» - «Go and do magic»
As in the video Clap Clap, in Stickies no mention of any mobile communication or operator - treydmark and the slogan «Everywhere You Go» appear only pekshote.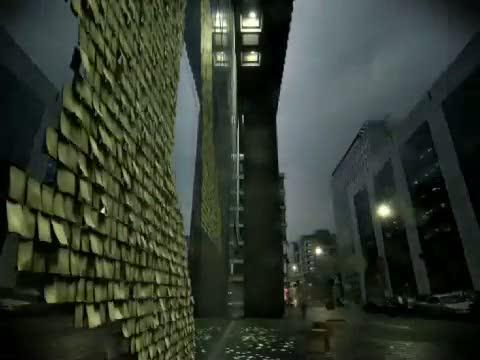 Production minute movie demanded a million leaflets post-it, 96,314 pictures general "weight" of 2.5 terabytes, 4.9 km 35mm film, 3 weeks and 83 hours of installation calculation in Flame. It is suggested that this is the most technically and creatively ambitious movie in the history of advertising in South Africa.
Producer of Wicked Pixels Dennis Dyas said that "man in kantstovarnom store was a little taken aback when I went there, went to the counter and said that I had a million stickers».
The first 15-meter "man-sticker" consisted of 19,865 post-it, but the scenario he had to go on the buildings - that there's the "left" remaining 980 135 stickers, an incredible amount of time and maximum attention to every detail. Each movement of man-sticker photographed separately. After each frame all the leaves were removed and glued on the seat next to new. This was repeated from time to time by 14 lokeyshenah.
Prodakshenu also had to face the fact that the manufacturers of these yellow leaves never imagined that their products can be used in this way. Therefore, they were not designed to adhere to the building: the wind and rain to unstick them and brings about changes in the shooting schedule.
Problems arose with the height. The man's head stickers often rises to a height of 20-25 meters, respectively ladders could not reach either to or provide at least some security. Therefore, head climber had to do, get down from rooftops on the ropes.
From 300 crew on the set of one was hurt, but there was every opportunity to return. It was so dangerous that the area around the clock duty two cars and a helicopter ambulance.
Craig Wessels and Rob Malpage, directors: «These surveys have given us a great experience, because they are always there was something interesting and sometimes even dangerous. Yohannessburg - a fantastic, vibrant city for filming. We have not had any problems with security, despite the fact that we have three cameras simultaneously filming and the crew slept on the street, while the cameras filmed many plans ».
As a result, nearly three months of round the clock work a huge team of South Africa received excellent, very energetic clip.
Paul Warner, Creative Director and Founder, MetropolitanRepublic: «We hope that this video will inspire and activate people, especially young people. What do they realize what can be done in the presence of a small amount of time and imagination in their hands ».
Roller «Stickies» in the past in late July, the South African advertising festival The Loerie Awards won bronze in the category TV & Commercials Sinema and gold for post-production. Clip Clap Clap for the same operator in Silver Sinema TV & Commercials and two gold for cinematography and directing.
via / yuar / 2007/05/24/18101 /