Education, as we remember from school years, a thing quite tedious, exhausting and clog our heads a huge bunch of different and not always useful knowledge. The same could be said about the study of foreign languages, if not one "but».
Language schools manage very fun and exciting to talk about themselves and their benefits.
The site collected the most striking examples of creativity in this field in the material.
One of the most striking and perhaps the most stable creativity shines in this area a large network school Berlitz, which not only organizes linguistic courses, but also sells numerous phrasebooks, dictionaries and textbooks almost all world languages.
Last year, the Cannes audience roared with delight and laughter, when they showed three rather long viral video about how a song can understand if bad to know the language in which it is executed.
No prizes at Cannes is a series, alas, it did not get, but it has several other trophies prestigious advertising festivals.
Slogan: «Every song tells a story. Better you get it »-« Each song tells a story. And it will be better if you understand it ».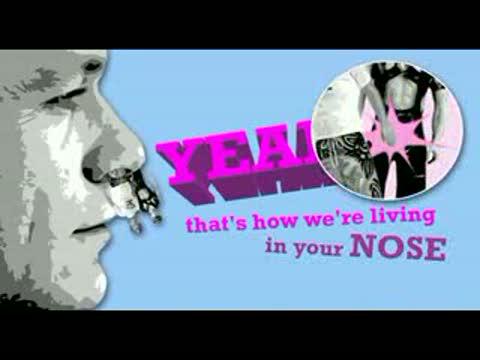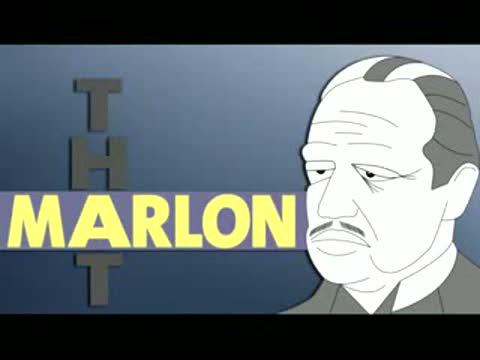 It is fair to say that the idea Mangling these words of the song is not new - in 1999 in Brazil, a series of prints on virtually the same. But that prints (with unspoiled so much hilarious sense), but it perfectly to make a movie with the abolition of copywriting and art direkshenom.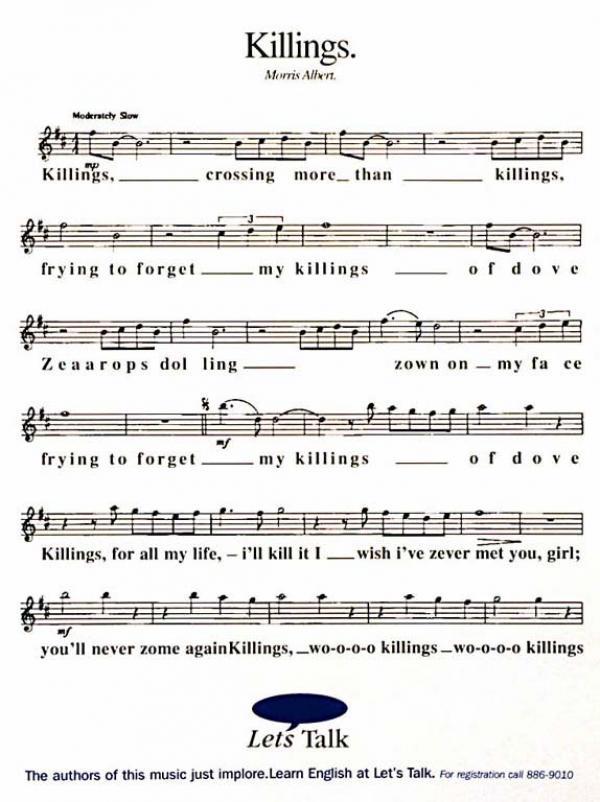 Another campaign is on the brink at the Berlitz came just a few days in Israel.
Tel Aviv branch of Grey showed stories about how wonderful life has changed a transsexual, "silicone" blonde and the other after a two-week courses.
Thereby Grey Tel-Aviv, and continues the tradition of banter advertising Berlitz, and makes clear the audience that get knowledge of the language for two weeks really, though it seems impossible.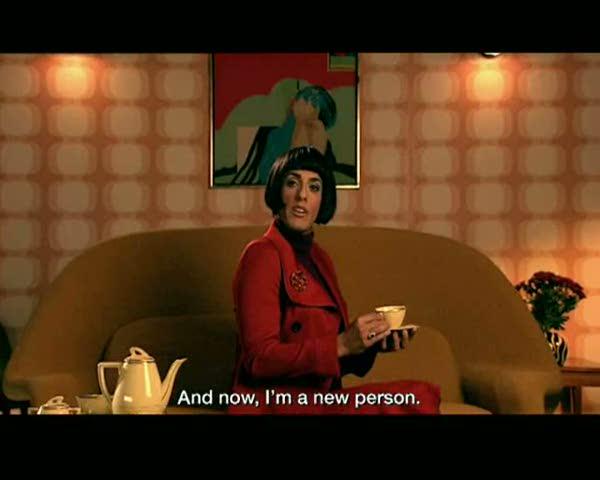 Berlitz and its agencies are doing a very simple and easy to understand advertising and without provocation, ridicule and brinkmanship. Example - this very beautiful print of the German agency Scholz & Friends, which plays the most famous in the world of human confusion associated with the language barrier. Tower of Babel, which was to reach heaven and bring people directly to God, as we know, it is unfinished because God did not want to give people permanent audience and shared them on the basis of language. As a result, the builders were unable to agree and have dispersed, leaving great, but ungodly thing.
Communicative confusion settled Berlitz - all to learn the language and the tower safely completed. Poor God.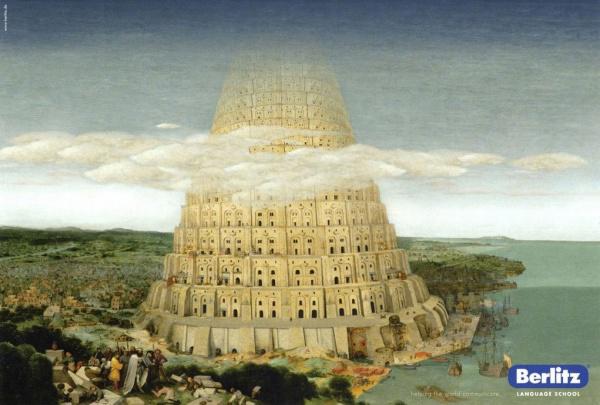 And this guerrilla action carried out by the school in 2005 in Germany, touches his utmost simplicity and genius. DDB Düsseldorf on plain paper print English words for objects and objects that are constantly occurring in the streets, and trite these leaflets pasted on them.
It was the most convincing evidence of the working methods of Berlitz - practical orientation.
The number of visitors increased by 11%, and the Berlitz school in Germany received an impressive number of new students - 20,000 per year.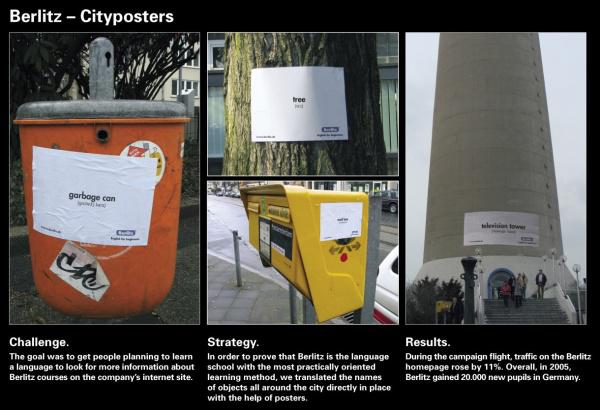 Berlitz is not uniform, however, shines advertising language schools. Practiced wit educational organizations from around the world, playing all sorts of idiotic situations in which a person may be, without knowing a foreign language, and dabbling with words.
Spot rates Soesman Language Training in 2000 Cannes jury was struck to the heart. Silver Lion and a television ban.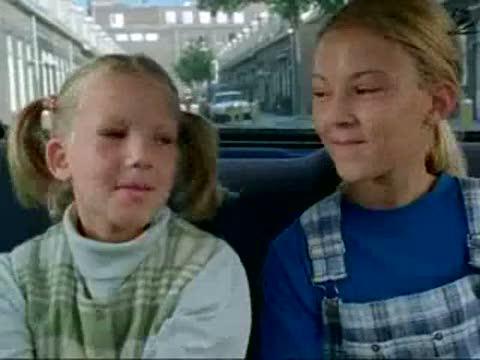 Three years later, the jury in Cannes evaluated a different approach to advertising the study of foreign languages. Roller Inlingua School took home the prestigious gold award for the invention of language understandable to all Eurolingo, in which the mixed words from different languages. In addition, the movie is a shining example of purity copywriting, which practically do not need visualization.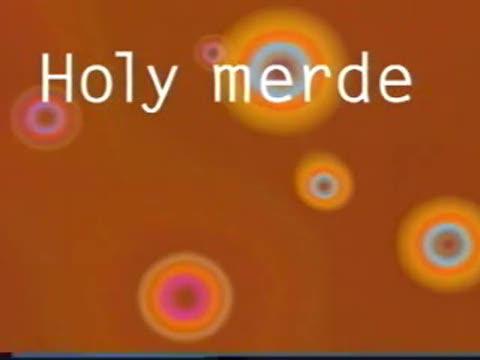 This year marked the Lion succinctly print the same Inlingua. It just two words, but we have only one thing to describe it - "super».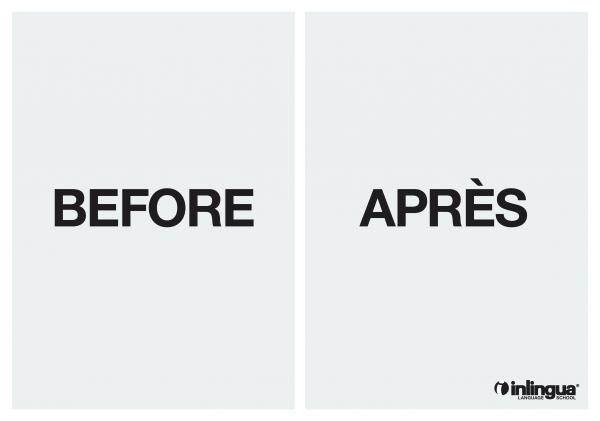 Belgian agency Duval Guillaume reproduces scenes from the lives of tourists who do not know a foreign language.
"Do not count on your acting skills. Come on language courses CLL »- advertising encourages foreign language learning center CLL. Scenes depicted in prints, familiar, probably every tourist to travel the country, not knowing the language. Young people account for an elderly lady, they need a post office, and a man in a Chinese restaurant depicts the coveted chicken.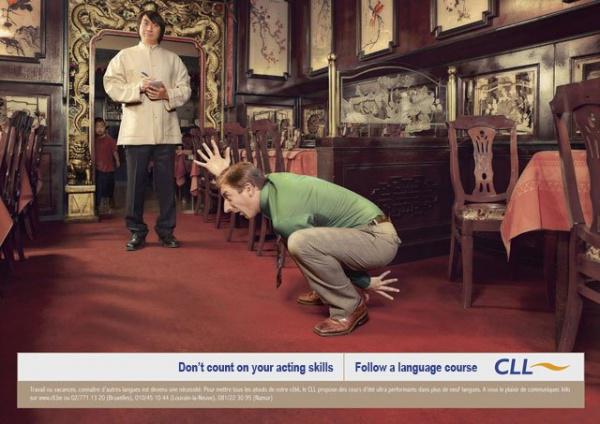 Skill Language School promotes itself by contradiction. Prints do not represent the people who express their thoughts on the wrong familiar language does not matter, but the way these people are perceived. Their speech is transmitted in the "bubble" - cloud of phrases. Bubble metaphorically depict what you think about, not your disassembled a broken speech: "God, what an ass!", "Barking like a dog!" Or "to think with the speed of a snail».
Campaign tagline: Do not risk sounding ridiculous - «do not risk sound ridiculous».
"Do not learn languages ​​for the films" - calls for a language school Ase-Group T. Otherwise, you may find yourself in a very difficult situation. Heritage Schwarzenegger and others really pays off, but sometimes the most useful and relevant. "And may the force be with you" - this is clearly not something worth hearing a recent widow.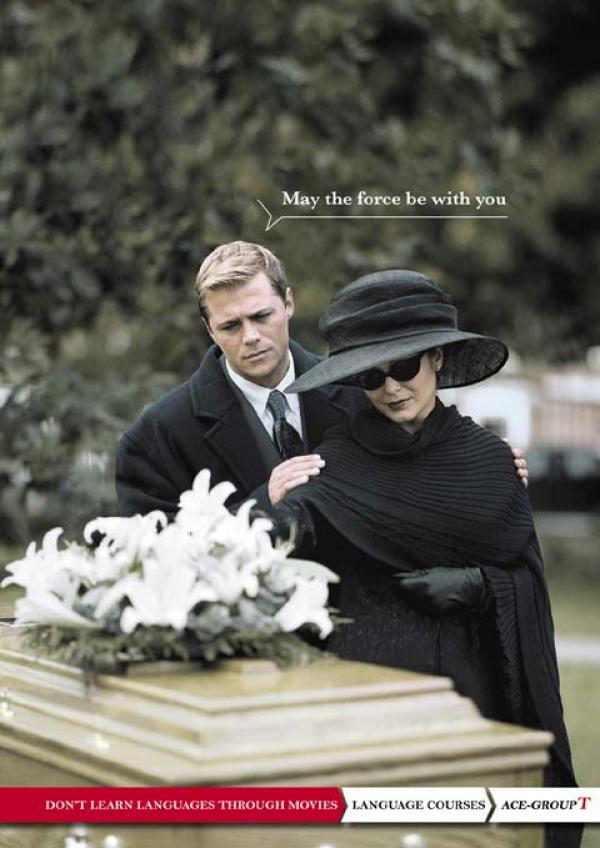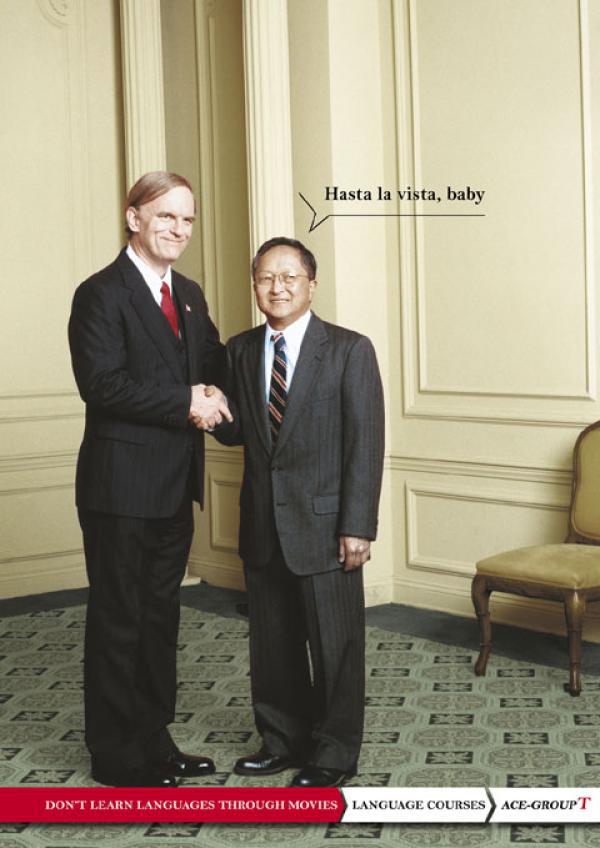 The McCann-Erickson developed a very fun and you may say, "manual" for a series of prints Yázigi English School.
We all love to travel. And all of us sometimes do not have enough knowledge of the language - it is impossible to explain something, order something, something to use. Would not it be great if all the items have been signed in the language of the country, so even with the transcription. That's when we could without problems to explain their desires to others. Unfortunately, this will never happen, because it does not happen. It is much easier to just learn the language. This confident English language school Yazigi.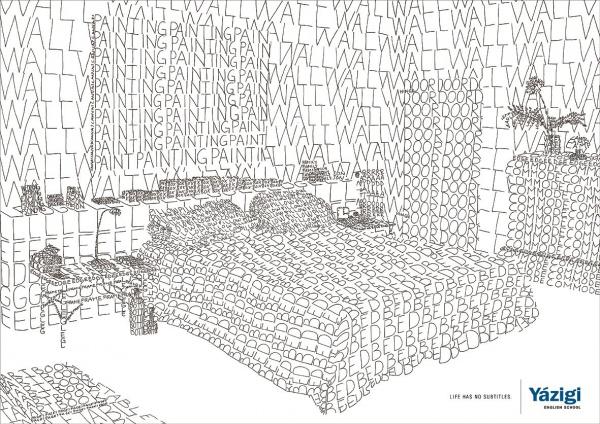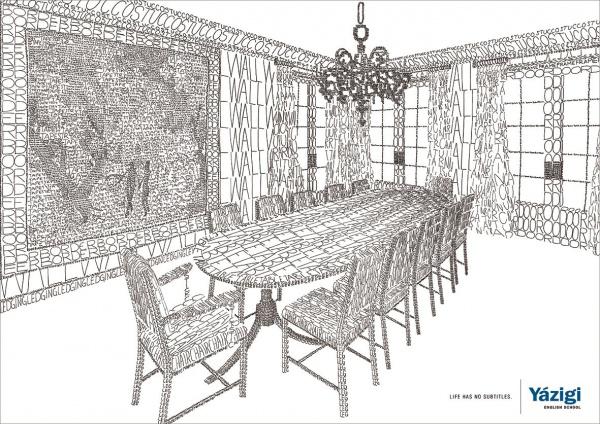 All kinds of troubles and tribulations did not promise the poor monolinguals creators, but this was not. The Leo Burnett Brazil decided that the lack of English can lead to death. And not one but possibly hundreds of people. Which is reflected in a series of devastating prints for the Center for Language Studies.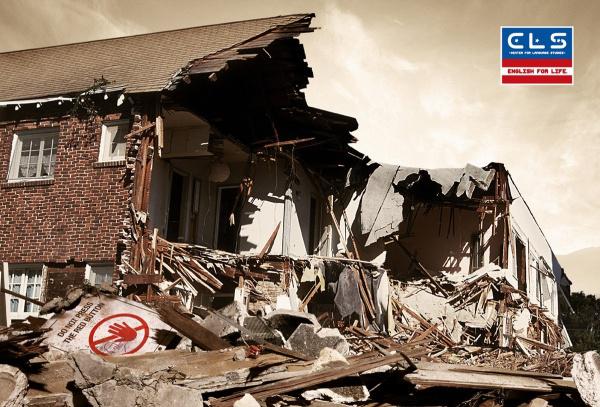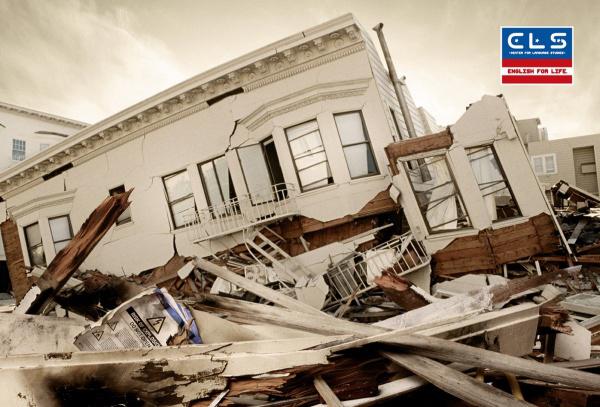 In Russia, the most notable work in this category was the use of folklore and not obscene poems, translated once a group of enthusiasts.
The language school "Britain" organized for the amusement of the internet to Russian splint translated - opened the site "bad poetry" is a directory of pages, drawn by different designers / illustrators, each of which is a rhyme (rhyme) is not quite censorship of content - with the possibility of his "literary "English translation.
According to the company, this is a rather unusual solution, which, however, should attract attention.
The idea of ​​the site emphasizes that the school provides a level of language that you "would not be ashamed to show».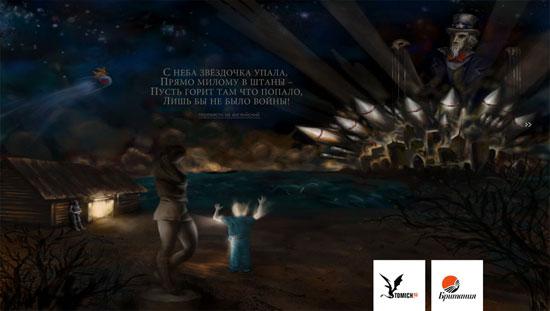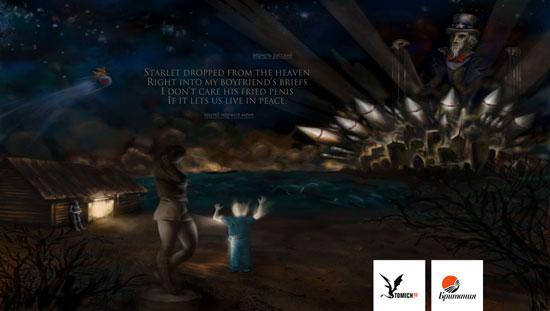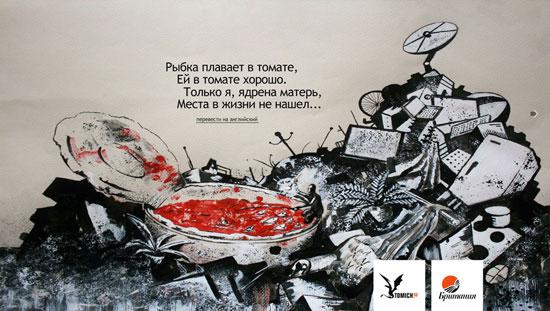 via # image818355