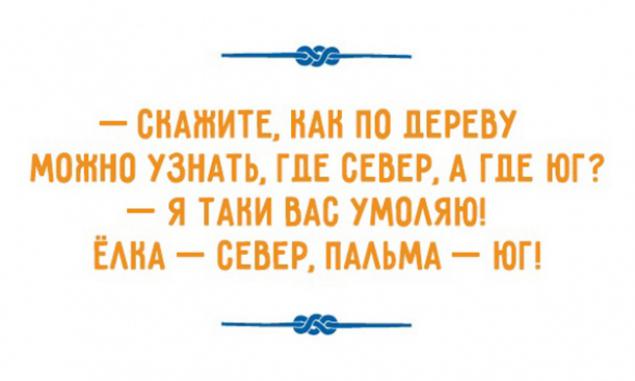 Odessa - a special city. On the unique humor and slang, famous of its inhabitants were legends, write books and make films. Casual conversations Odessites deserve special attention - these people just never climb into his pocket for labels and sneering words.
Website wit delights residents of Odessa and believes that they can learn exactly ironic attitude to life.

- Semen, well sho we drink to your health? Let's drink to good luck!
- Oh, Monya, health is more important than the same luck ... Yesterday was lying next to me, and health is not enough! - Abram! When tomorrow will come our Sarochka woo, do not leave the groom's chest, do not shout, "You are our savior!» Odessa. Evening. Pouring rain. Knock on the door. Simon opens the door and sees the mother in law:
- Mom, do sho vie in such weather in the street ?! Go home!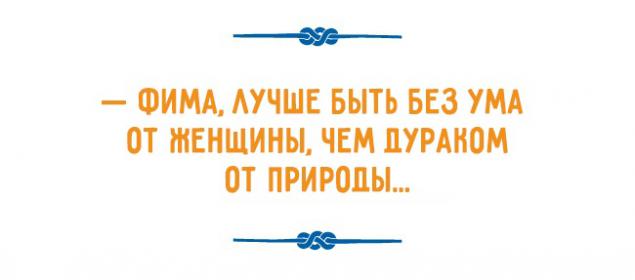 - Hello! Hello! Yasha possible?
- Yasha, take, please, tube, allow yourself to people ... - Sam and Rose Shaw told you when I saw you kissing a neighbor?
- Nothing. And two front teeth still had to be removed. - Yesterday I found a doctor who has five minutes to cure all diseases of my wife Rosa!
- It's like?
- And he said that all of her illness - a sign of approaching old age! - Moshe, when you are not at home, the neighbors say about you is ...
- Oh, when I was not at home, so I do not even let them beat!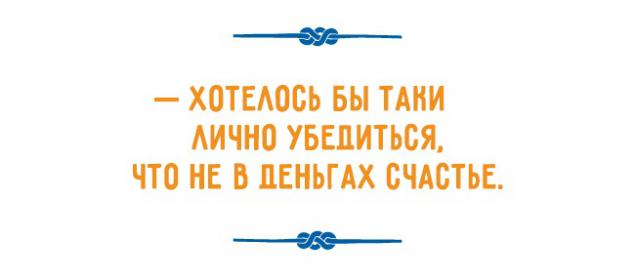 - Semen Markovich, you and his wife recently celebrated their golden wedding! Tell me, how do you manage so many years to overcome family conflicts?
- When my wife and I disagree, we usually do as she wants. Sarochka calls it a compromise. On Privoz woman considering a coil of rope on the tray:
- The girl is washing line?
- To hang clothes - underwear is! - Sarah, do you imagine, Izzy in the will left 100 thousand dollars that Tsile that 40 years ago refused to marry him!
- Oh, I see - thanks! - Kindly tell me, what do I take to get to Deribasovskaya?
- Sit on your ass - you are on it!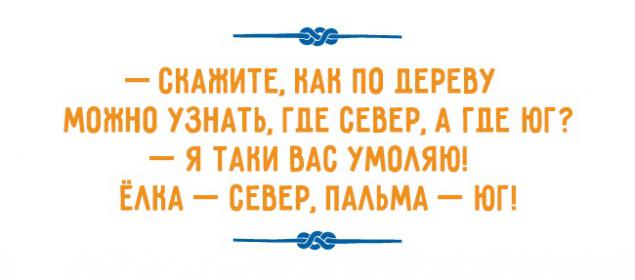 The husband asked his wife:
- Well, what the doctor said?
- He told me to relax by the sea. Sema where we'll go?
- To another doctor. - Wee know Sarah Abramovna sho way to a man's heart is through his stomach!
- Shaw nonsense, Celia! Do you think he goes to his mistress did eat borscht? Good Walked husband came home late at night and steals, no one to wake up.
- Sam, and lope time?
- Ten hours, Rose.
- I still hear sho clock struck one.
- And Shaw? You still want you, and they Schaub struck zero?





- Celia, that's what you're unhappy again! You have to dress this already 4 hats ...
- Zalman you again radically wrong! I have 4 hats only one dress! - Semen Markovich, you're married?
- Divorced.
- And much divorced?
- Well, pants still left ... - Look, Haim you ever had to hide, sho you a Jew?
- What's the point, Yasha? Where do the same, in your opinion, could hide the natural intelligence in my eyes, proud profile and impeccable manners?

Read more Odessa stories:
Post Odessa attitude to life
So they say in Odessa
The dialogues, which can be heard only in Odessa

via www.adme.ru/svoboda-kultura/dialogi-kotorye-mozhno-uslyshat-tolko-v-odesse-839060/