The scandal over the fact of the same color that damn dress, seems to gain traction, and has done a lot of troubles. Less than a day Photo unfortunate dress spread around the Internet and put on the ears of all its users. And the battle around this problem flared HT joke! For me, this dispute will be tougher than the classic: Coca-Cola or Pepsi, Android or Apple, tea or coffee, hamburger or cheeseburger. Now, perhaps, everyone will not suffer over the fact that all the same it was before: the chicken or the egg, and tear his hair, proving what color the dress.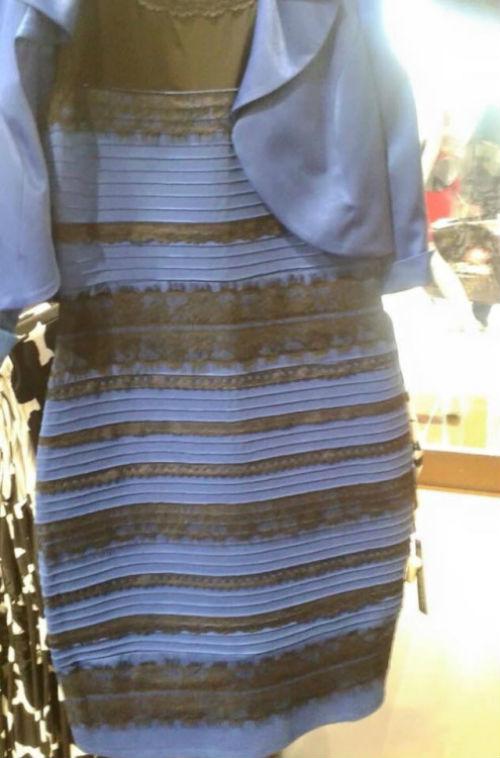 Joking aside, but it's not even funny. Because of this silly dispute crumbling relationship, friends no longer communicate with each other, couples file for divorce. But no one expected that it will acquire such proportions! This story is about what happened a few hours on the planet because of one photo on the Internet.
1. Parents no longer communicate with the children. B>
As one girl wrote in his Twitter account: «Honestly, I almost do not fight with my mother because of this dress!» I>

2. Across the planet crumbling marriages. B>
One subscriber wrote: «I swear, when my lawyer will ask the reason why my marriage fell apart, I'll tell him about this dress». I>

3. Friendship, time-tested, no longer exists. B>

4. People are trying to entice each other on their side. B>
At the same time with people going on that something was wrong: they even used profanity and all sorts of insults, trying to prove his innocence. «Go check with an ophthalmologist, it is black and blue» i> - phrases like this on the Internet at least a dime a dozen.

5. It seems that the world still was crazy. B>
Dialogue between the couple in love:
 - White-gold!
 - What-oh-oh-oh? I thought you were on my side!
 - What?
 - It is blue-black.
 - What then is the color?
 - Blue-black!
 - What?
 - What?
 - How well ka-a-ak?
 - Who are you all?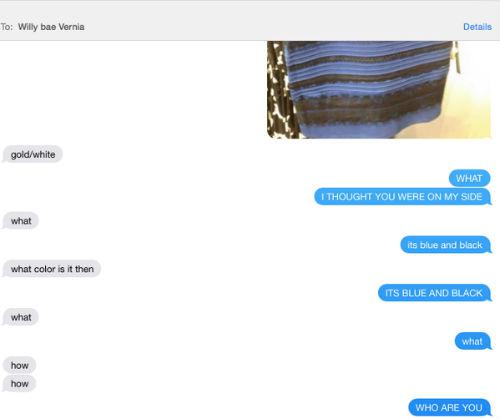 6. Nobody trusts no one else. B>
A conversation between two best friends now looks like:
 - Do you think the color of the dress?
 - White and gold.
 - My God, I see that it has a blue-black!
 - No. You must be kidding me right now?
 - I - in any case!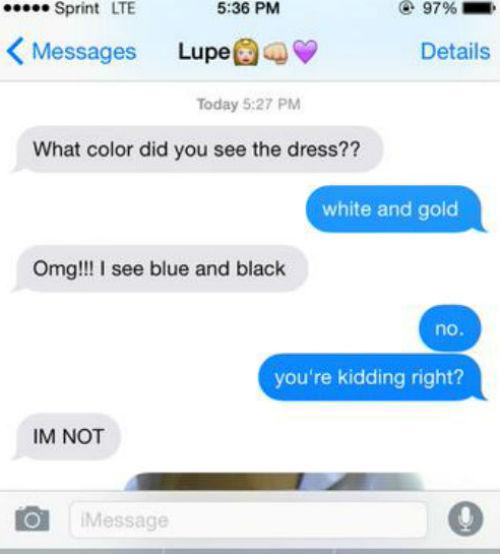 7. Users send messages even to those who do not have written a hundred years. B>
Regular correspondence of people who have not seen a hundred years:
 - White-gold!
 - Oh my God, stop it, it is blue-black.
 - No you're wrong.
 - Shut up already! I - no!
 - Yes, you have come on!
 - Go away, you hear? What I just wrote you? You're wrong!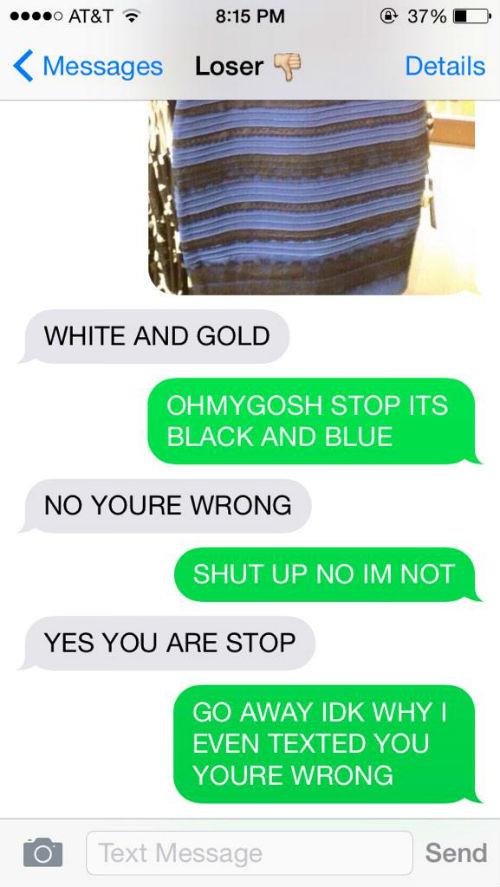 8. Even celebrities disagreed. B>
So, Jimmy Fallon, Julianne Moore, Kim Kardashian sees a dress and white gold, and Taylor Swift, James Franco, Kanye West - black and blue.

9. People seem to have lost his head. B>
 - What colors do you see?
 - White, light brown, and the edges slightly darker brown.
 - You died for me.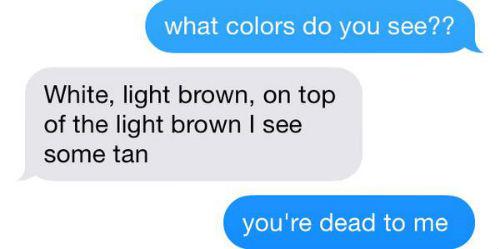 10. Those who have lived together, no longer neighbors. B>
«I fight already with his roommate about this dress, and it seems he will have to move» i>, - I wrote one guy on the Internet.

11. On the Internet, there are increasing video, which clearly shows that people are cursing and even fighting over the color of this dress! B>

12. Relatives do not want to know each other. B>
 - What are the colors?
 - Your brother just sent me this.
 - It is black and blue!
 - We Medom say that it is white with gold.
 - Guys, you probably stay in college this weekend.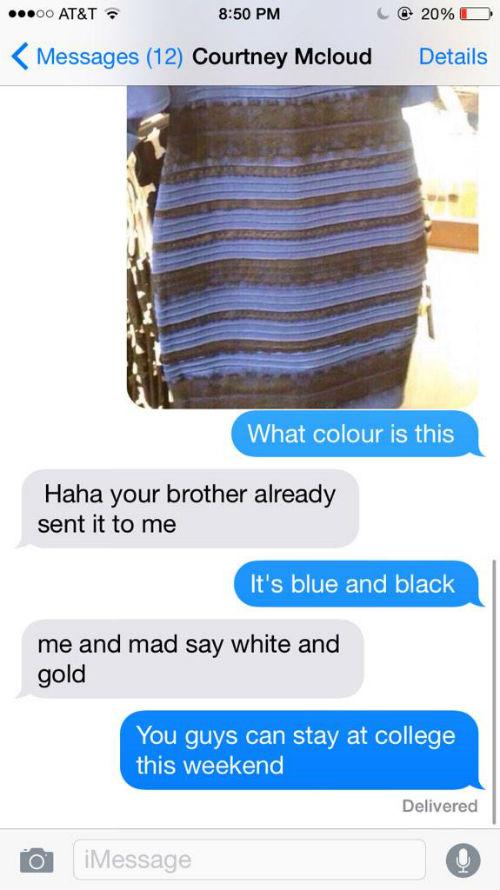 13. People think that with them or with their technique that something is wrong. B>

14. It's crazy that blew up the Internet, even broadcast on the news! B>

15. Online stores hit the jackpot: this model dresses scattered in minutes! B>

It seems that now there are only two types of people. It is still true fever, which is spread throughout the world! It is believed that the difference of opinion about the color of the dress - a consequence of a different perception of colors by different people because of individual features. It is not to convince people, they will see what takes their eyes. By the way, there is a "netraditsionnyі" answer to the question, what color the dress: purple mustard, gray-green, pearl with tsvetzamyat this conflict, replying: "The dress is half full," "It is generally dress?" "Probably, my eyes just do not take more than the gold. " Apparently, our eyes still play with us a cruel joke. Just do not you dare on this occasion to quarrel with relatives: it's not worth it!

Share with your friends this article, let see, what brought a harmless photos posted on the Internet.

www.buzzfeed.com/michaelblackmon/18-relationships-destroyed-by-the-dress-that-broke-the-inter#.yj40xJPqLz