In the selection of photos National Geographic and National Geographic Russia.
Hot Springs, Ethiopia
Photo
George Staynmits
Sulfur and bacteria attach to the hot springs Afarskogo triangle (Ethiopia) bright colors. The water is formed by the condensation of hot gases coming from the magma chamber. After evaporation of water salts and other minerals form a crust bright.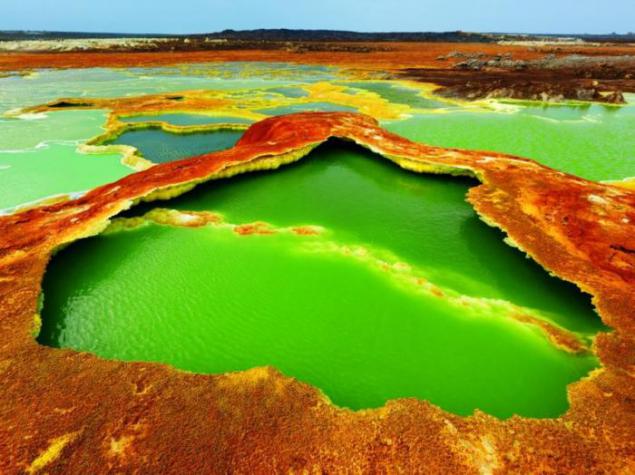 Flower Krylgan New Guinea
Photo
Tim Laman
This kind of flower fruit bat, which is yet to receive a scientific name, with a long tongue produces nectar of forest flowers while pollinating them, flying from plant to plant.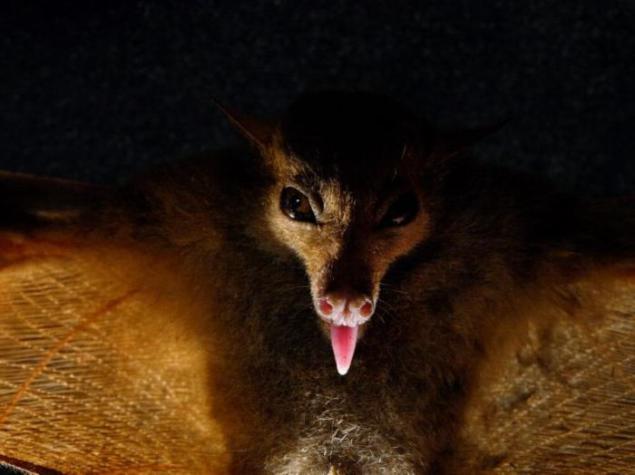 Altai region
Photo
Andrey Kamenev
At the entrance to the Denisova Cave: it is not surprising that in such a place people settled 800 thousand years ago.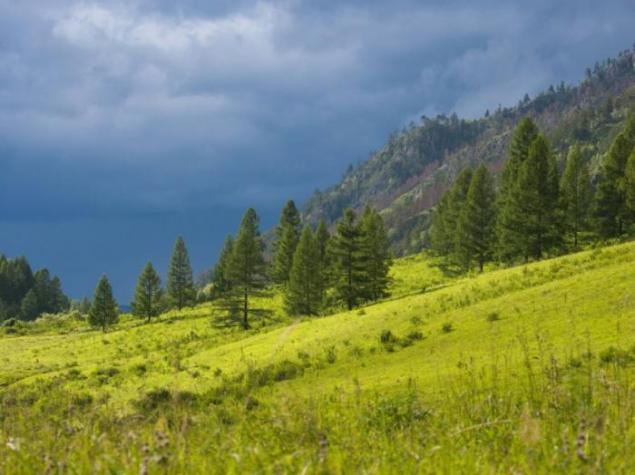 Truckers twin
Photo
Jodi Cobb
"We were two of a kind, - says Don Wolfe (right) about his twin brother Dave, explaining how they truckers get along on long trips for 18 years. - I'm not a slut like it. But we love the same music, and a sense of humor we have one in one ».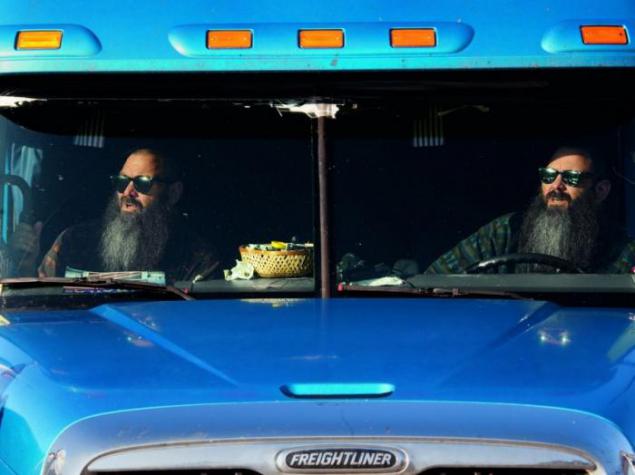 Lake Teletskoe
Photo
Andrey Kamenev
Teletskoye Lake after the storm. Altai Republic.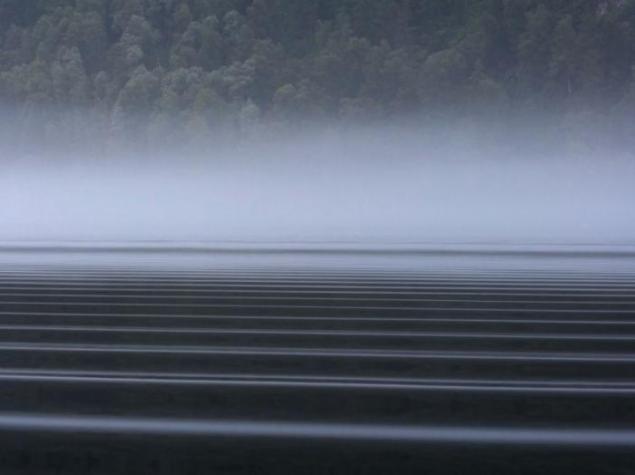 Competitions klifdayvingu
Photo
Dean Treml / Red Bull Cliff Diving
Training jumps in the Italian town of Polignano a Mare. Klifdayving - one of the most dangerous and beautiful sport. Many photographers would give half my life in such a frame.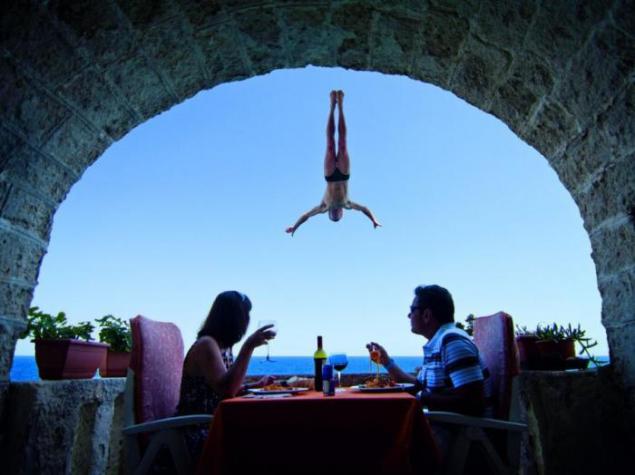 Marriage Battle Ruff
Photo
Sergei Gorshkov
Males fight to first blood, and the little homely female remains on the sidelines. Kulikova outfit includes these huge "ears" and "collar", which is individual color.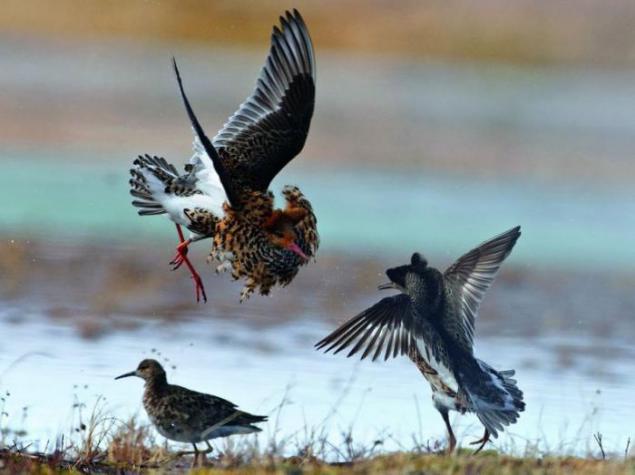 Flamingo, Cuba
Photo
Andrei Gudkov
The reserve "Fauna de Rio Maximo" nests largest colony of red flamingos. In 1998-2007, there will hatch from 17 to 55 thousand chicks.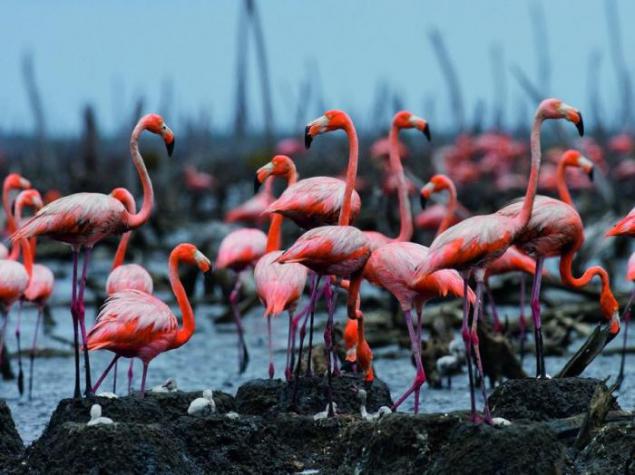 Brown bear, Kamchatka
Photo
Sergei Gorshkov
Bright autumn gives short Kamchatka bears last opportunity to eat their fill before a long winter sleep.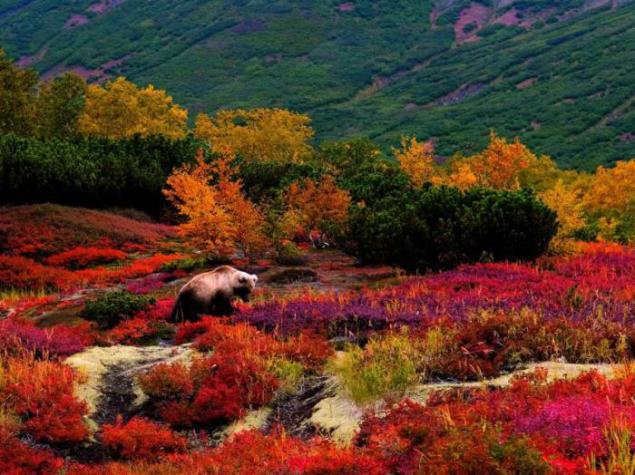 Dekeneva Sifaka, Madagascar
Photo
Stephen Alvarez
In the unexplored canyons and caves reserve Tsingy du Bemaraha live perhaps the most unusual creatures Madagascar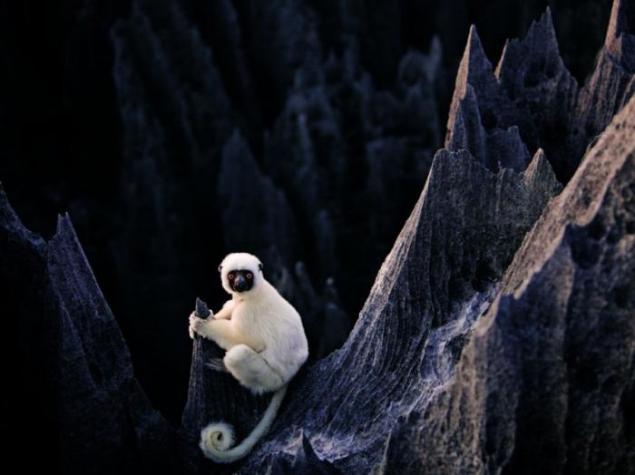 Valley of the Kings, Egypt
Photo
Kenneth Garrett
In the desert west of the Nile Valley of the Kings lies. In ancient times it was a quiet, secluded place, but now here is getting closer outskirts of Luxor.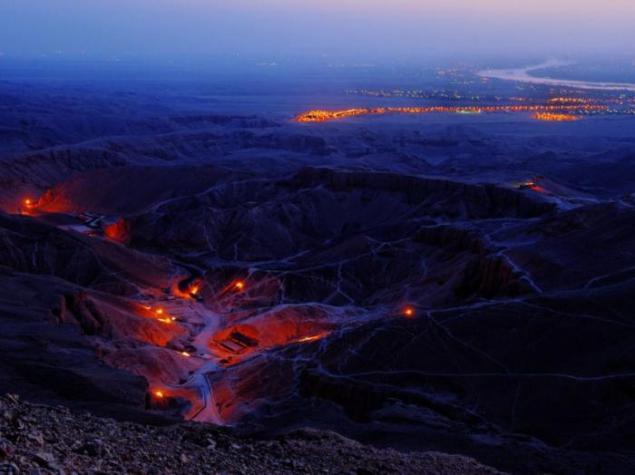 Rodeo, Australia
Photo
Andrey Kamenev
Eight seconds - exactly the cowboy must stay on an angry horse. The same number should be kept and a cowboy hat on his head.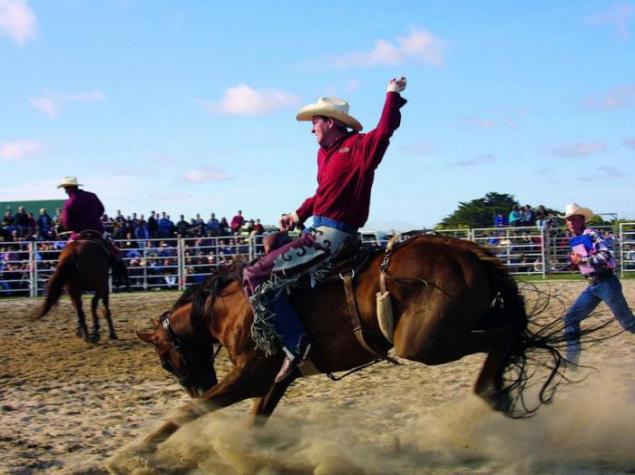 Chipmunk, Altai
Photo
Andrey Kamenev
Chipmunk sits on a rock and watch over three or four cedar growing nearby, from tribesmen.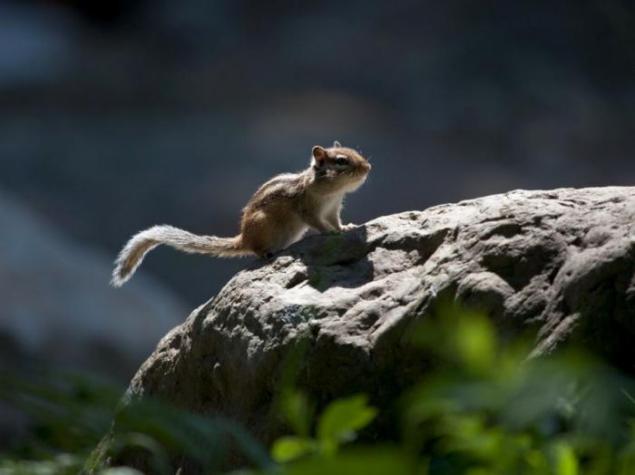 Everglades National Park covers nearly the entire southern peninsula of Florida. Its main wealth - tropical swamps and mangroves, which are the abode of strange birds and alligators insidious. Here nesting herons and cormorants, darters clean feathers ... It darter, triumphantly carrying in its beak a freshly caught fish, and photographed Karim Jaffrey in this amazingly beautiful place.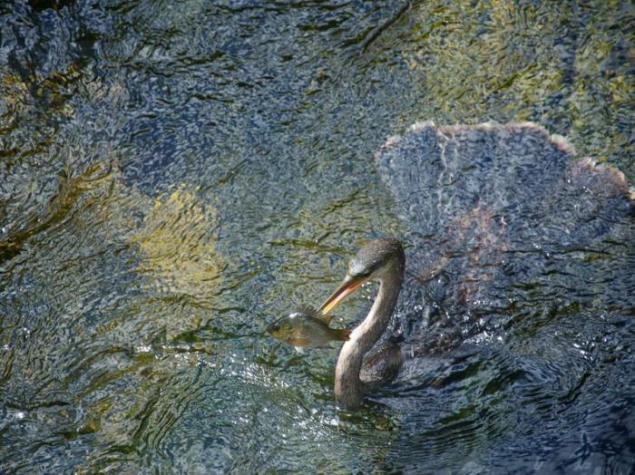 Caravan in Mali
Cameleer from Mali - mixed blood, a descendant of the Arabs and the Tuareg. He was born and raised in Mali, but is not afraid to get lost in the desert is not the only reason. Tuareg ancestors taught him what plants can cure - or kill - the animal, and how to navigate through the wilderness, guided not only by the sun, but also in color, texture and even the taste of sand.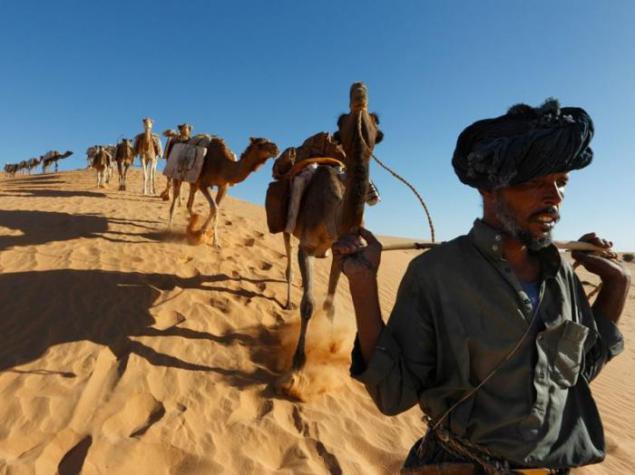 Egret
India - fertile place for a photographer. The abundance of light makes it possible to make every picture is so bright and sunny as possible. And even a little spoiled the plot of this picture with egret - on the author's intention, it was not to take off, and remain in place - played quite differently, and all thanks to the abundance of natural light.
Seal
In those places where people rarely appear, animals are not afraid of their presence and behave like curious children. Crabeater seal, met photographers in Antarctica, is not afraid of them, but curiously peeking out of the blocks of ice, and the sun is cast in silver on his icy and snowy wool.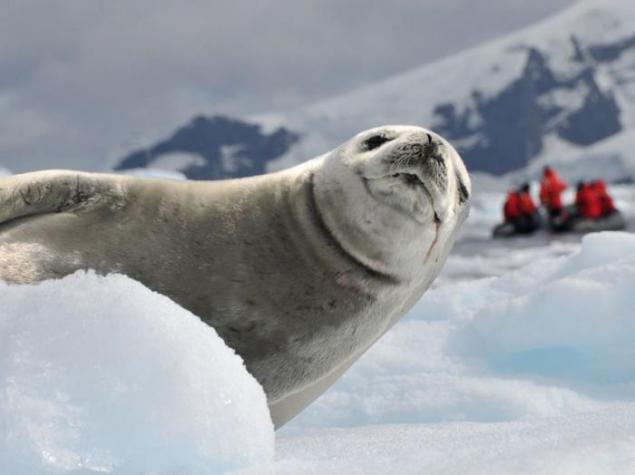 In the rivers of Australia can often find cancers stunning blue. Locals call this color "puzzle", as in the waters of some rivers it remains saturated blue and the other is orange. Of cancer called yabbi, buy it for home aquariums, and is such a pleasure very expensive.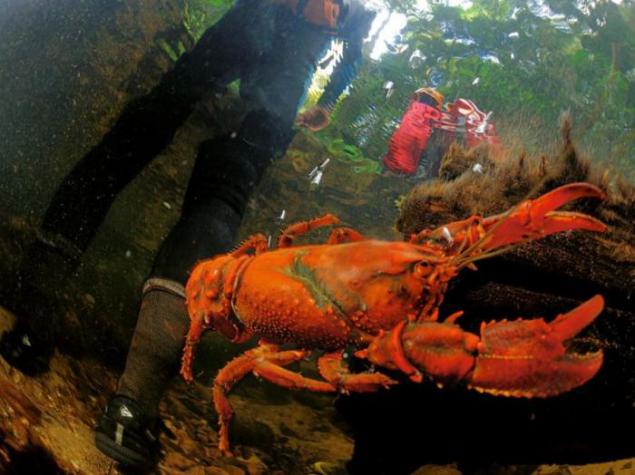 Elephants Serengeti
Serengeti National Park, located in Tanzania, is famous for its abundant wildlife and is considered one of the most picturesque corners of the planet. Under the open sky here roam five hundred species of birds and three million large animals, including wildebeest, zebras, elephants and giraffes, and the river inhabited by numerous families of crocodiles. Amazing photo of elephants in the background a stormy sky in the Serengeti belongs to the photographer Michael Nichols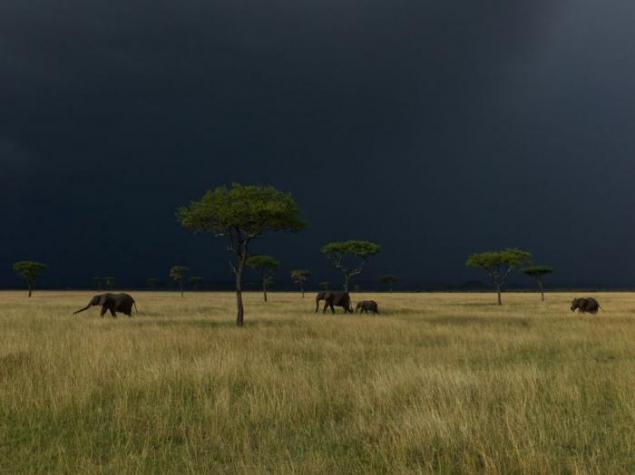 Gray wolf
Almost the only place on earth where wolves can live freely and at the same time - dangerously close to the people, is an international reserve Wolf Haven International. The reserve is located in the State of Washington, USA. There and this photo was taken peacefully resting gray wolf.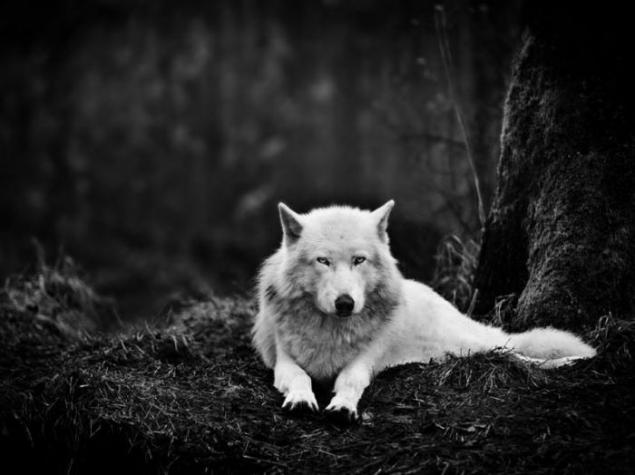 White Owl
This white owl photographer managed to "catch" the very bad weather, during a snowstorm. Unlike most owls, which are nocturnal, white owls can watch and hunt at night and during the day.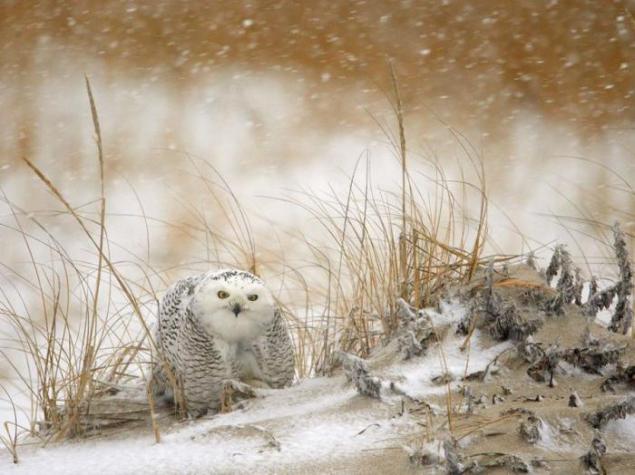 Springbok antelope
Golden sunset in the Kalahari, covering Transboundary Kgalagadi National Park, in South Africa, gives the landscape of mystery and magic. Equally magical, magical creatures in a dark forest of camel thorn looks and springbok antelope herd. These graceful animals with delightful lyrate horns, famous for its three-color color of skin, as well as an amazing ability to place, without any apparent effort to make vertical jumps to 3 to 5 meters in height, and during the run - up to 15 meters in length.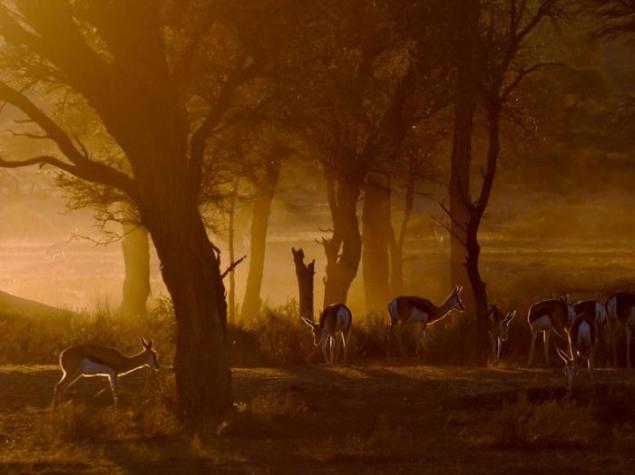 Squirrel in the snow,
Even squirrel coat can be cold hostess if baby happens to fall under the heavy snow. I hope squirrel from New Jersey, photographed Ray Yeager, found a cozy place to warm up this winter.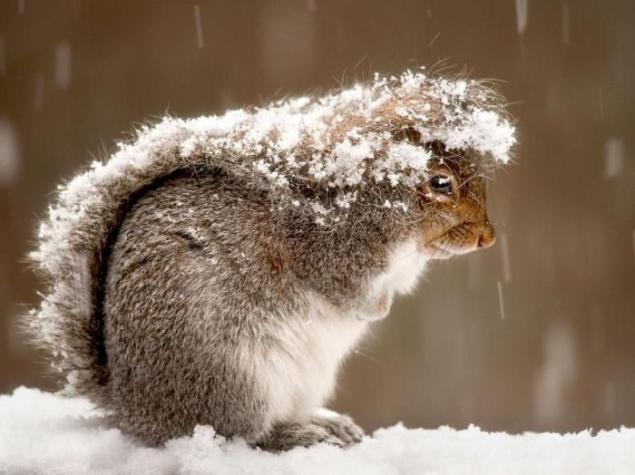 Tigers, India
Addition of ginger tabby cutie in the background is called Smasher, which can be translated either as "Destroyer" or as "irresistible". This gave him the name of photographer Steve Winter, but that's exactly what he wanted to emphasize the heavy nature of the Indian tiger, or its elegant appearance? It is believed that the pair attacked the people and on their account a lot of victims, so that both the tiger at the moment are kind of like a prisoner.
Whale shark
Huge whale shark is called "predator with good character", because this type of shark, in spite of as giant size, is not dangerous to humans. The whale shark feeds exclusively on plankton and swims very slowly and has a very lethargic, apathetic disposition. It often does not even respond to the divers, who can touch her body and even ride on her back. Actually, doing this and found a photographer diver, imprinted on the photo.