9th place ... Diamond ring with ruby ​​weighing 8, 99 carats of Harry Winston
3935105 dollars (437,720 dollars per carat)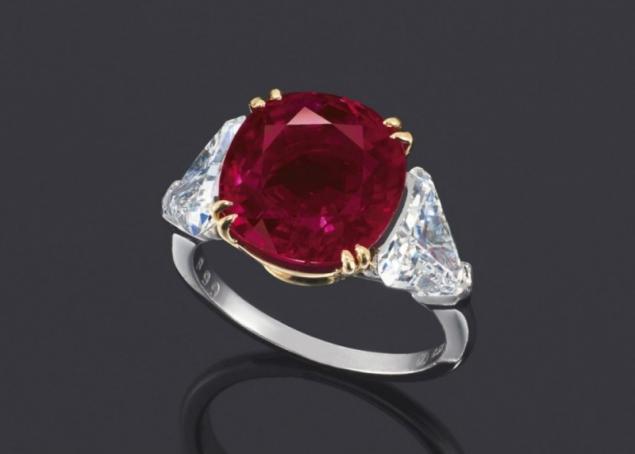 Auction Christie's, Hong Kong, November 2013
On the ring of platinum and gold 750 flaunts a magnificent ruby ​​cut "cushion", surrounded by triangular diamonds. To ring attached a letter from the American Gemological Laboratory, according to which the stone has a rich deep color inherent in specimens caught in the Mogok deposit. Traditionally, such color of ruby ​​called 'pigeon's blood color. " Skillful cut profitable emphasizes the richness of the color of the stone, creating a unique game in the ruby ​​light.
Introducing the list of the most sought after, luxurious and unique scarlet gems sold at record prices the largest auction houses ...
Rubies long held the palm as the most expensive colored gemstones.
Stones, for which many are willing to pay exorbitant amounts have noble origins: they were produced in the famous Burmese Mogok deposit and have a rare painting color "pigeon blood". Even a small ruby ​​color is such an incredible value.
Here are some characteristics gave the Swiss Gemological Institute (SSEF) one mogokskomu ruby ​​color "pigeon's blood", weighing 10 carats 1: "Natural Burmese ruby ​​of this size and quality is a rarity, and it can safely be called a treasure of nature».
Since Ruby protects the month of July, we bring you the top ten most expensive ruby ​​ever sold at auction.
10th ... Burmese ruby ​​weighing 12, 46 carat diamond ring
3721415 dollars (298,669 dollars per carat)
Auction Sotheby's, Geneva, May 2014
Rubin has faceting "cushion" and rests between two large triangular diamonds. By ring and attached reports SSEF Gübelin, confirming the origin of the stone, and no trace of heat treatment. Also attached is a letter describing the exclusiveness of ruby.