While we are all waiting for the official presentation of Apple HomeKit next week, the platform processing "big data» CrowdFowler
I wondered
, there is a future for the other brand new items -" hours »Apple Watch - devaysa how to manage" smart home ».
CrowdFowler analyzed 30,000 individual tone of the tweets of users (and potential users) of the gadget. The audience was split almost in half: 55% commentators crazy "a watch" (in this group, more women), and 45% neutral or negatively configured. "Love" a lot of praise applications categories Health & Fitness and rejoice that "clock" reduce dependence on the iPhone. A dissatisfied, on the contrary, say that the iPhone is much more convenient in many applications, "bugs", specifications are rather weak, and the general idea of ​​the gadget a little questionable.
We also discussed this topic in
iRidium mobile
, and concluded that they themselves doubt the usefulness is "hours" for the smart home control, and In the near future we do not plan to maintain Apple Watch. Operate the equipment with the "clock" in general is not very convenient: on such a small screen to make a normal remote control is almost impossible. This device actually make life easier, probably only those who do not look like your phone to turn on the TV. Remote control for TV and music has on you.
If Apple has opened access to Siri, it would have made it possible to control the home by voice commands. That would be very cool. But so far the only thing you can think of - is the use of "clock" as a multifunctional sensor. The controller could analyze the user data (temperature, pulse, etc.) and to adjust operation of the devices according to these data. For example, to adjust the temperature in the building, depending on the body temperature of the user. Or show where the man is, what his heartbeat, traffic intensity, the quality of sleep. And ideally - also carry out a statistical analysis of all these data.
Let's hope that all these "fantasy" embodies Apple HomeKit. But the developers of applications for the automation of the home spaces remain attuned to Apple Watch more positive than people. CEPro in April
рассказывал
about race applications for smart home "- it is still ongoing. That's just the news the last couple of weeks. Philips Hue app, reviewed
made PC Mag
, now allows you to control the "clock" system Lighting Philips Hue Connected Bulb system and control its energy efficiency. Also recently released a new version SmartThings app 1.7.3, which is compatible with the iPhone, and Apple Watch. And Philips Hue app and SmartThings app can be linked and synchronized with each other.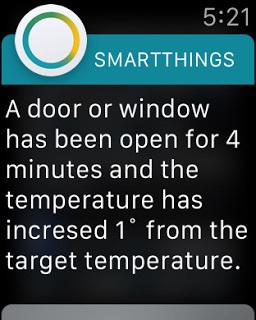 And you want to be notified about what happened while you're away on 4 minutes? I>


Philips Hue app: work so different lighting modes i>

Even cooler - application Crestron not easy to control homes, and "homes on water". With "a watch" Apple's superyacht owners can control all on-board systems, music, lighting, heating and security, just by looking at his wrist. Dolce Vita! It seems that the mass user without superyachts, which is waiting for a real breakthrough in the management of "smart homes», Apple Watch is not necessary: ​​it is just a little less convenient iPhone screen on your hand.

Of course, this does not mean that in the future the situation will not change. The interfaces of the future will certainly become closer to the body - whether in the form of hours, in the form of points or even implants - and with their help you can manage everything as though without intermediaries at all. It's just the future still has not come yet, but this clever clock to control home equipment is not too convenient.

Hour clever, smart house. One I've been stupid or something? I>








Source: geektimes.ru/company/iridiummobile/blog/251550/