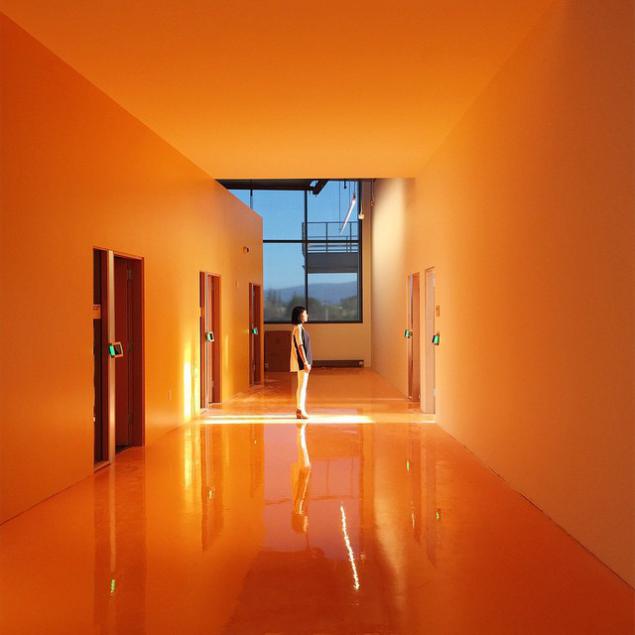 For tech giants, corporations like Google, Apple, Facebook, and others, the creation of the original headquarters, to surprise people - a matter of honor. These companies are trying to make your office each unique, unlike any other. A headquarters and at all is paramount.
Recently the company introduced the Facebook photos of the new headquarters area of ​​39,950 m
2 sup>. The complex was named MPK20 (Menlo Park, housing 20). Inside - a huge open space where thousands of people can work simultaneously. In addition, there are also small offices for people who do not always like a big company. Naturally, there is also a large conference-hall.

According to the sponsors, their plan was to create a project with maximum openness and without pretentious.


First day shenanigans #theaquarium A photo posted by Wei Jien (@ wei.jien) on Mar 30, 2015 at 6 : 48pm PDT blockquote>


3) Another staircase shot from yesterday's walk through of @ facebook's new expansion campus. See previous post for more info and check out the link in my bio for the full gallery. # MPK20FirstLook # MPK20 A photo posted by Toby Harriman Photography (tobyharriman) on Mar 30, 2015 at 4:00 pm PDT blockquote>


New art fromchrislux &summerisrad as part of theFBairprogram in @ Facebook's new Building 20 # MPK20 # MPK20FirstLook A photo posted by John Barnett (johnbarnett) on Mar 30, 2015 at 9:01 pm PDT blockquote>


Best part about the new Facebook campus: the (prank / short-lived) ball pit conference room # mpk20 #westcampus #fbhq A photo posted by Sara Stalla (sarastalla) on Mar 30, 2015 at 1:03 pm PDT blockquote>


Love this piece fromfbairprogram. Reminds me of that song from Empire. #dripdrop # mpk20 #vscocam A photo posted by Shali Nguyen (shali) on Mar 30, 2015 at 5:59 pm PDT blockquote>


Exciting opening day at @ Facebook's new office building. This is the entrance I'll walk through on my way to my desk. Beautiful views everywhere. # MPK20 # MPK20FirstLook #Facebook A photo posted by Mark Pike (markpike) on Mar 30, 2015 at 9:19 pm PDT blockquote>


On the roof of new building. Just a garden. # MPK20 A photo posted by Chang Cheng (@ chengc03) on Mar 31, 2015 at 8:46 pm PDT blockquote>


Sunsets are gonna be epic on the 9-acre green roof at thefacebook office. A quick candid snap of the crew on Evan Shivleys tree stump art installation !!! # MPK20 # MPK20firstlook A photo posted by Elizabeth Gilmore (elizabethgilmore) on Mar 30, 2015 at 2:28 pm PDT blockquote>


Rooftop garden of the new facebook office. # Mpk20firstlook # mpk20 A photo posted by Jaed (jpon) on Mar 30, 2015 at 11:44 am PDT blockquote>


New art fromBarryMcGeeArt and theFBairprogram in @ Facebook's new Building 20 # MPK20 # MPK20FirstLook A photo posted by John Barnett (johnbarnett) on Mar 30, 2015 at 6:46 pm PDT blockquote>

Source: geektimes.ru/post/248216/