Red Bull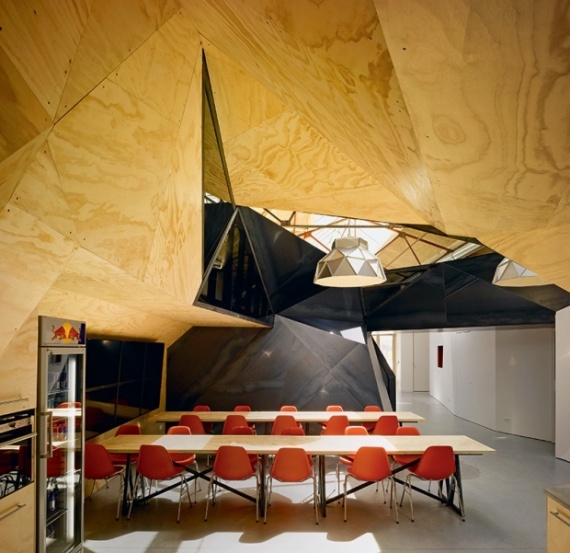 Amsterdam, Netherlands
The concept of the project was to create an interior that corresponds to the philosophy of the company Red Bull. Chief Architect Bureau Sid Lee Architecture Jeanne Pelly suggested using the principle of two opposite and complementary hemispheres of the human brain: reason versus intuition, art versus industry, darkness against light, angels against demons.
Rooms from cave-faceted metal parts and winding corridors inside the reconstructed shipbuilding dock embody the idea of ​​the dichotomy of space, common areas flow into private rooms, black becomes white and vice versa. One of the aims of the authors of the project was to combine simplicity and brutality of industrial buildings with an active, even athletic lifestyle, which is associated with Red Bull. "Energy is not wasted energy - redistributed" - this is the one of the slogans of the company, and the interior is strongly illustrates - cliffs on one side and a skate park on the other. Adds surreal picture view from the window in the old shipyard battened up with the ever-necked cranes and the Russian submarine, which has already become an anachronism.
Adobe, the new headquarters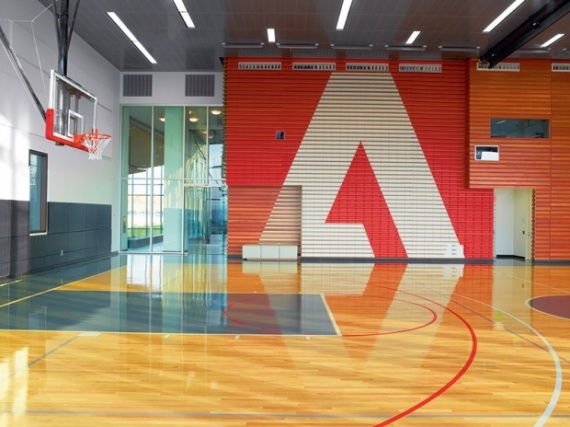 Utah
The first headquarters of Adobe in San Jose (CA) said according to witnesses, the space station. The new office in Lehi (Utah) designed by experts from the architectural studio in cooperation with Rapt Studio WRNS Studio. The space designed for 1,000 employees. During the construction of the building it was used a lot of glass, thereby prevails in natural light and a huge outdoor space. The walls of the headquarters of painted street artist El Mac and tattoo artist Mike Giant. Painted on the wall of the main atrium of the girl symbolizes the childlike, which are suitable for the work of employees of the company and the people who use the products of Adobe. The design of a lot of computer graphics and digital printing. Ergonomic space allowed to equip the campus of a full-size basketball court, climbing wall, swimming pool, ping-pong, gym and cafe. "Playful interior is a reflection of the creative business of the company Adobe», - say the authors of the project. It remains only envy them all.
Pride & Glory Interactive, an advertising agency