Let's fast forward to the youngest of the Kiev office of the company Yandex and see how the members of a well-known companies.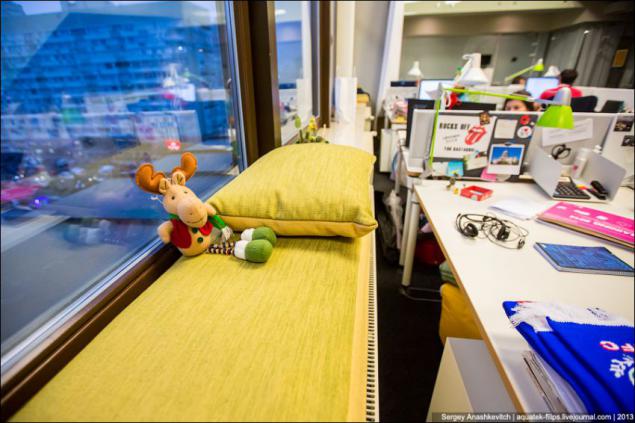 Kiev office, which in spite of the fact that in the capital, is still not the function of the main Yandeks.Ofisa in Ukraine (main office is located in Odessa and there I have not yet reached). It is located on five floors of the business center of Leonardo at the intersection of Vladimir and Bohdan Khmelnytsky.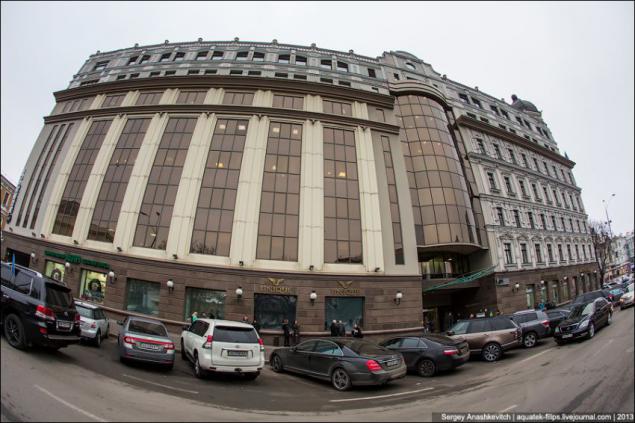 Not for nothing is the Yandex search engine) Even the entrance to his office in Kiev necessary to look - it is not with the main entrance. But as the slogan of the company, there is everything.
Through concise city lights make it easier.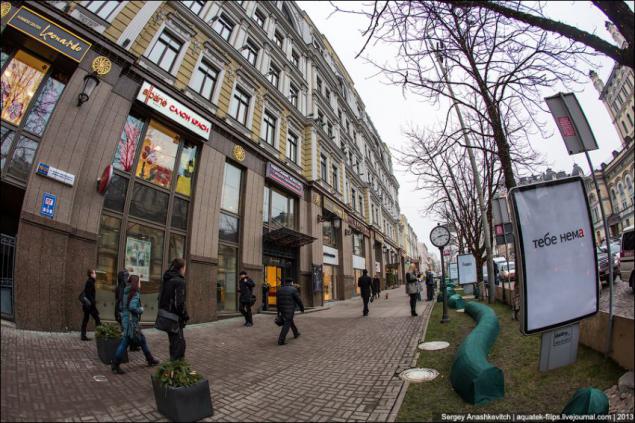 We go up the elevator to the 6th floor and get into the small hall. Hence it is two doors, one of which is the same way to the desired office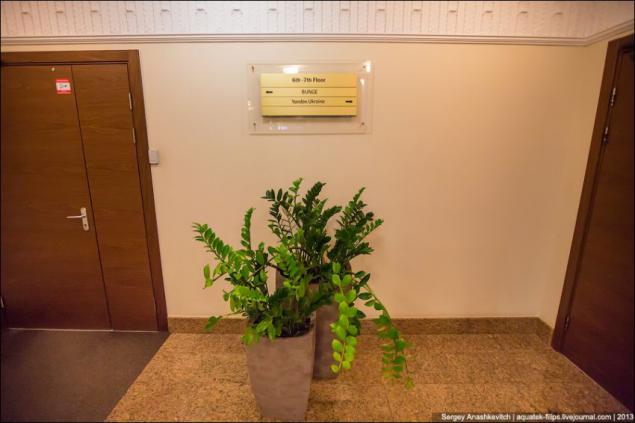 Gered guest, sort of a tunnel in a parallel reality)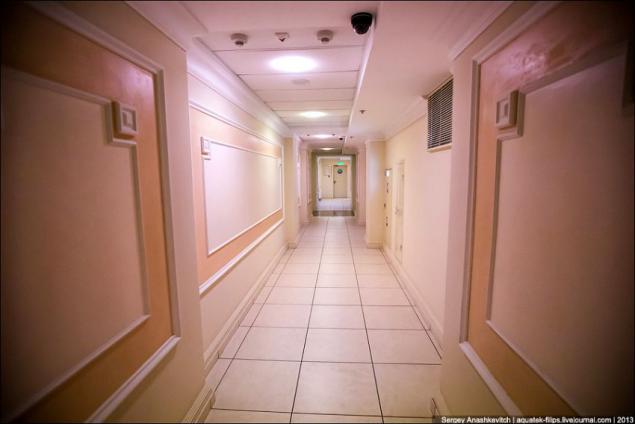 And, finally, in his late reception Yandex.Ukraine.
In general, it should be said that Yandex offices instantly recognizable, even without the original white-yellow arrow and logo.
The overall style permeates all company offices in different cities.
So why did not come first office in Kiev?
The answer is very simple. Since Yandex - it's an Internet company, there is some special requirements to have an office in the capital, or any other particular city. Usually there are offices where able to find good people, or a team. Sergey Petrenko, CEO Yandex.Ukraine, "found" in Odessa - is around the city and formed the first Ukrainian office of Yandex. For the same reason the office appeared in Simferopol interface development, in Kiev - the first development team, and then the marketing department, etc. So far, the company's existing offices is enough, but if you need to open another one, let's say, in the winery, there is nothing impossible.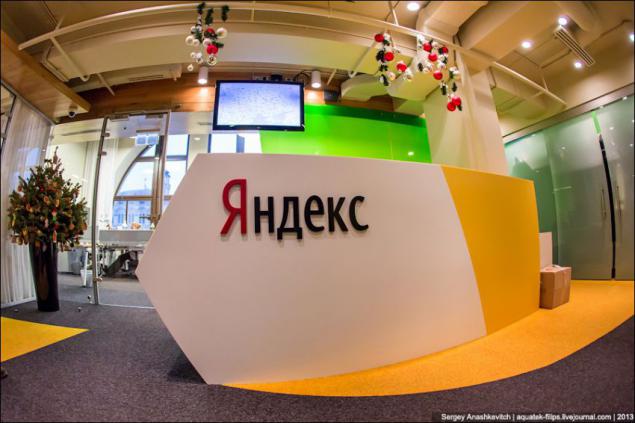 Home Meet traditionally begin with coffee-point.
Here, as in all Ya.ofisah all the same system hostesses about which I have already described in the reports and St Petersburg, and the search of the offices of Simferopol.
Who has not read, repeat)
Many years ago, the guys in the first office Yandex sandwiches and other food brought his wife and mother.
Now there are organized special rooms that are constantly filled with food. Behind all this is followed by specially trained people - Hostess. They are in every office a different number.
In addition, the challenge is to maintain the purity of the hostesses, filling cabinets and refrigerators snacks, biscuits, fresh fruit, carrots, nuts, etc.
Well, in general, clean and tidy around the office also depends on these girls.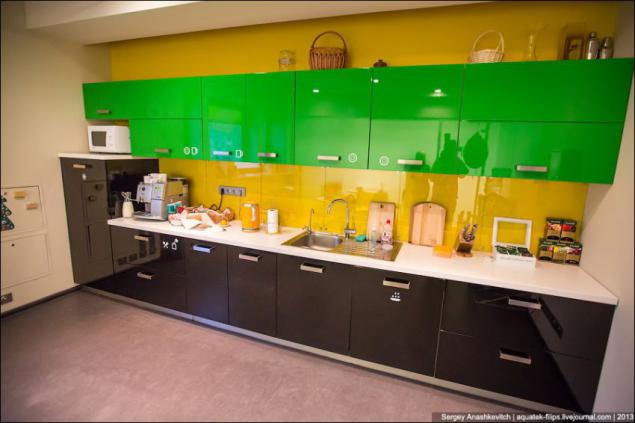 My visit to Kiev office was a week before the New Year, so the wall was discovered Yolk ...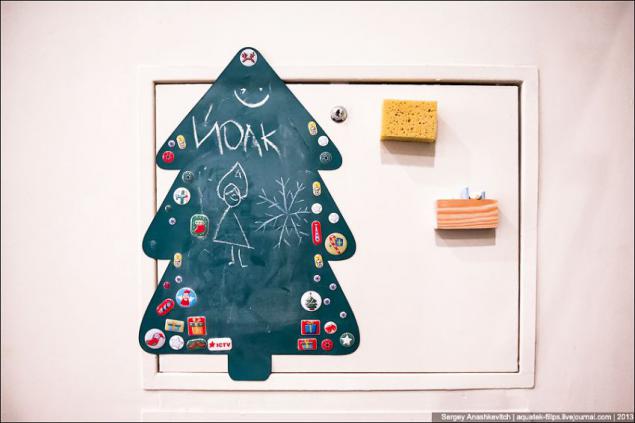 And I wanted to attack this dangerous zhuchara.
This is after I asked him to accompany me for a Woman Natasha, responsible for public relations in Yandex.Ukraine where Plato sitting ...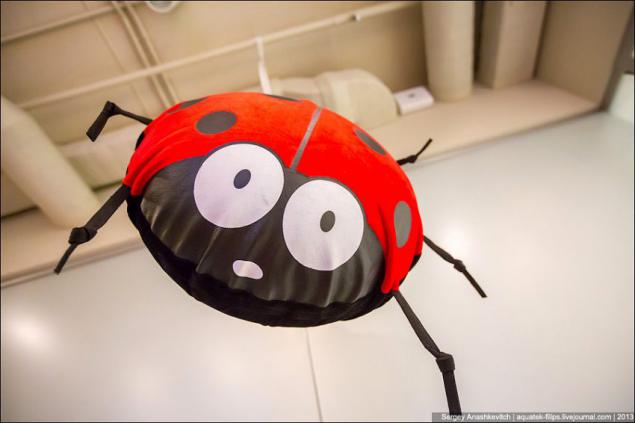 Where I sit, Plato did not say, so I went to look for him myself. Try to find one of the main workspaces any Yandeks.ofisa - in peregovorkah.
Here they are named in the theater. Why is that? Because right from the windows of the office can see the main theater of the country - the National Opera of Ukraine. Taras Shevchenko
Mezzanine, Ground ...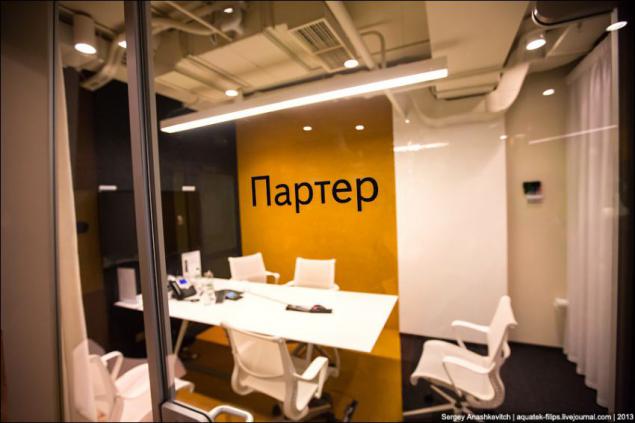 Baignoire Amphitheatre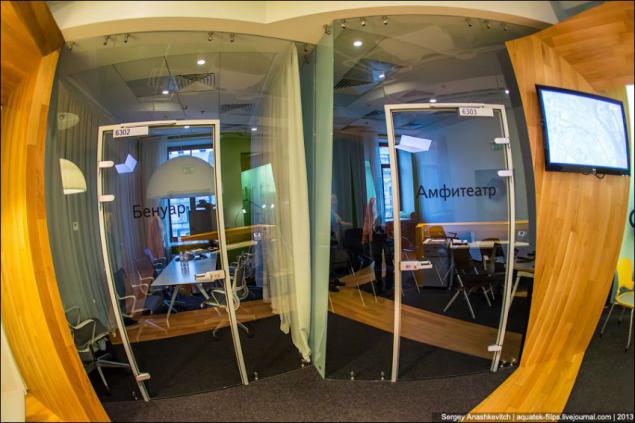 Amphitheater - a small meeting room equipped with a wall on which to write, multimedia and communications.
Often here, and from other peregovorok, arrange direct conference with other offices of the company to work on various projects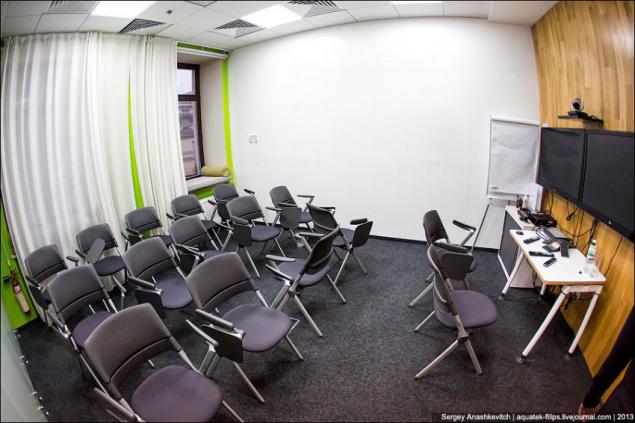 Workspace Parter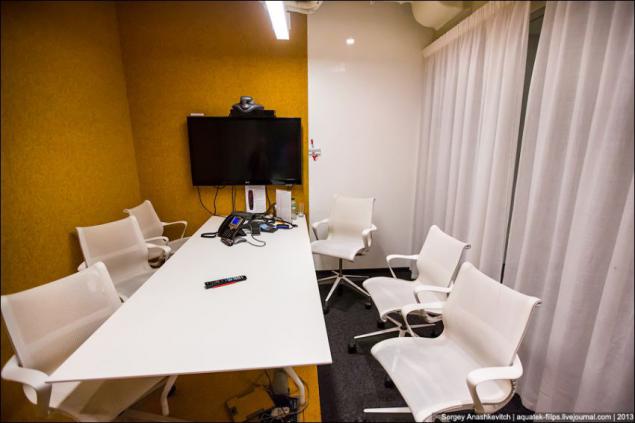 and Baignoire. Here I liked most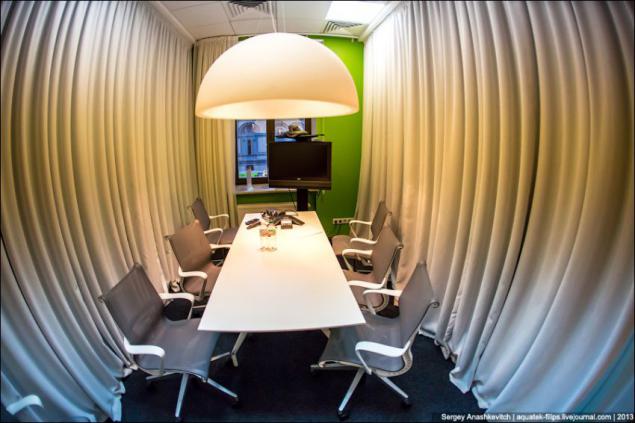 Incidentally, in the Kiev office of a very unusual ceiling. This is a real labyrinth, in which something is flowing, there is electricity or gigabytes of data, air conditioning, etc.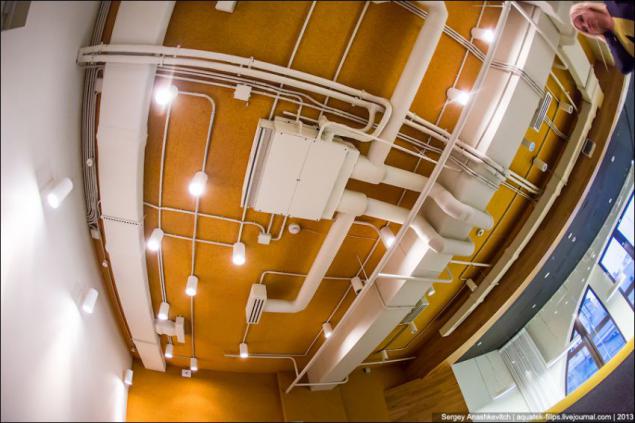 This huge space is currently in some stage of transformation, when he freed one department, but has not yet mastered the other ...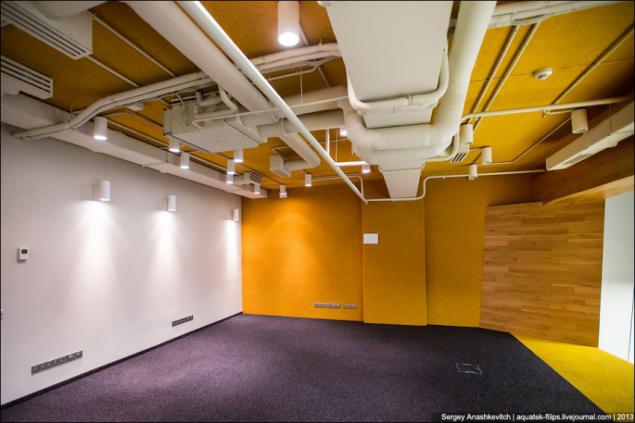 You can even find a message to descendants of the space left Salem ...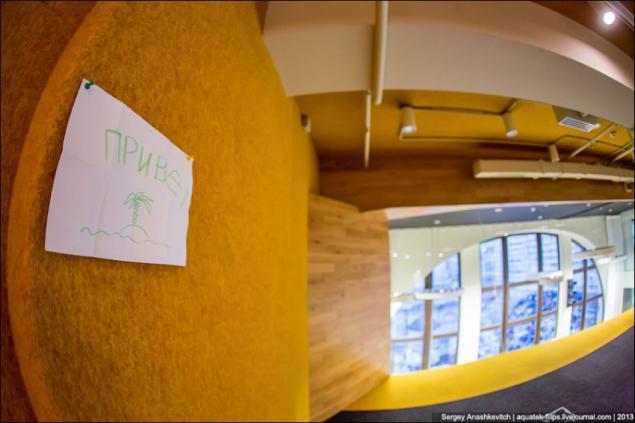 Perhaps the issue is ripe, and whether someone here at all?
Of course, it is running.
Generally, in the Kiev office of the company employs about 100 people.
First of all:
 - Marketing and public relations Ukrainian Yandex
 - Commercial Department (another sales department - in the Odessa office)
 - A group of localization (this Ukrainian translators and editors)
 - Business development managers
 - Development.
This last point deserves special attention. Development of the Kyiv office is growing especially fast, and Yandex pays great attention to her. Two years ago in Kiev, there were only a few developers, now there are more than half of the office, and attention !!!, have now about two dozen open positions.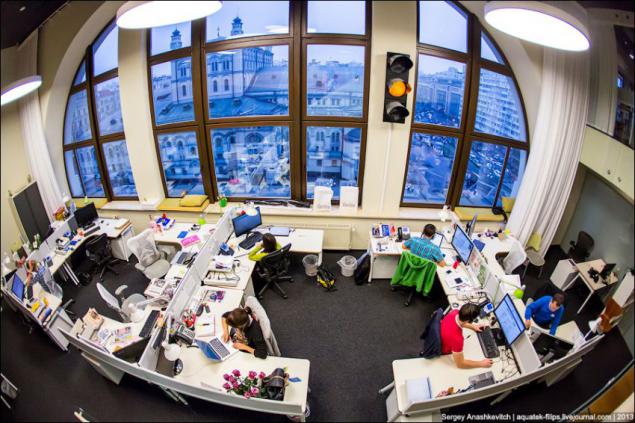 Staff development Kiev together with colleagues from other countries and cities are working on different services Yandex: Search in blogs, mobile Yandex Browser and other mobile applications, Yandex, Yandeks.Metrika, Yandex, Yandex.Disk, internal services and Yandex etc., as well as on search interfaces.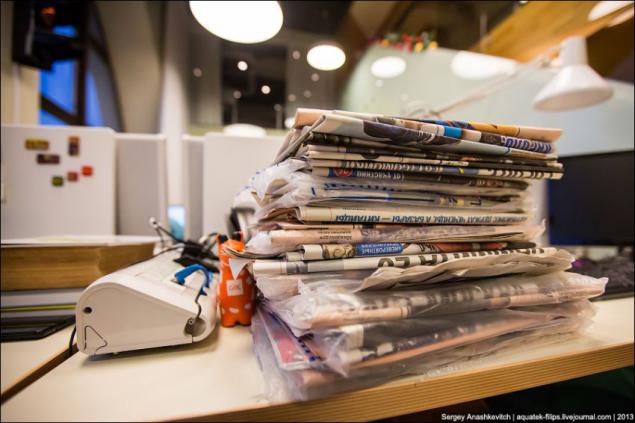 Sacred Room. There sits a sysadmin. From it, as in any other office, literally everything depends.
That is why it even has a magic drum. As a last resort solution to any complex problem ...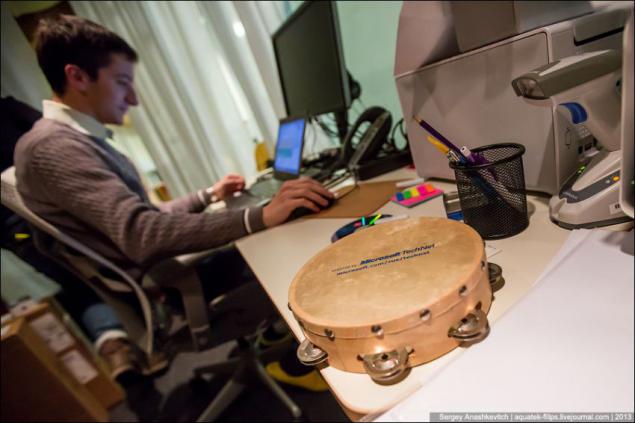 Another Coffee Point. On another floor.
In general, almost all offices of Yandex kofepoyntov much to employees are not crowded and do not waste time waiting.
They just have to come and take a coffee or nuts and go to work on ...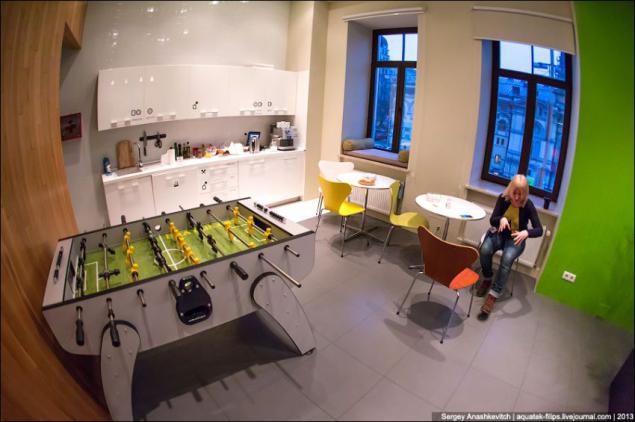 . Well, if you work long or do not want to cut yourself in foosball.
They say he is here seen a lot of the hot battles.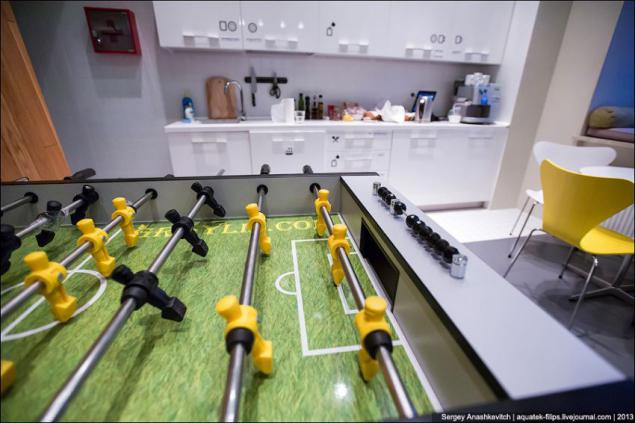 Again, the little things. Again, comfort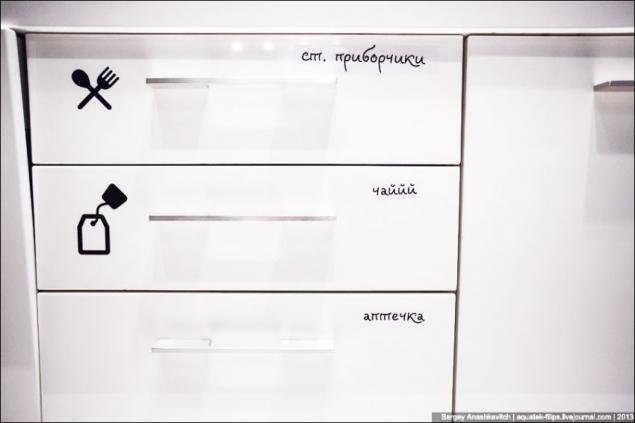 As in Simferopol office, there is a lot of greenery. And in the interior, and in materials and live ...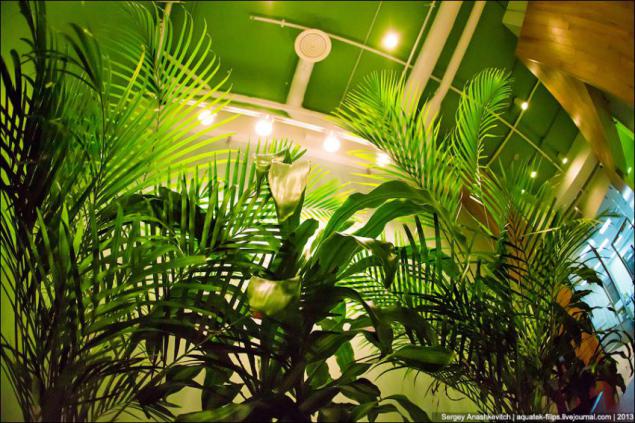 That's still green. Normally, I do not picture toilet room, but ... here walk on by.
That this strange middle stall.
Left - clear - Powder Room. Right - too. Men.
But in the middle? Go for two? Interesting!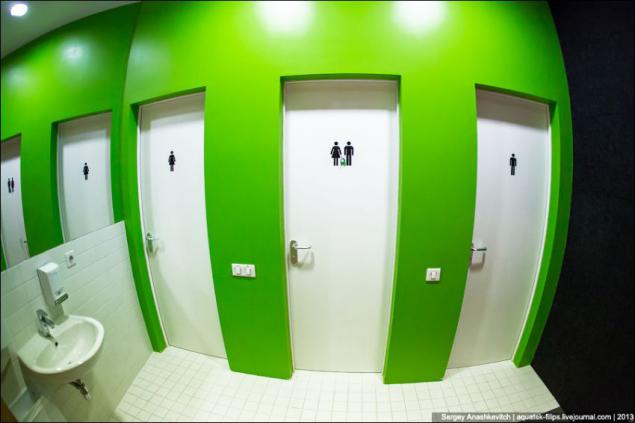 Go, check.
only two seats for the mirror. And so ... ordinary room ...
Just toilet unisex, simple)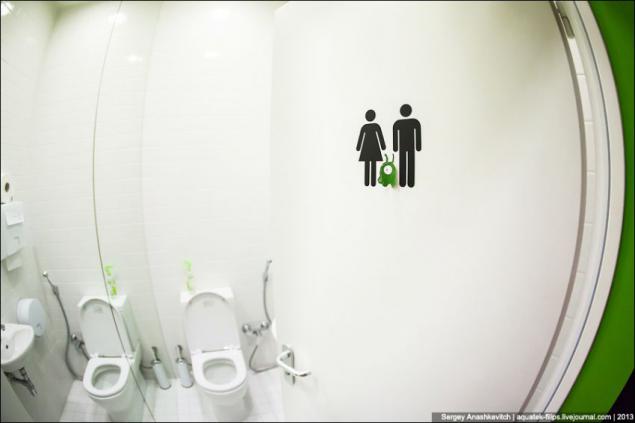 . Nearing the evening, leaving Kiev office Yandex I have a different entrance, so the reception desk there is another)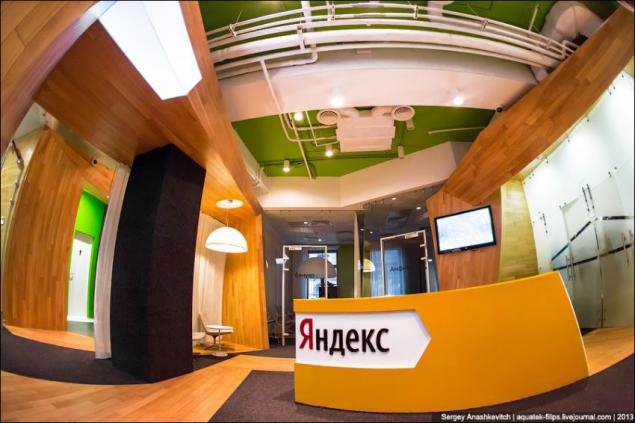 And on the street I was again greeted with the words Yandeks.sitilayty popular Ukrainian song ...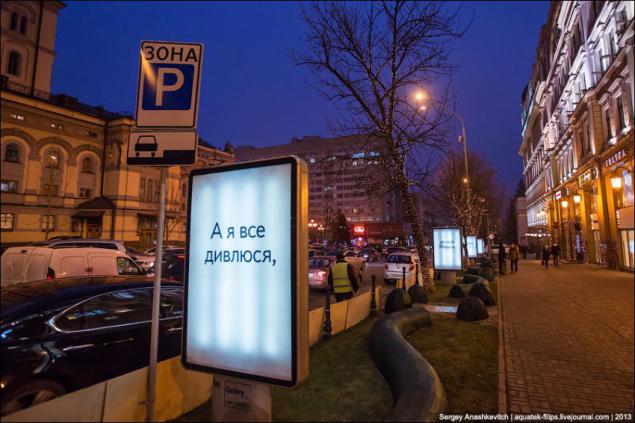 De Maroussia my ...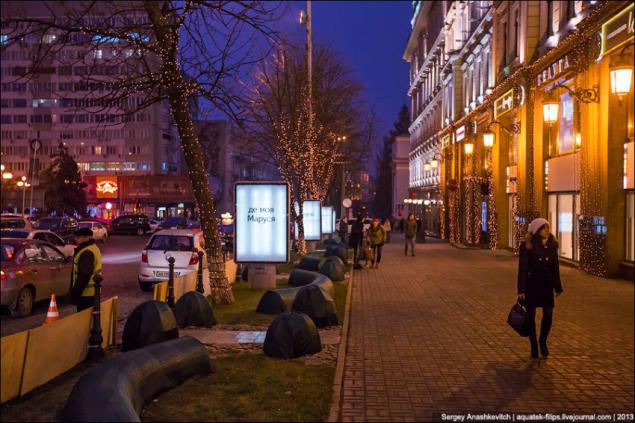 Source: aquatek-filips.livejournal.com