- Letter to the threat has been minimized and tightly roll up in a plastic bag. Wrapped it was all red tape and looked very uncomfortable at first sight. On a love letter not think - says Elena, one of obtaining such a letter. - Message placed under windshield wipers on the glass. Given the bad habit "packaging", a person would have to shop with gifts and ribbons - work for the good of society and the future of the holiday, but no - the role of the weak and cowardly cowardly bully him dearer. Blame all - it's just a classic way. Meanwhile, I would like to note that I live in a plain old pre-fabricated house and the car I have is not fabulous money, like most of my neighbors. Each of us has their own life stories, and, unlike some, we work and pay credits for their vehicles, as well as the sneaky, solve their problems and not only their own - but other people, but in good faith, and not under the pressure of threats and without boasting. Particularly disgusted that such extortion and threats are posed by men against women avtolyubitelnits. Rudeness and impunity are called only disgust.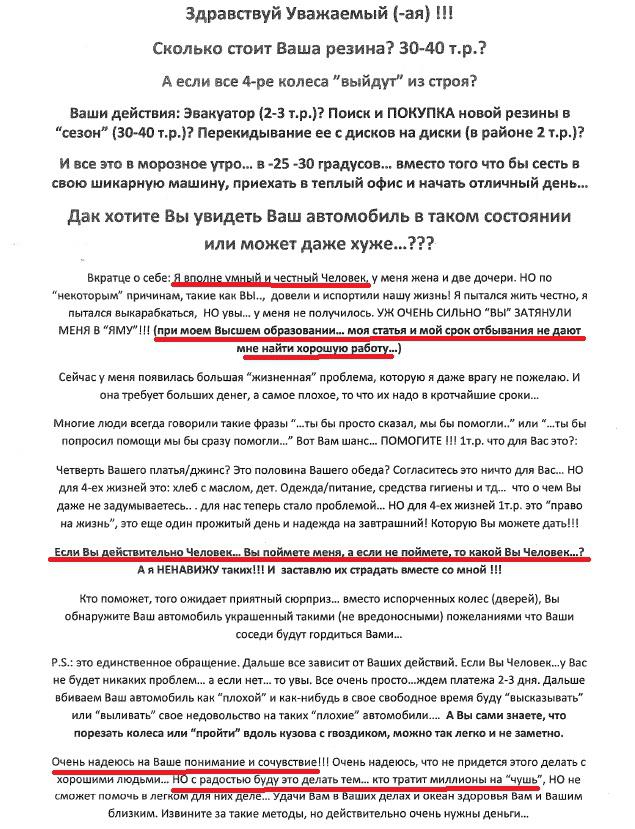 Elena hopes that this event will attract the attention of police.
- I wish that law enforcement agencies to take action and have worked on all versions. And they abound. The reason for this may be pisulek is not only weak-willed boy with a difficult history, but also the theme of "paid parking". In our area, they are not so much - only two, and they have a price tag (compared to urban rates) very decent, despite the fact that the leadership and the attitude is poor. This zavarushka in any case will benefit their business, it's without a doubt. A stuffer, if such a cheerful, even dares and his notes poostavlyaet under the windshield wipers of our business elite, not just hard workers living in the old pre-fabricated house, and not spending "millions on nonsense," - says the girl.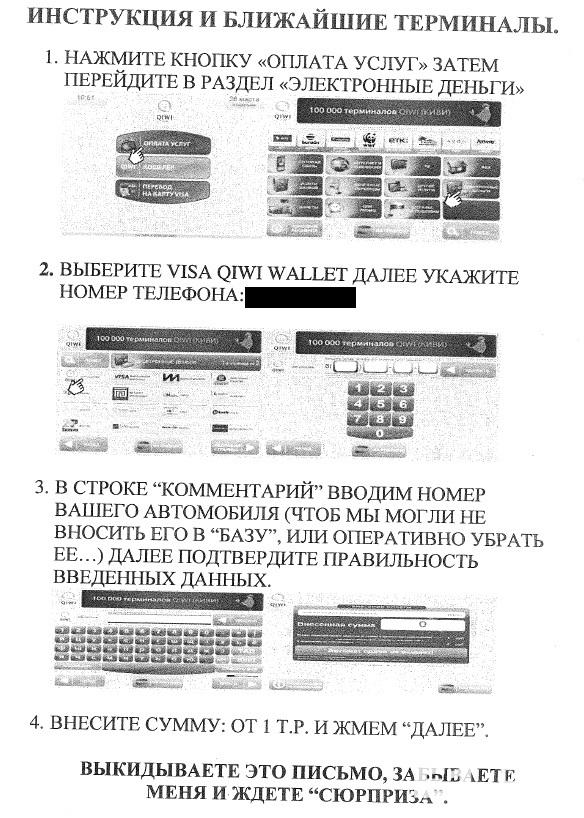 E1.RU gave an expert psychiatrist, the text is now being studied. The police give special attention to the case do not plan to.
- Injured or received a letter need to apply to the police to initiate an investigation and clarification of all circumstances of the incident, - the press service of the State Ministry of Interior in the Sverdlovsk region.