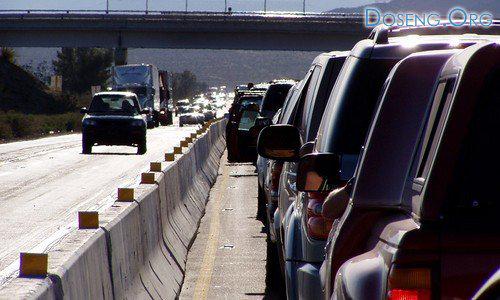 Service "Yandex-map", owned by the company "Yandex" has published a comparative study of the traffic situation in the four big cities of Russia and Ukraine - Moscow, St. Petersburg, Yekaterinburg and Kiev. According to researchers, in Moscow in spring 2008, every day, on average arose more than 800 caps, and each of them stops at an average of about 1,400 vehicles. The average driver this spring lost due to difficulty of movement of more than 12 hours a month and a half - a half hour longer than last year. The growth in the number of traffic jams in Moscow has slowed somewhat.
During the six months that have passed since the fall of 2007 until the spring of 2008, the day (from 8 am to 9 pm) congestion of Moscow streets grew only by a quarter point. A little more difficult to ride in the morning was in the middle of the day, and the number of traffic jams in the evening rush hour even slightly decreased.
In St. Petersburg in the spring of 2008 occurred on a daily basis about the same plugs as in Moscow. The average duration of the difficulties of movement in the northern capital of 1, 6 times less - about 54 minutes in St. Petersburg and 1 hour 26 minutes in Moscow. In Yekaterinburg in the spring occurred on average about 400 daily traffic jams, and in Kiev - about 350. The average length of a stopper in both these cities is almost the same - 46 minutes in Yekaterinburg and 45 in Kiev.
The structure of the traffic jams in Moscow and St. Petersburg is about the same: both cities in the spring of 2008 were characterized by morning and evening rush hours, when the number of traffic jams reached 7-8, and a little calmer situation on the roads from noon to five o'clock in the afternoon. In Kiev and Yekaterinburg peak were expressed somewhat weaker.
The most "good" day for Moscow motorists remains Monday. Four others weekday in spring 2008 in the number of traffic jams did not differ from each other in Moscow, St. Petersburg and Yekaterinburg. In Kiev, increased congestion of the streets by the end of the week - on Fridays it was almost one and a half times more than on Monday.