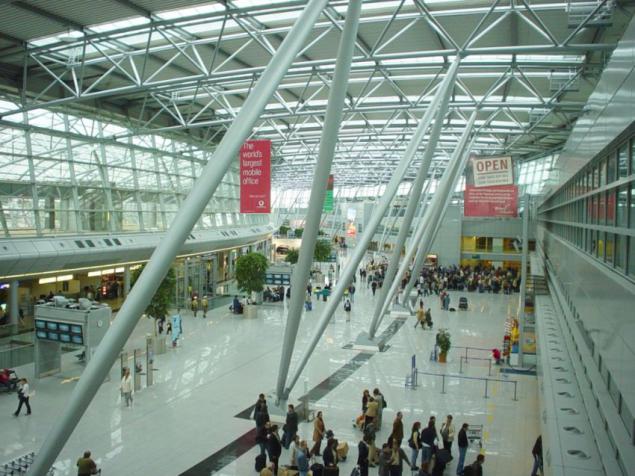 My friend, the lady no longer young, but very pretty, serious, well-known in their circles of engineering seismology. For a long time worked in the United States, in seismically dangerous areas, he advised and helped lead the construction. Where she lived in San Jose, near the city of Los Angeles. And next week it's time to fly home to Russia. Flight with transfer in New York.
Here in fact, begins the story itself.
Arriving at Kennedy Airport, between her flights get a window at 4 o'clock, having decided not to go into the city, little, she got in a waiting room, opened the laptop and plunged into a social network. A small digression, being 54 years old, my classmate, an outspoken member and participant of all kinds of chat rooms and sotsstranits. Well, because the person relaxes, so what. As she says, there is talk in America is not with whom, all in itself, so she compensated for the absence of the living interlocutors virtual. So here at the airport, it's all gone to obschenie.Skolko time passed, she did not notice, but wanted coffee, decided to go to the cafe, reached for her purse and ... Well, steal not only in Moscow and Russia, steal gentlemen around Bags world ... not there. And in her passport, ticket, phone, wallet, cards, well, everything. First, as the case, she did not believe his eyes, he began to look around, but being a lady serious, as I said, quickly recovering himself, realized the futility of such attempts. He looked at the clock until its flight was 3 hours in Moscow, met her husband, no tickets, phone, too, but as a passport. After living 11 years in the United States. she had learned that in this country, if any unpleasant situation, it is necessary to contact the police (when will we live to see it?). The local police was found quickly, she explained the situation to him, he understood, was contacted by radio with someone, and it carried into his little room and asked to write a statement. As she wrote, went somewhere for 20 minutes, the cop comes and shows her her passport, thus says too early to rejoice, the passport was found in the men's room, apparently thrown away, as unnecessary, the rest is all gone, and find quickly, maybe not It appears. Before Flight 2, 5:00, what to do ??? And then, as she says, her despair Nakata, just wanted to scream, well, at least to someone complain to the vest. Because of the living acquaintances, next to no one had, she opened the laptop and began to cry and shout «help me !!!» in a chat. And then it comes a message from the same user, who recently appeared on their stranitse.On writes that he from New York, even my girlfriend does not go away or where he is now drive up and try to help than ever. A friend in shock, in New York, 3 in the morning, this companion, she does not know a couple exchange a greeting and chatting all. But 30 minutes later, the room (where she wrote) comes the boy, age 15 - 16, and said that he had come. Calls his nickname, girlfriend realizes that this is the source of her chat, dumb boy ... between developed turbulence, drags her to the windows registration, showing her passport, explaining the situation of the girls behind the counter, and in the rules, if you lost the ticket it is necessary to buy a new one. Tickets for this flight there, he explains that a seat there, and here is the mistress of the place, but it does not have a ticket, but he is willing to pay for a new ticket, but it was on this flight. The staff checked the Computers, negotiations and agreed. The guy pulls out a card explaining the passing of my friend that was saving for a car, but the car can wait, if there is a situation and gives the ticket paying my classmate. She says, for all this time and could not utter a word, he drags her registration, showing that quite a few times along the way chattering, about what is good, what is now night, and he was able to get to the airport quickly, he will go to the police, and ensure the adoption of measures for its application, as long as she will fly it with the cop goes to the office of the airline. that would have given her luggage in Moscow that neither when have not seen live Russian, etc. and so on. f. When they ran to the front border guards, my girlfriend just had time to say & quot; thank you & quot; and that she will send him immediately upon arrival in Moscow. And then, just I kissed the boy, and went into the plane. The entire flight she cried, as they say, she did not understand what. Whether by luck, that there are still such people on the ground, or on the kindness of this boy, no, man. It is men ... In the Sheremetyevo, seeing her husband, frightened at first that something had happened, then began to be jealous, she cried for allegedly abandoned lover in America. In general up to now, until the end she does not believe her. And I, since man is not, as a friend, and I know it is 17 years older than her husband knows, believe her. Just as I believe in the goodness and decency of people, regardless of what nationality he is, and in what country lives ...
And you ???
--img2--