Surprisingly touching stories of the most touching and devoted friendship - man and dog. It's about pets, which are sometimes even at the cost of his own life were able to save the lives of their owners. Enjoying continued fasting and remember dogs are heroes!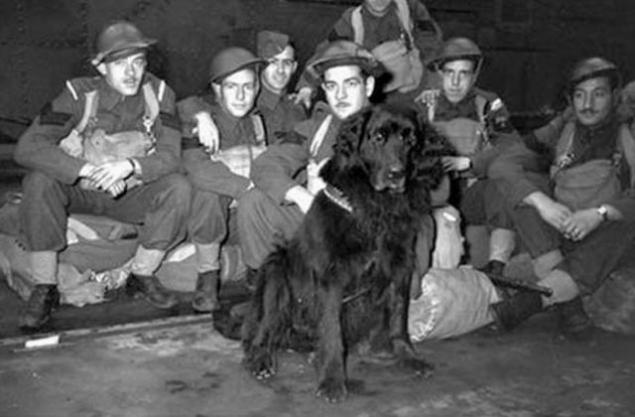 10. Simon - guide dog.
In September 2013, visually impaired Furekoa Dave led his four-year son Will to school when the red Chrysler appeared at a crossroads. He ignored the stop sign and carried directly to the father and son. All may be lost if it were not a boxer Simon, a guide dog Furekoa. Simon and Dave were shot down, but witnesses say the dog had to push a little out of the way of Will.
Witnesses attributed Will his mother, and Simon with a broken leg and internal injuries continued to go after them. When Will was at home, the boxer finally fell. He died before he had time to take to the vet.
Simon was a Fureoka for four years, the life of Will, and was devoted to the child. An organization that has provided Simon promised another dog to Dave when he gets on his feet again.
9. Gander - military dog.
Gander Newfoundland served in the Canadian Army during the Second World War. December 5, 1941, the day of the bombing of Pearl Harbor, Japan also attacked Hong Kong, hoping to release an important island from British control. Gander and his unit were sent to participate in the battle that British forces lost.
Victims from the British side have exceeded 2,000 people, and perhaps they would have been greater if not for the heroism of Gander. Several times the dog returns to the camp of the enemy, saving the lives of the wounded. And when a grenade fell in the midst of Canadian soldiers, Gander took her and ran to the Japanese. He died when a grenade exploded.
After his death, he received many honors, including the Medal of the Dickin \ "courage and devotion \".
8. George.
Anyone who has ever had a Jack Russell terrier, can confirm that they are like a giant dog trapped in tiny bodies, fearless, energetic and ready for anything. This courage has inspired nine-terrier named George fight with two rampaging pit bulls in New Zealand.
George was playing with a group of children, when the two were attacked. Dog valiantly defended the kids, giving them time to escape, but he was clearly weaker than a pit bull, let alone two. One of the boys later said: \ "George tried to protect us, barking and pouncing on them, but they started to bite him - one behind his head, and the other behind his back. We ran away. Passers-by saw what was happening and rescued George. \ »
Small terrier survived the attack, but he was so badly injured that its owner was forced to euthanize him. Pit bulls were euthanized. George received many honors for his bravery, including the Purple Heart on American veteran Dzherrella Hudmena, who was touched by his story.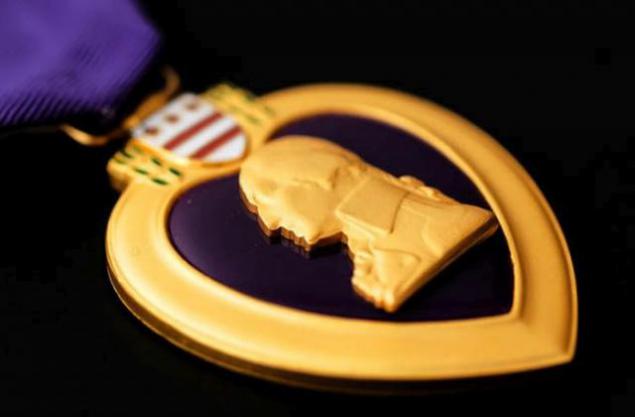 7. Rocco - Pittsburgh police dog.
It is no coincidence that the service dogs are presented in a large number in this list. Often they are ahead of where people's lives that are threatened.
January 28, 2014 officer John Herb confronted with a suspicious person on Butler Street in the area of ​​Pittsburgh. The suspect, 21-year-old John Rush, attacked him, taking his gun, hit in the face and ran away.
Later, he tried to grab onto Butler Street Lerza officer Philip and several other officers, including an eight-dog Rocco. Rush struck knife Lerze and Rocco, before he was caught. Rana Lerzy was easy, but Rocco was not so lucky. The blade went through his back, damaging the spine and kidney. Followed by two operations and multiple blood transfusions, but Rocco pneumonia, and internal bleeding could not get stopped. He died two days later.
At Rush was a big criminal history, including sexual offenses, and in addition a mental illness. Rocco was buried with full honors, and in Pennsylvania, was published \ "Law Rocco \ '. According to this law, an attack on a police dog is a crime of the second degree with a penalty of a fine of $ 25,000 and imprisonment up to 10 years.
6. Nero saves his family from fire.
November 24, 2013 flames engulfed Eliseo family home in New York. Newfoundland Nero woke Eliseo Maria and her daughter Mary. Mary left the house, but Mary, who suffered a hip replacement surgery three weeks ago, was left in the bedroom of the second floor. She was rescued by neighbors Brian Avery and Robert Cole.
Heroism dog came just in time. Mary Eliseo said: \ "If it was not Nero, I do not have time to get out. \»
The family initially thought that Nero was saved from the fire, and asked for help to find him, but later his body was found in the ashes of the house, along with three other dogs. Eliseo were terribly upset. Giulio Eliseo said: \ "You have no idea how I feel. I'm like a lost son. Without him I would have lost my wife and daughter in the fire. \ »
Shortly after the death of Nero family purchased Newfoundland puppy and named her Faith.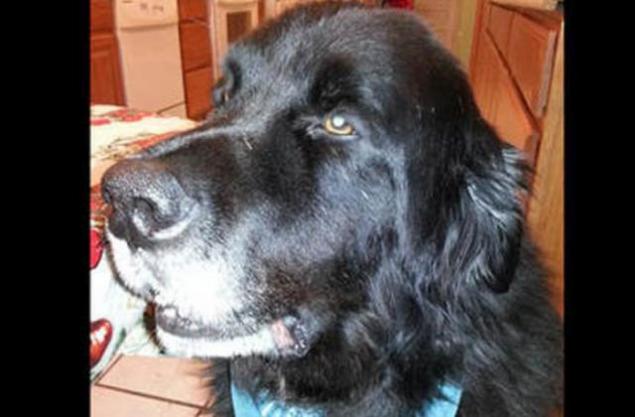 5. Troy protects his family.
In November 2005, the family Doherty walked four Labradors in Forest Park in Northern Ireland when the pit bull attacked. The dog first attacked the Labrador Doherty, Cole, biting his leg, and then Sean and Deirdre tried to pull a pit bull, but he attacked them. Both received light bites. Then the dog ran to the youngest child, 10-year-old Ben.
It was then labrador Ben Troy entered the fray. Troy struggled with the dog until the police arrived and shot a pit bull. Troy was seriously wounded and died shortly afterwards.
Sean Doherty later said: \ "We are devastated by the death of a Troy. He was always very affectionate. Pitbull wanted to kill us and our son. We saw it in his eyes. But everything is good with children. We are so grateful to Troy because he saved our lives. \ »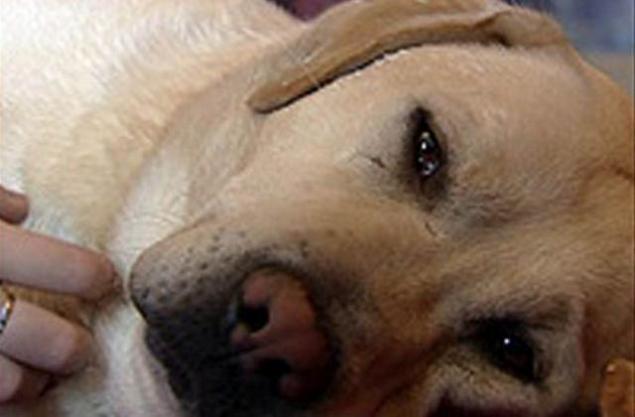 4.
Apr - FBI dog.
13 March 2013 64-year-old Kurt Meyers shot four people in upstate New York. The offender fled in an abandoned bar, starting tense standoff with the police and the FBI, which dragged on for several hours. The first agent, who went to the bar, was
Apr, German Shepherd. He was equipped with a camera, to give other officers an idea of ​​what is happening inside. Myers opened fire on the dog, and
Apr was wounded in the chest.
Other officers killed in the ensuing firefight Myers. Nobody was injured, probably because of the sacrificed Eypa. The dog was rushed to a local veterinary hospital, but he died of his wounds. He was in the military just over two weeks.
Nickname Eypa inflicted on the memorial wall for the dead dogs. The reason for the attack is unknown Myers, but he was deep in debt and lived at the expense of credit cards.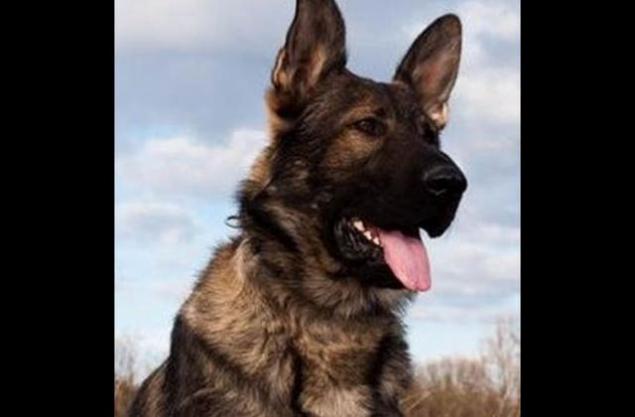 3. Toby bear against.
Bears often seem pretty funny creatures that scavenge in heaps of garbage and climb trees. But they can be a huge mountain invincible, especially defending their cubs. May 21, 2014 Chris Wacker learned this the hard way when his father took the dog and went to pick mushrooms in northern Minnesota.
Chris and Toby, black labrador, ran into two big bears with cubs. Tobey attacked a bear and was overwhelmed by the female, who is said to Chris, he weighed 135 kilograms. He had no chance, but while the dog attacked, Chris got a chance to escape.
Son and father thought they would never see again, Toby, but 10 minutes later, a wounded dog limped came home. Throughout the body she had bite marks and gashes 15 centimeters. John rushed Toby to the veterinarian, the brave dog clung to life for a few days, but still died of his wounds.
John is confident that heroism saved his son Toby, claiming: \ "This was the mother bear. She is aggressive. She would have killed Chris. Toby had saved his life. I am confident in this. \ »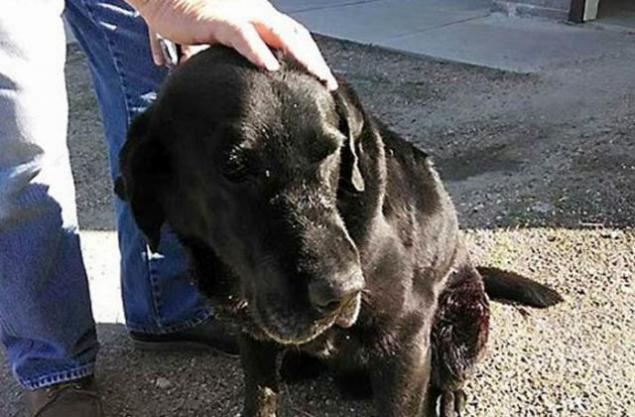 2. German Shepherd Dog Marco Lavoie.
Most of these stories about how brave dogs are not afraid of dangers to save the people. History of the Dog Marco Lavoie was not about that.
In July 2013 Lavoie went to a two-month adventure through the wilderness of northern Quebec with his beloved German shepherd. An experienced hiker earlier made such a trip without incident, but this time he was attacked by a bear who ate his food and destroyed the boat and all the equipment. Man and dog managed to get the animal to run, but it was inflicted irreparable damage.
Being stranded in the region, largely devoid of vegetation, Lavoie had to accept the horrible decision to kill the dog stone and eat it.
After he returned from a trip at the scheduled time, the family called the police, who began to look for him. Helicopter crew found him in late October. He lost 40 kilograms of weight and suffered from hypothermia and dehydration.
When the story that he ate dog reached the public, it caused an understandable backlash. However, these travelers he praised his actions, saying that Lavoie otherwise would have died.
1. Operations against Cobra.
None of the rocks on the planet do not have a worse reputation than the American pit bull. This article repeatedly refers to the aggression of the breed. But when there is a danger, as a pit bull is brave and loyal as any other dog.
We're talking about Shefe of Cagayan de Oro, Philippines. At 14:00 on February 12, 2007 Cobra slipped into the kitchen at home Mary Frontreras threatening Mary and her elderly grandmother. Snake easily have killed the two women, but before she could bite them, grabbed her and Chief zagryz to death.
Cobra with the pit bull has bitten into the jaw. Maria turned for help to the vet, but it was too late, because the bite was too close to the brain Chef.
Maria brought her husband home from work, and he arrived just in time to see how Chef dies a wag of the tail for the last time. The family waited until their children came home from school to say goodbye to a pet before Operations to arrange the funeral of the hero.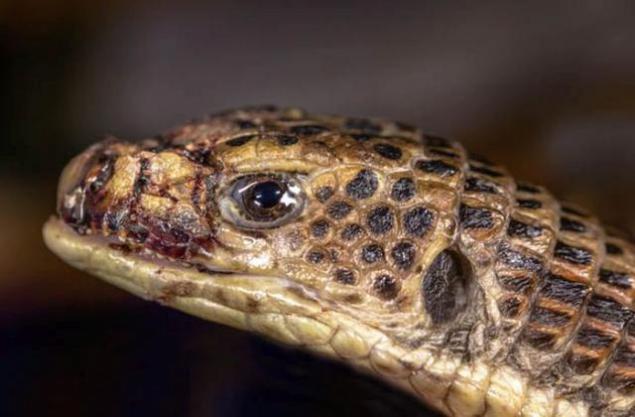 Hence