Good afternoon, Habr!
It happened last week! Samsung has introduced a new line of flagship tablet GALAXY Tab S - the world's first mobile device with a screen Super AMOLED main diagonal. Implementation of such displays is not only allowed to repeatedly expand the color reproduction range, but also to reduce the size, weight and power consumption of the tablet. What else can boast of? Follow a cat!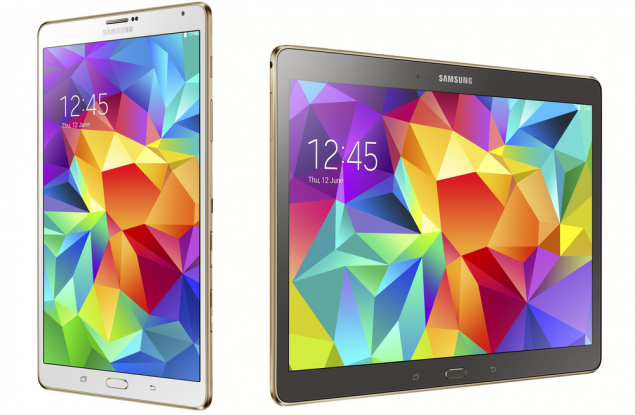 ▌ZHELEZO
Screen sizes announced new products is not quite standard - 8, 4 and 10, 5 inches. The plates are equipped with two cameras: a front module 2, 1 M and the main 8-megapixel sensor with autofocus. During the performance of the plates meet processors Exynos 5 Octa (4 cores 1, 9 GHz 4 cores + 1, 3 GHz), 3 GB of RAM on board and batteries at the 4900 and 7900 mA • h, and take care of graphics applications processor Mali-T628 MP6. The devices are equipped with built-in memory of 16 or 32 GB and a slot for memory cards microSD expandable storage up to 128 GB of data.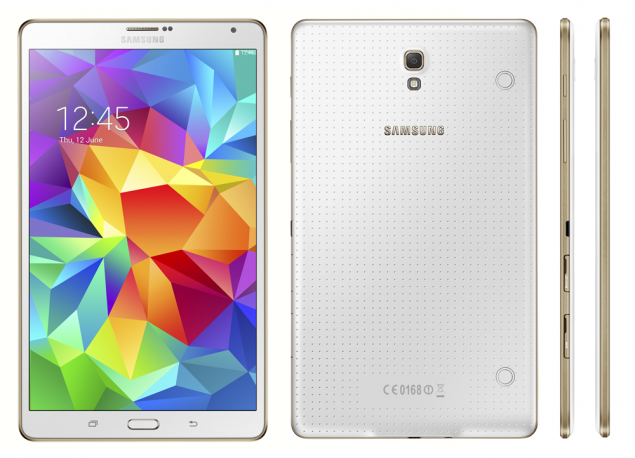 There is also a port microUSB, audio output 3, 5 mm and infrared to control home appliances. And do not forget about the wireless interfaces Wi-Fi 802.11ac MIMO and 4G LTE Cat. 4. Tablet running Android 4.4.2 KitKat with a proprietary interface Magazine UX. They are among the most thin and light mobile devices on the market: the case of both models has a thickness of 6, 6 mm and the weight is 467 grams of novelties for 10, 5-inch version and 298 grams for 8, 4-inch.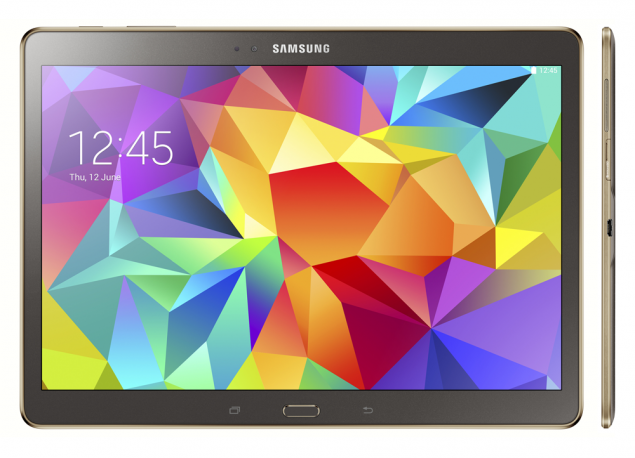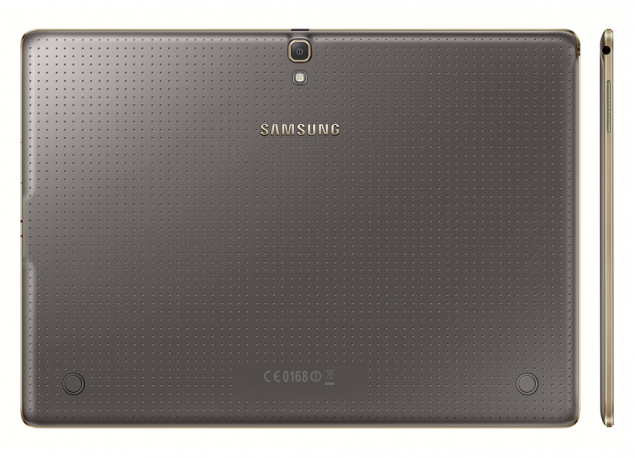 ▌EKRAN
Let us dwell on the screen GALAXY Tab S. This Super AMOLED with a resolution WQXGA (2560x1600, 16:10 aspect ratio), covering more than 90% color space Adobe RGB. For comparison, the standard liquid crystal panels exhibit only gamut area about 73% Adobe RGB, and in some cases even less. Greater color gamut allows the screen accurately reproduces pure, saturated colors - blue, red, green, turquoise, lemon and other colors. Thus, if in the case of conventional LCDs, attempts to increase the color gamut of either lead to complicated construction radical, or an increase of power consumption, the screens Super AMOLED, vice versa, and provides a good energy efficiency and a compact (because there is no need for a separate backlight module ). In this screen contrast Super AMOLED may reach values ​​of 100 000: 1 - a hundred times higher than in the conventional liquid crystal display.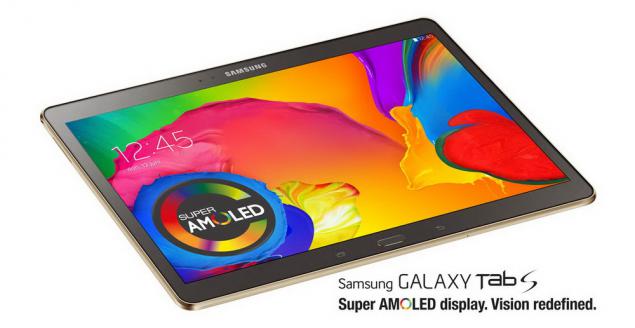 In addition, the adaptive function can automatically adjust the screen brightness and colors depending on the brightness and color temperature of ambient light, as well as how to use the tablet. By the way, scold screen for unnaturally bright colors does not work anymore: in the settings there are several color profiles (AMOLED Base, AMOLED AMOLED Photo and Movie), so if the default settings sadden by excessive brightness and unnatural color, you can simply select another mode to his liking . As technology Super AMOLED does not require a separate backlight module, GALAXY Tab S consumes less power compared to tablet-based LCD screens comparable diagonals.
▌VOZMOZHNOSTI
What's new learned to make new tablets? Firstly, Samsung GALAXY Tab S supports multitasking, which allows the screen to open two applications at the same time and quite a comfortable working with them. Simultaneous viewing of video content sharing and receiving call subscriber is no longer something extraordinary - now it's become a daily reality for owners of the new tablet. It is worth noting the function of Quick Connect, with which GALAXY Tab S quickly finds and connects to nearby devices to easily share content (available on Wi-Fi, and the LTE-version).
You can not overestimate the usefulness of the new features SideSync 3.0 - convenient symbiosis combining your smartphone and tablet Samsung GALAXY GALAXY Tab S in the same ecosystem. First, it eliminates the lazy users from having to reach for your smartphone in the case of an incoming call or message - SideSync 3.0 smartphone screen will display on the screen of the tablet and it is immediately respond. Transferring files and copy text between the two devices, call forwarding phone calls or messages from your smartphone to the tablet - all of this can now be done in real time from the wireless network Wi-Fi.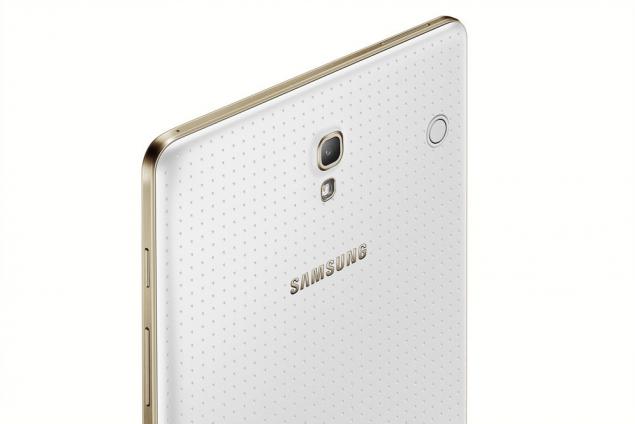 Plates Samsung GALAXY Tab S have a special multiplayer mode, one device supports up to 8 user profiles, each of which you can select individual settings registration and a list of programs. For families with small children and have already gained popularity on the Samsung GALAXY S5 child mode - a combination of beautiful and simple interface, parental control over how and how much time the child uses the tablet, as well as reliable protection of data stored on the tablet - from files to List of calls and messages.
Unlocking the tablet, as well as the protection of personal files and authorization in a variety of systems and services can be carried out using a fingerprint scanner built into the button "Home". For each of the 8 users can be registered on the fingerprint 3, which provides both convenience and security: in contrast to the usual password, fingerprint or impossible to pick up a spy.
▌SERVISY AND APPLICATIONS
In Samsung thoroughly worked over the quantity and quality of free content and applications available in the base set of new tablets. Samsung service to view logs «Papergarden» debut was on GALAXY Tab S. In addition, it should be noted GALAXY Gifts: Samsung has teamed up with a lot of manufacturers of mobile content and service providers to offer users free GALAXY Tab S huge amount of useful content and services. Strategic partnerships with Samsung Marvel, users will be able to GALAXY Tab S for three months free of charge to become members of the club «Marvel Unlimited» and, after downloading a special application to get access to a collection of more than 15,000 comics.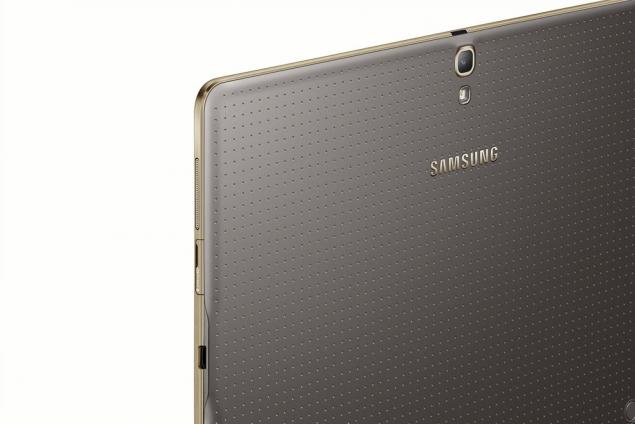 Kindle for Samsung offers users the tablet Samsung GALAXY Tab S free book, which will be every month to get through Samsung Book Deals, as well as access to a huge selection of e-books in the Kindle Store. New corporate service MILK, representing a analogue Spotify and Google Music, the music will pick up your mood. In fact - this is Internet radio, which will always be at hand, and the main competitive advantage is the lack of subscription fees. Samsung is the long-standing partnership with Google Play, so users GALAXY Tab S will receive a special gift - access to a large selection of movies, entertainment content, a variety of books and magazines.
▌AKSESSUARY
Along with the new tablet GALAXY Tab S Samsung offers a range of useful accessories.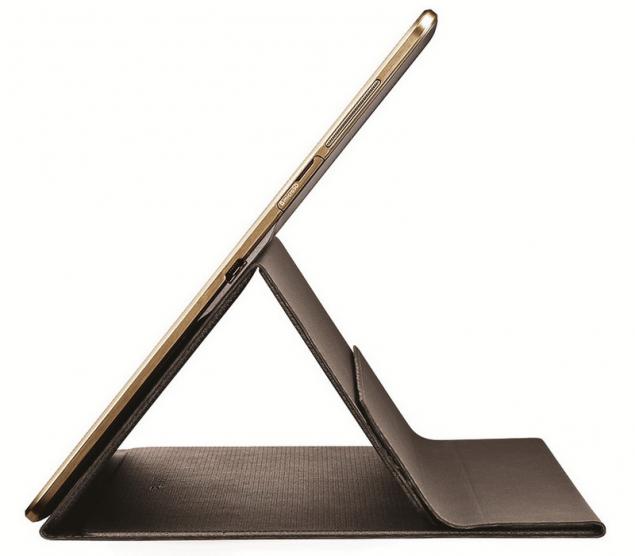 Cover Book Cover allows you to set the plate at right angles to solve various problems - about 60 ° for watching movies, about 30 ° to browse the Internet, or about 10 ° for typing and working.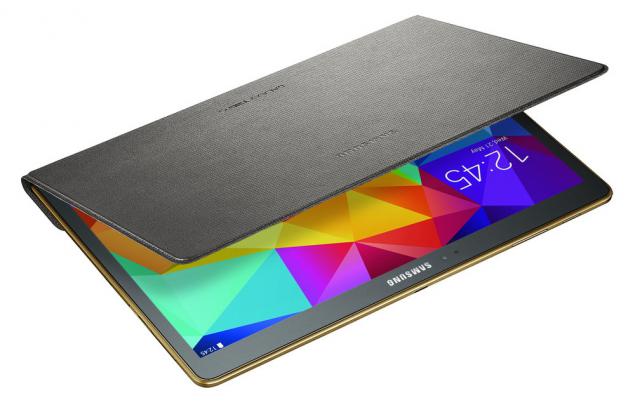 If you just need to be retained by the plate, but it would be desirable to have as thin cover - there Simple Cover, which is easy to install and protects the screen. All covers specially designed for GALAXY Tab S, attached with the new system latches - a simple and reliable mechanism.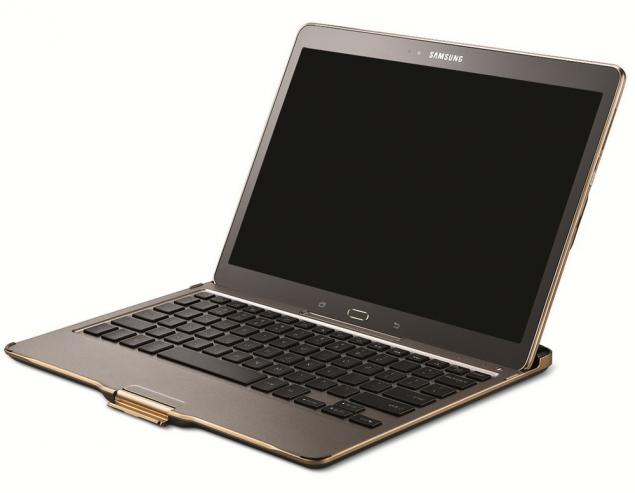 Ultra-slim keyboard with an ergonomic design that can be connected using Bluetooth, - another accessory that has been specifically designed for GALAXY Tab S.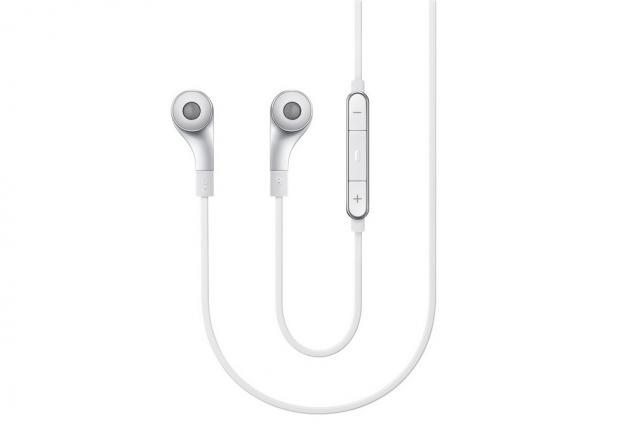 For audiophiles, Samsung in the last month presented a series of devices
Level
, which is fully compatible with the new tablet.
▌START sales and prices
Samsung GALAXY Tab S will be available in different versions: Wi-Fi or Wi-Fi and LTE, 16 or 32 GB of permanent memory. Also, users will be able to choose the color: bronze, white or red (for 8, 4-inch version). New plates will go on sale in July 2014 at a price:
GALAXY Tab S 8, 4 Wi-Fi - 19 990 rubles.
GALAXY Tab S 8, 4 Wi-Fi + LTE - 22,990 rubles.
GALAXY Tab S 10, 5 Wi-Fi - 22 990 rubles.
GALAXY Tab S 10, 5 Wi-Fi + LTE - 26,990 rubles.
▌TEHNICHESKIE FEATURES
Cellular: 4G LTE: 800/900/1800/2600 + 850/2100 MHz; 3G HSPA +: 850/900/1900/2100 MHz; 2G EDGE / GPRS: 850/900/1800/1900 MHz
Screen: 8, 4 & quot; and 10, 5 & quot; 2560 × 1600 (WQXGA) Super AMOLED, 94% Adobe RGB
Processor: Exynos 5 Octa (4 cores 1, 9 GHz 4 cores + 1, 3 GHz)
Operating System: Android 4.4.2 (KitKat)
Camera: 8 megapixels (the main, with LED flash); 2, 1 megapixel (front, Full HD)
Interfaces: WiFi 802.11 a / b / g / n / ac MIMO, WiFi Direct, Bluetooth 4.0, GPS, GLONASS, Beidou, IR LED simulation remote
Sensors: accelerometer, gyroscope, proximity sensor, light sensor, a geomagnetic sensor, magnetic field sensor, color sensor, proximity sensor (only for LTE-version)
Memory: 3 GB of RAM; Internal Memory: 16/32 GB; microSD up to 128 GB
Size and weight: 8, 4 & quot ;: 125 6 × 212 6 8 × 6 mm and 294 g (Wi-Fi) / 298 g (LTE); 10, 5 & quot ;: 247 3 × 177 3 × 6 6 mm and 465 g (Wi-Fi) / 467 g (LTE)
Battery: 8, 4 & quot ;: 4900 mA • h; 10, 5 & quot ;: 7900 mA • h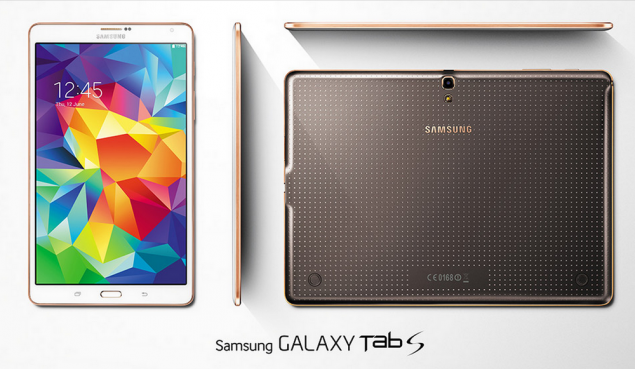 Source: habrahabr.ru/company/samsung/blog/226453/