In the Western military district (ZVO) summed up the contest of professional skills settlement heavy flamethrower system (TOS) - "Tierra del Fuego».
3 photo.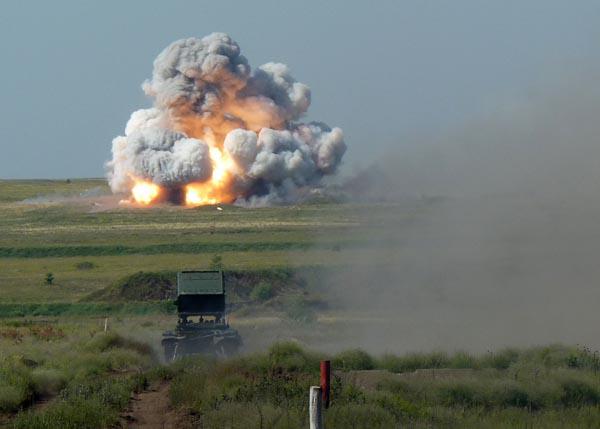 The competition, which was attended by all the flamethrower association ZVO, from Kaliningrad to Nizhniy Novgorod, and from Murmansk to Belgorod, held at one of military ranges in the Voronezh region.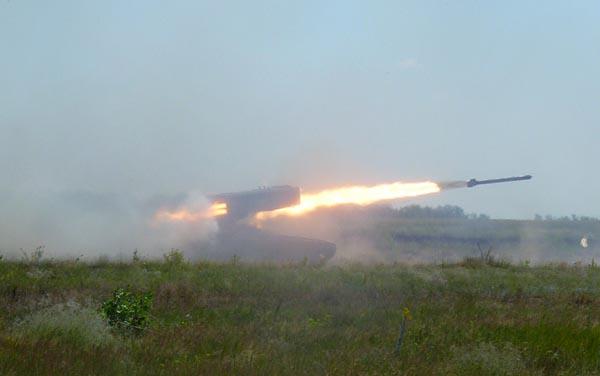 According to the contest, CBT calculations "Pinocchio" and "sun" ZVO had hit the target, is the reference point and a checkpoint imaginary enemy, an area of ​​100 by 100 meters, at a distance of more than 3 thousand meters. The shooting was carried out as a single missile launches, as well as the release of full ammunition launchers.
Posted in [mergetime] 1402368892 [/ mergetime]
First place in the competition "Tierra del Fuego" took account flamethrower platoon Kursk brigade of radiation, chemical and biological protection ZVO. Winners of the competition receive trophies and prizes from the Chief District NBC troops Major-General Mikhail Chernyshov, the press service of the Western Military District.
TOS-1 "Buratino" - heavy flamethrower system (TOS) multiple rocket launchers on the basis of the T-72. Arming the system is 24 extended-range missiles. Designed for fire support of combined arms units, defeat armored and automotive equipment, buildings and shelters, as well as manpower. Calculation - three people. Area covered by full ammunition - up to 40 square kilometers.
TOS-1A "sun" - heavy flamethrower system with shells with extended range. Adopted by the Russian army on 4 April 2001. It is in service with the troops of radiation, chemical and biological protection (NBC).
Source