Quite often, owners of restaurants to attract more number of customers satisfied with the variety of restaurants contests. Often they are in at the time of eating a variety of foods. While such contests are quite popular, they often begin to annoy customers so spoiled restaurateurs have to show imagination to come up with something new and different.
1. Competition Ramen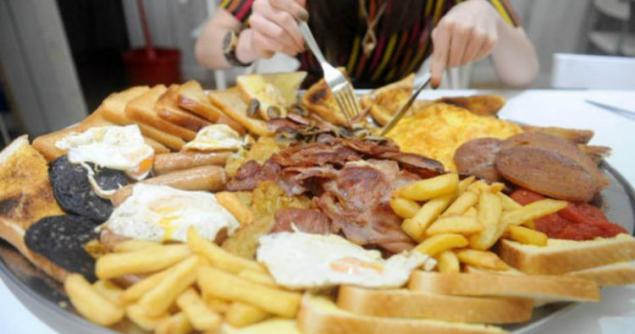 The owners of a Japanese restaurant in Sydney Kamachi invented a very interesting competition, which offers its customers to participate. To become the winner of the competition, you need just one hour to eat Ramen noodles weekly dose. It's not as easy as it might seem at first glance, in fact need to eat two liters of noodle soup, a huge portion of noodles on second and mix of vegetables with meat. The winner will receive a prize of $ 100. Those who lose will have to fork out and pay for the order. For thirteen years, only 32 customers managed to win in this challenging competition restaurant.
2. British megazavtrak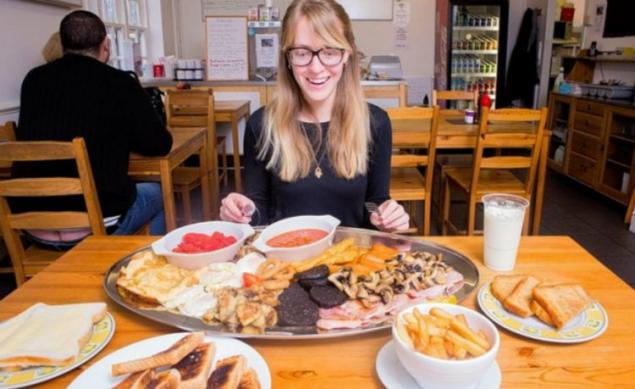 Britons addicted for breakfast, just love "Monster Mega Breakfast", served in Corner Cafe in the UK. This breakfast of 7778 calories, consists of six sausages, six slices of bacon, four eggs, two omelets, four black pudding, potato oladushek four, four servings of mushrooms, two buckets of beans, tinned tomatoes two buckets, bowls of chips, four of toast, four pieces of fried bread, two sandwiches with butter and a milkshake. If the visitor will be able to eat the huge breakfast, then he will not have to pay for it.
3. Competitions Rocky Top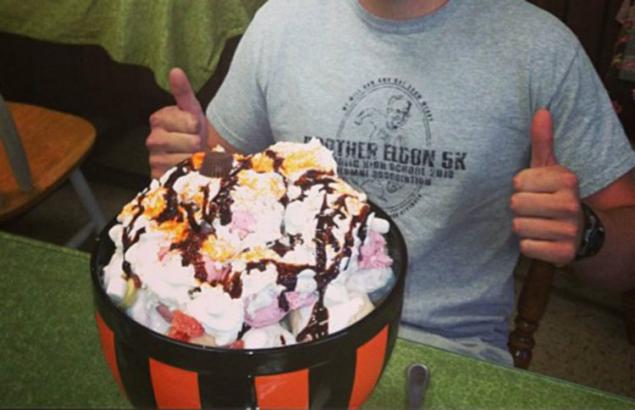 If you have a sweet tooth and can eat it in large quantities, then you should visit the cafe «It`s All So Yummy» and take part in the Rocky Top Challenge. This contest is to eat a huge portion of ice cream for a limited period of time. A serving consists of 16 large scoops of ice cream, a variety of fruits and fillings. If you manage to eat all the yummy per hour, for it will not have to pay.
4. Giant burritos in Jack-N-Grylls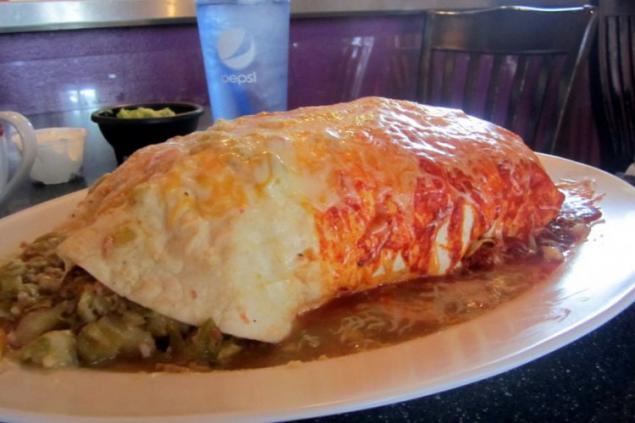 The weight of this giant burrito reaches seven pounds, and it consists of seven potatoes, 12 eggs, a pound of ham, onion, cheese and chili. If someone of the visitors will be able to eat this burrito in one go, the restaurant not only pay for his order, but also the story of his photos on the walls of the famous.
5. corned beef sandwich from Toronto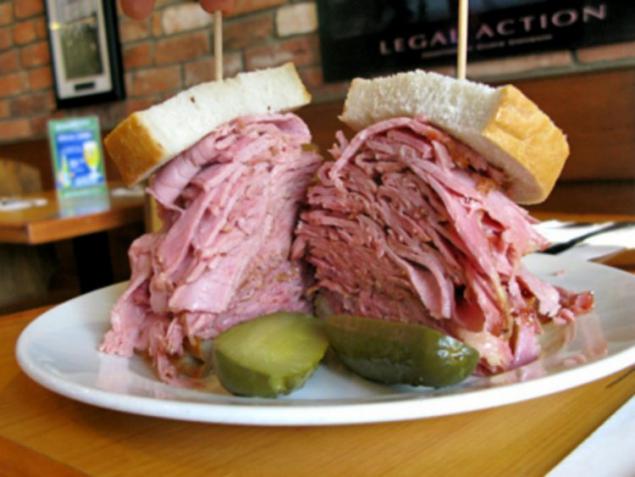 Having looked through the menu of the restaurant in Toronto «Corned Beef House» is impossible not to notice the unusual sandwich meat, bread and brine, weighing two and a half pounds. After eating the sandwich in an hour, for it does not have to pay.
6. Big Texan Steak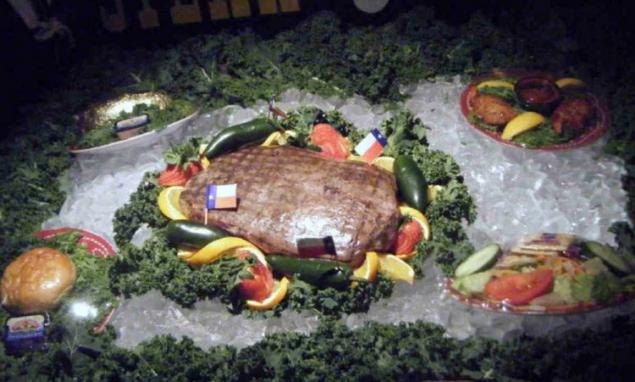 There are many competitions on eating it steaks. The restaurant is located on Route 66, did not keep up with this tradition and offer visitors eat «Big Texan Steak Ranch». This dish is $ 72, and it consists of shrimp cocktail, baked potato, salad and a giant steak. The cost of the order will be refunded, if you can eat this dish in just one hour.
7. Monster burger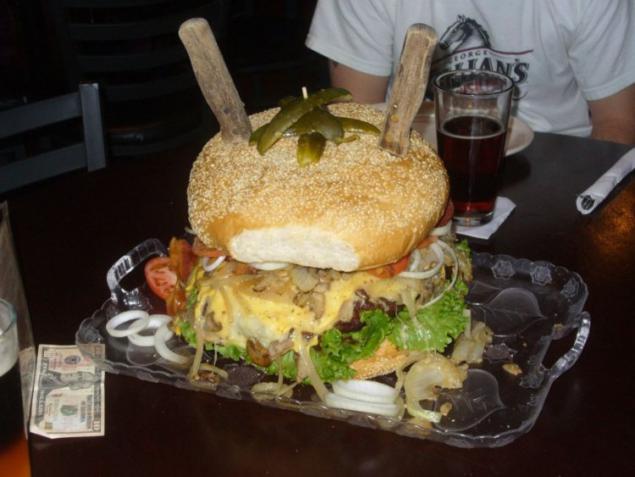 The restaurant Sports Bar & Grill Malli can participate in the competition for eating hamburgers, each weighing up to 10 pounds. To understand the magnitude of this hamburger, then compared with its analogue of McDonald's, it is 40 times more. Eat this giant need two hours and only in this case, your order will be paid, and plus to this you will get a reward in the form of $ 100.
8. Giant Pizza Schiappa`s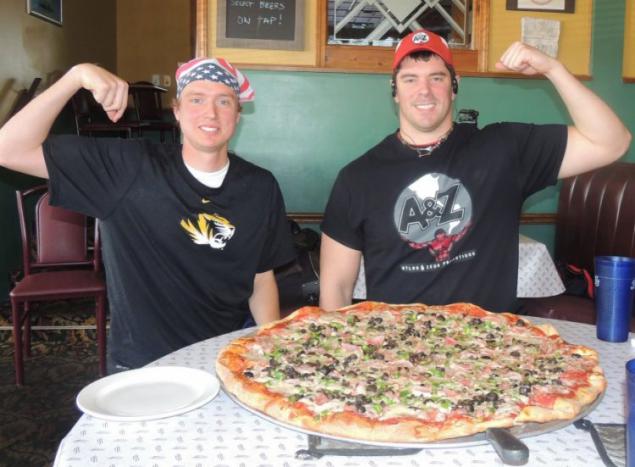 If you want to get your money for the order, it is necessary to try very much to eat pizza fourteen inches in diameter. But in the contest Pizza Schiappa`s is to try your hand only to those who believe that will master pizza 29 inches in diameter, covered with four fillings. All this will not cost you a dime if you can eat a huge pizza for just half an hour.
9. Competition voodoo donuts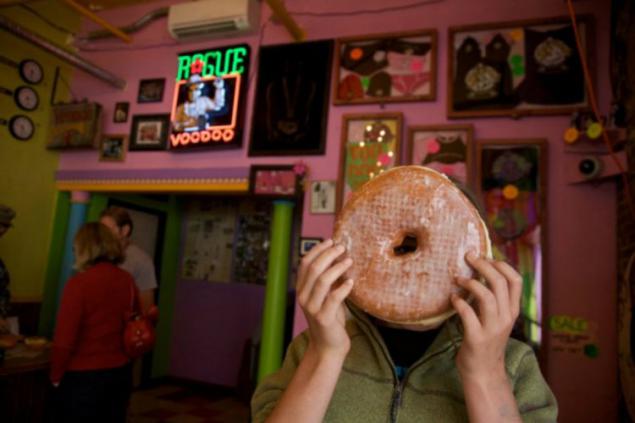 Donuts are very fond of the world, and especially in the United States. That is why in one of the restaurants was invented contest «Tex-Ass Doughnut Challenge», in which participants have to eat on the giant donut the size of a pie. Only in this case, you can return the money back, that's only worth remembering that it must be done within a certain time, and besides, forbidden to wash down a meal with water.
10. Competition hot dogs Spike`s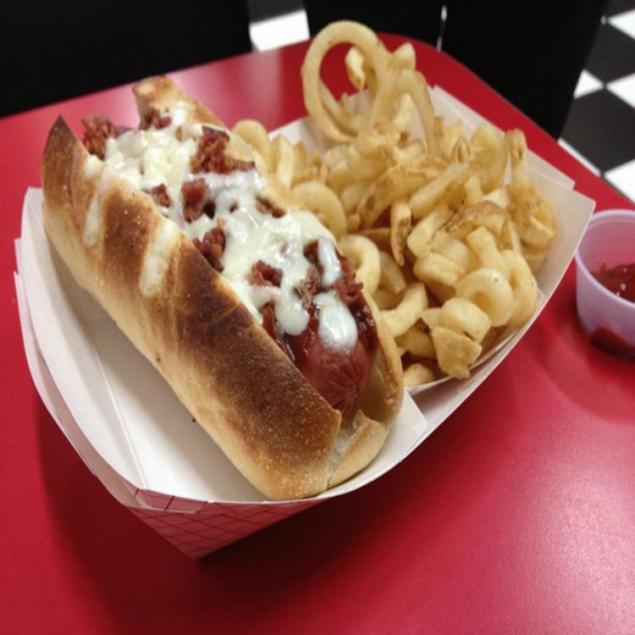 The biggest fans of hot dogs are Americans. This decided to use the owners of a restaurant in Boston. Periodically, they arrange a competition for eating hot dogs. Those who manage to eat six hot dogs can be sure that his image will appear on the wall of honor. If you still decide to return the money for dinner, you have to beat the record is 15 hot dogs for men and 12 for women.