Some of my friends looking surprised last week Instagramchik, he thought that the traditional aviation-"chicken-fish" is a kind of frozen substance stored in freezers for years, and at the appointed hour she simply reheated board. I myself is not such a frequent flier, and still not really thought about the origin of the on-board meal. But it had the opportunity to visit the factory catering at Domodedovo airport. It turned out the products and the process of its preparation are not much different from any decent restaurant. Is that the extent, pace of work and approach are different. Let's see.
It will be about 43 pictures, ask the post until the break, I must confess I finish.
Source here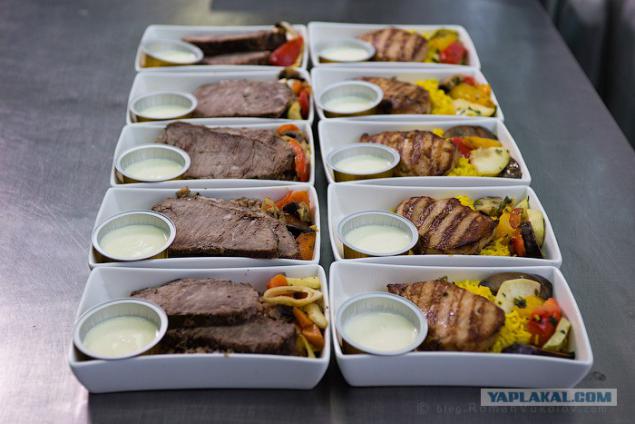 CAUTION Contained in post pictures can evoke the feeling of hunger, and undermine your diet! I warned!
Vega! The post also contains a number of meat dishes, so, do you see how it is. Now it seems to be quite all warned)).
In fact, as it turned out, banal "chicken-fish" is not the only dish, and in the preparation of the many options, but only at "Domodedovo Catering Service" about 460 names of dishes. So, depending on which airline you fly and where, even on your personal preference, you may file a virtually anything.
"Domodedovo Catering Service" with the participation of Michelin chef Rainer Ziggy developed the concept of power "The World on a plate", which includes a combination of 4 kitchen: Russian, European, Asian and American. Thus, the atmosphere of the country in which you are traveling should be established already on board.
01. Despite the fact that the dessert is served in the end how it is done, I was shown at the beginning)).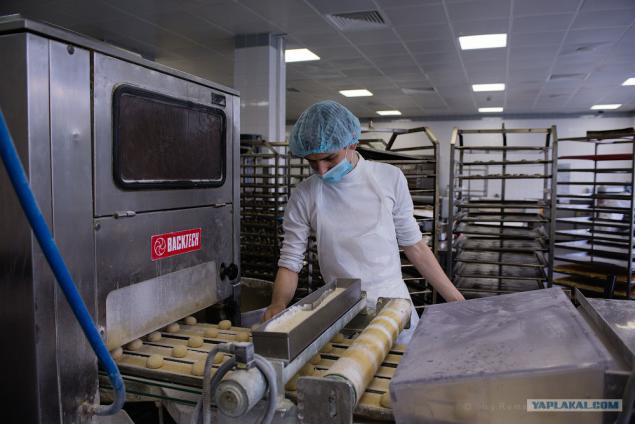 Although, in this shop do not just dessert, but dessert vypechku.ko but pastries.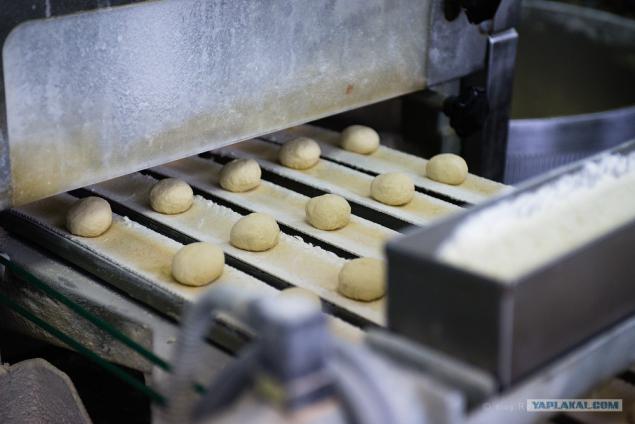 "Domodedovo Catering Service" is located in an inconspicuous building, close to the terminal, open 24 hours a day, 7 days a week.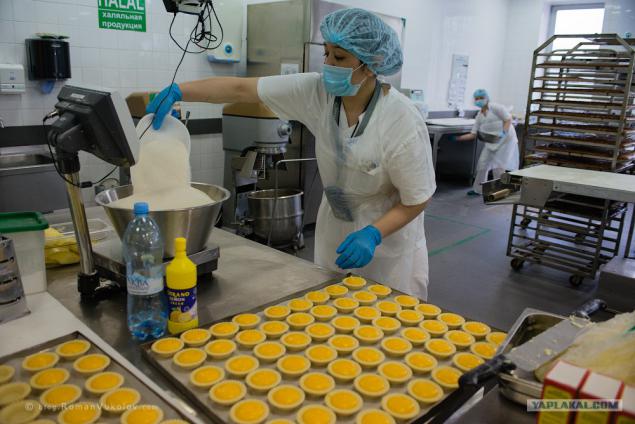 It employs more than 1,500 employees, 286 spetsialnosteynikov, 286 specialties
Employees are trained regularly something new, recently, for example, cooks, bakers and technologists studied especially confectionery Italian and Japanese cuisine.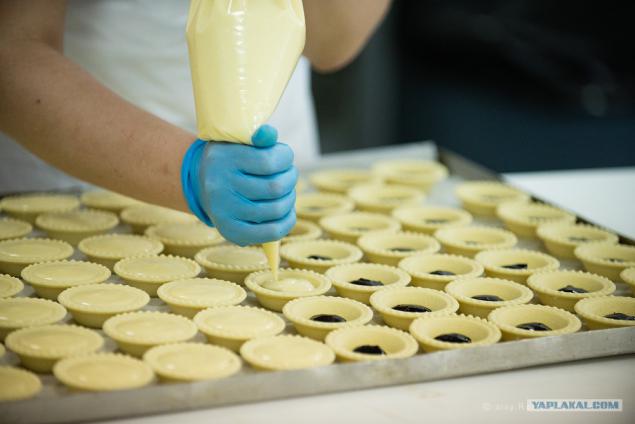 07 ...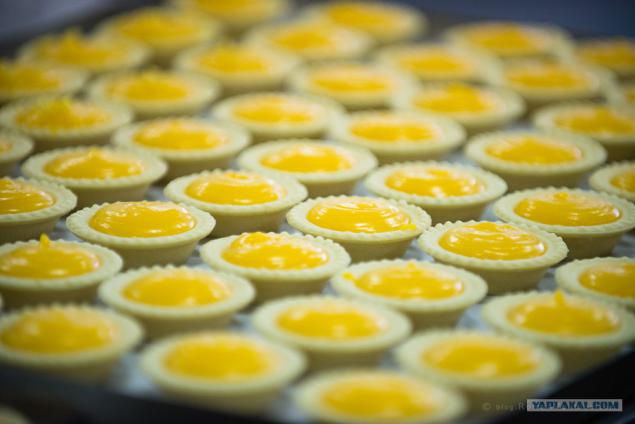 The machine, which molds brioche)).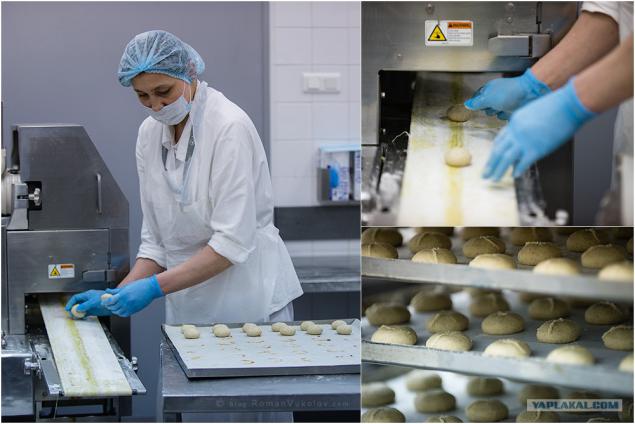 Illustrates the baking process.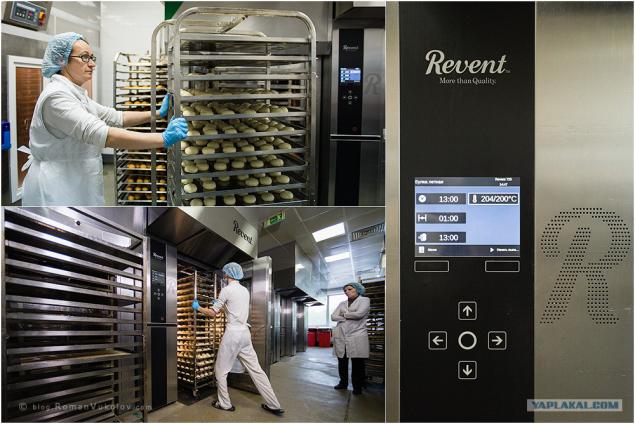 10 ...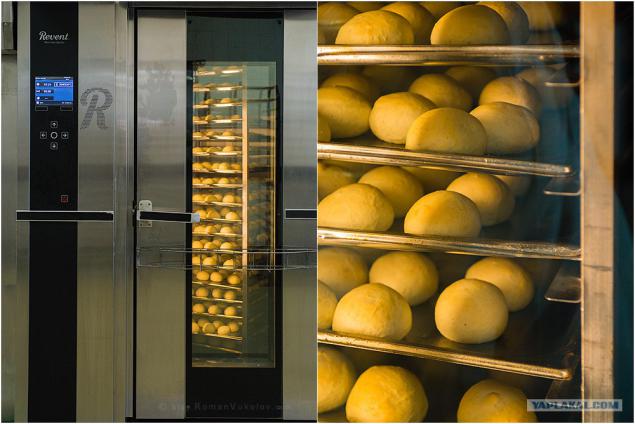 11 ...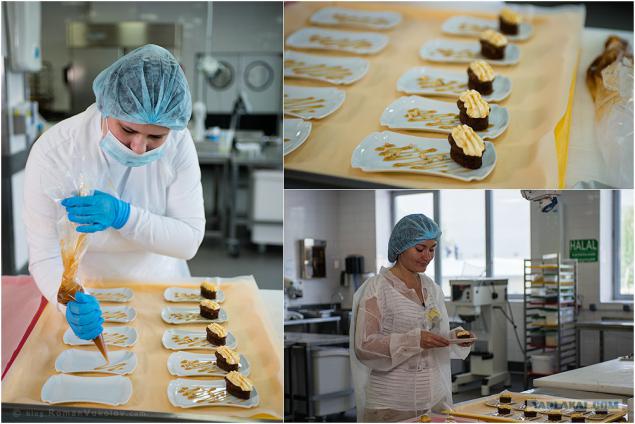 Cupcakes with chocolate.
It / steel.
Rolls.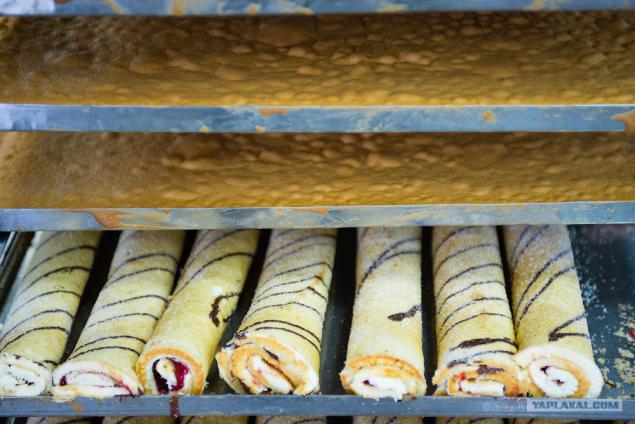 Desserts packaged in kasaletki and ready for transmission on board.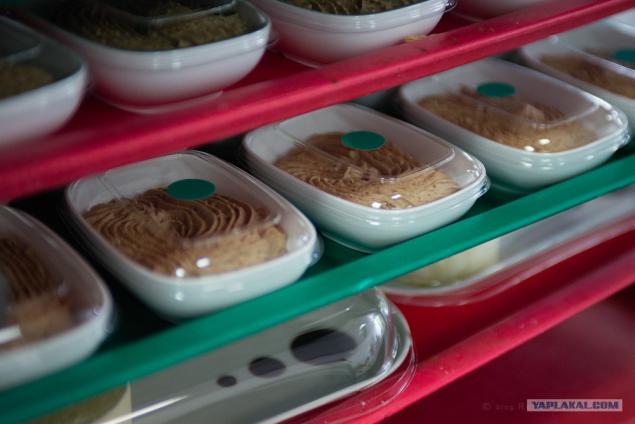 Now look at the cold shop.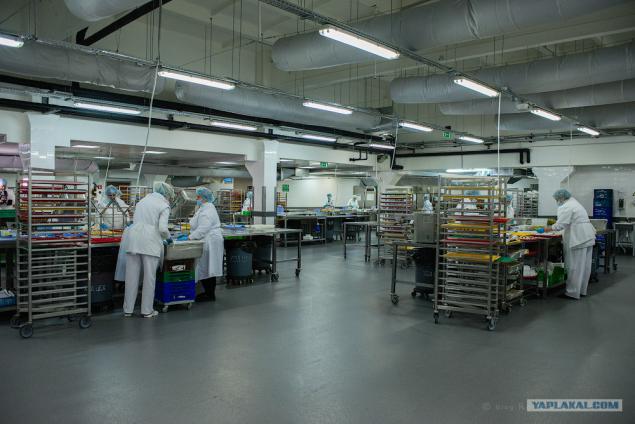 Here serves for herbivores, halal, kosher, dieters ... and all the rest simply garnish)).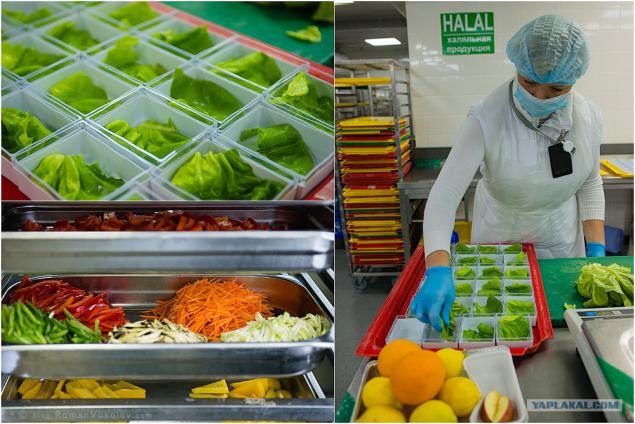 Who tried to order a "special meal"? Tell me, how is it?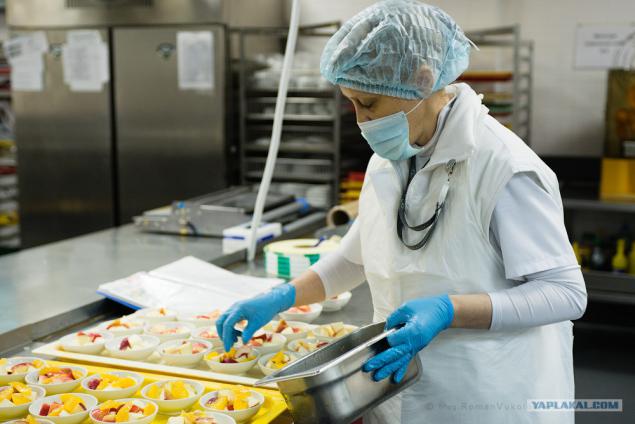 And then make a roll! The only pity is that they only served Japanese airlines. And then I'd just ordered them! By the way, who flew and tried?
I took the "master class" for preparation: learned a few useful pieces, are now going to use in the practice of domestic production roll)).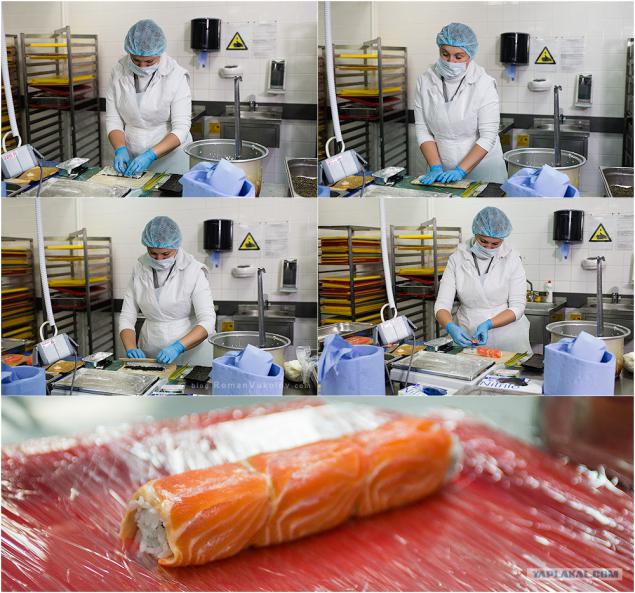 The packaging line. "How to do it." Well, in principle, a text description would be superfluous, and so everything is clear.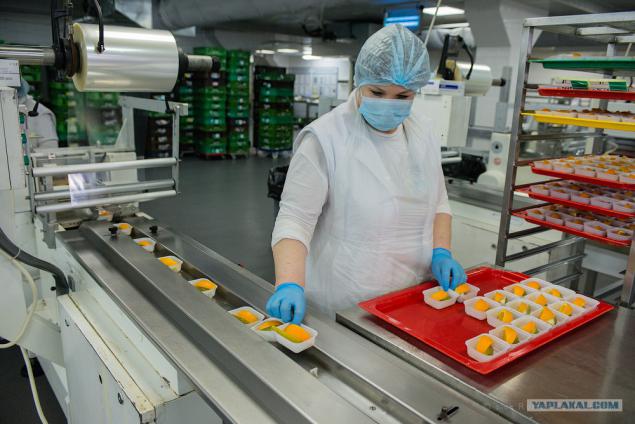 22 ...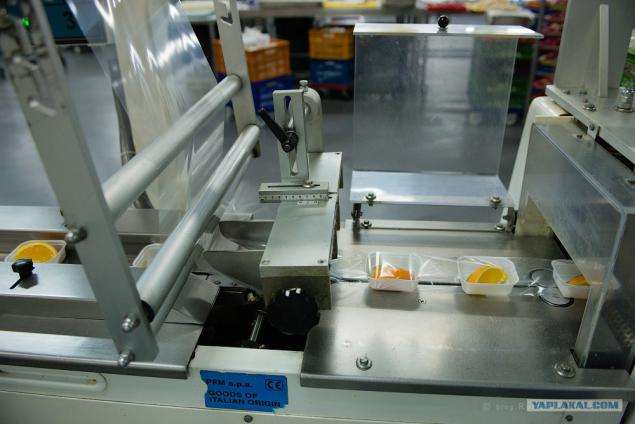 23 ...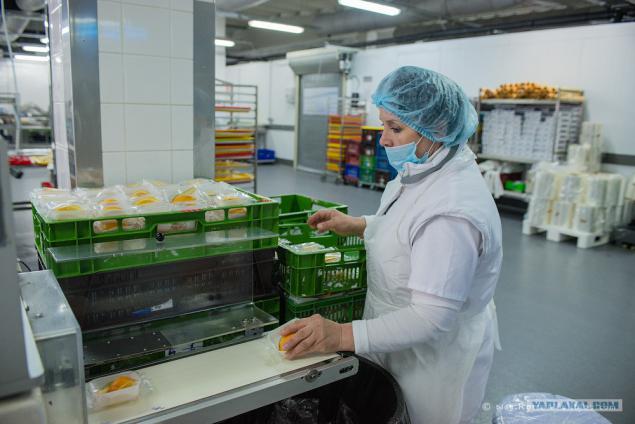 24 ...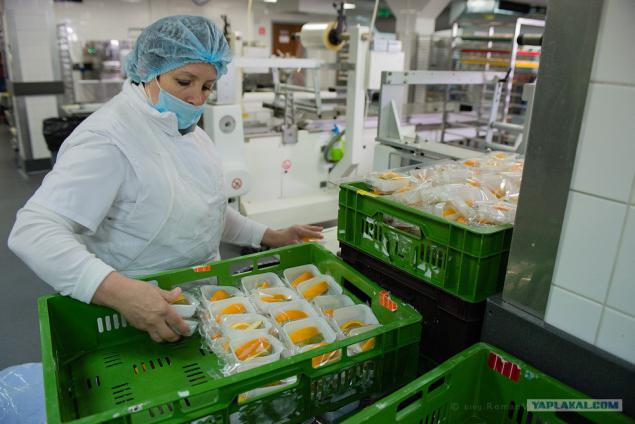 25 ...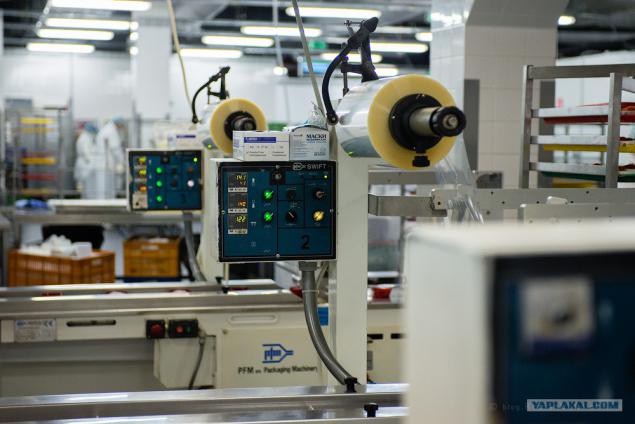 And then there is the process of packing in modified atmosphere.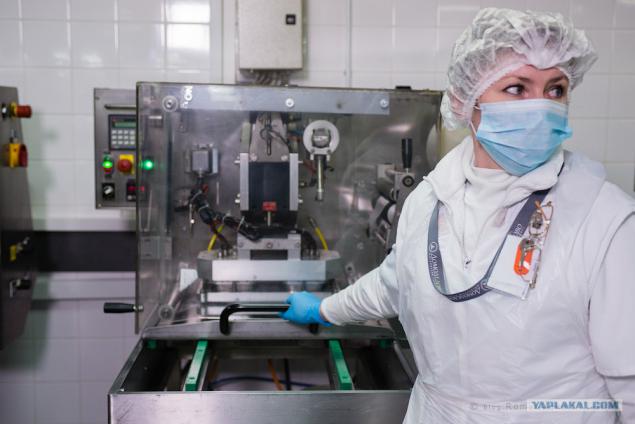 This technology allows you to increase the shelf life of products up to 5 days without the use of preservatives, which allows airlines to order meals including the return flight.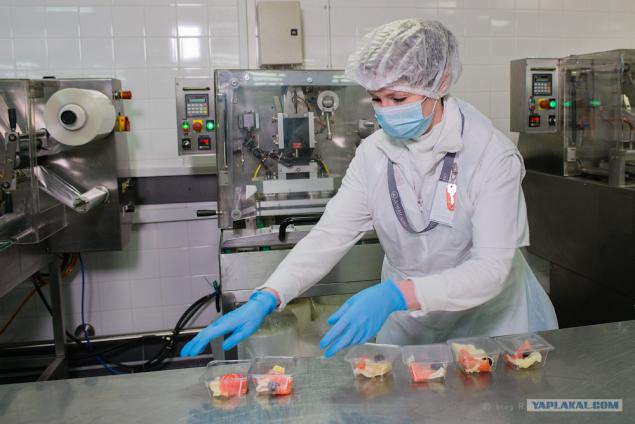 This retains all the flavor of the product.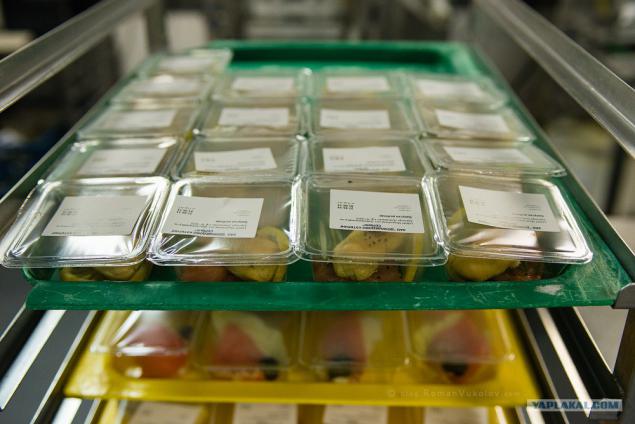 Hot shop. Everything is bubbling, shkvorchit roasts. And what smells go! Vegans do not understand! And I have here just once woke up the appetite.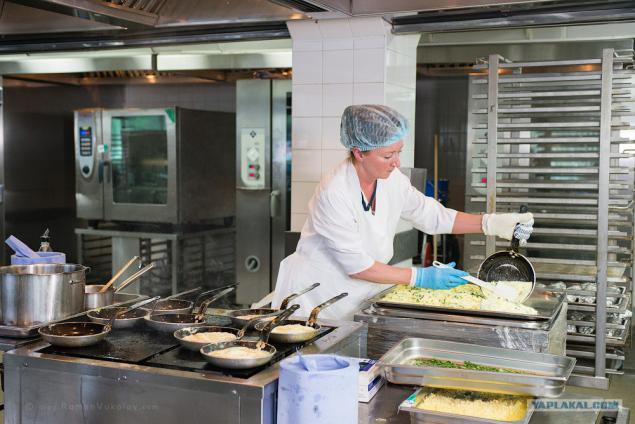 However, hot vegetarian dishes are also prepared. For vegetarian dishes extends the same concept of "world on a plate", with dishes from the 4 cuisines.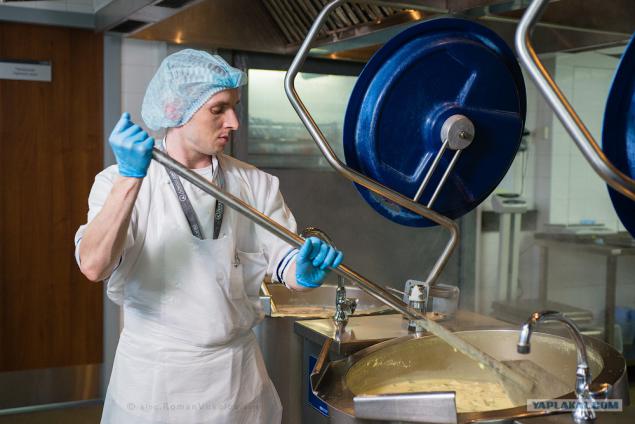 Here are some example rice with vegetables.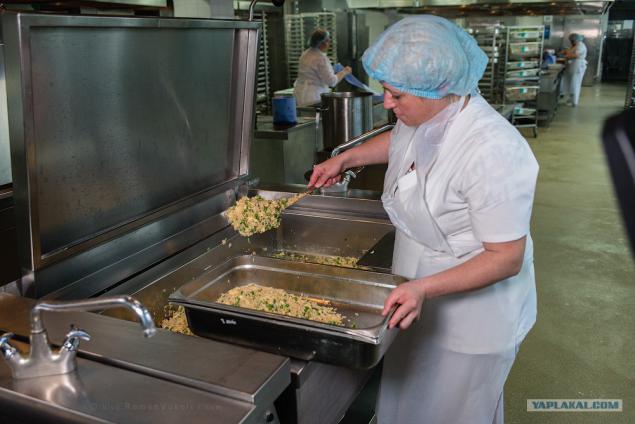 Asparagus and potatoes fried
And this is, like, muffin.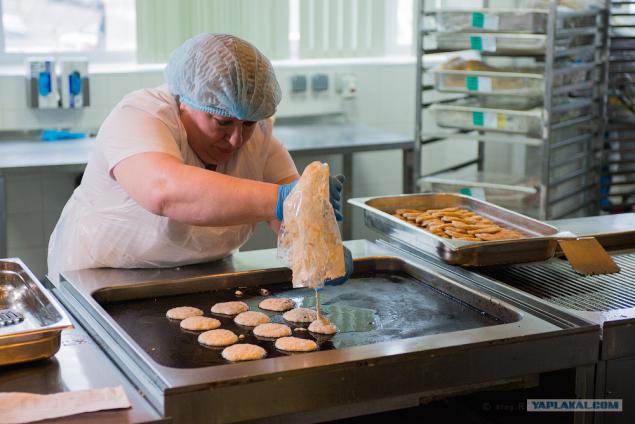 For safety, catering prohibited from using raw foods, cottage cheese and cream of animal origin. Just do not cook dishes of meat medium rare.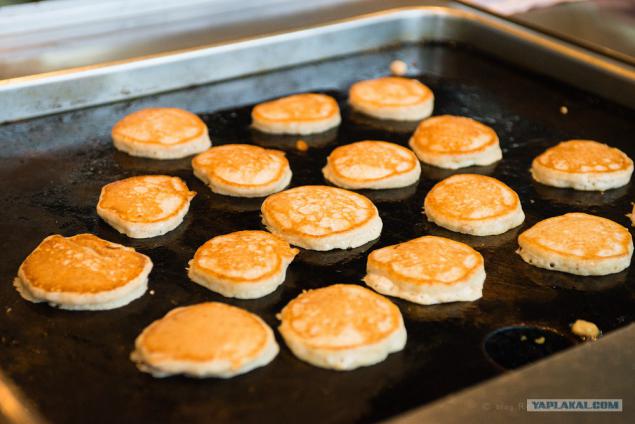 For the preparation of hot meals on the factory uses technology «Cook and chill», which includes three main stages: heat treatment, shock cooling and freezing. This allows for the implementation of the power for a period up to 30 days at a temperature of -18C.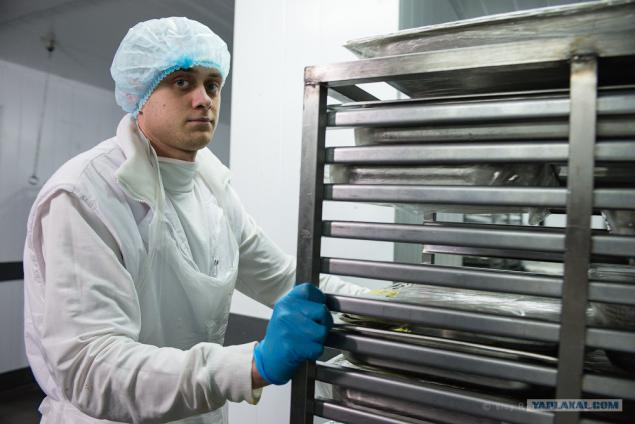 Refrigeration units for ready meals.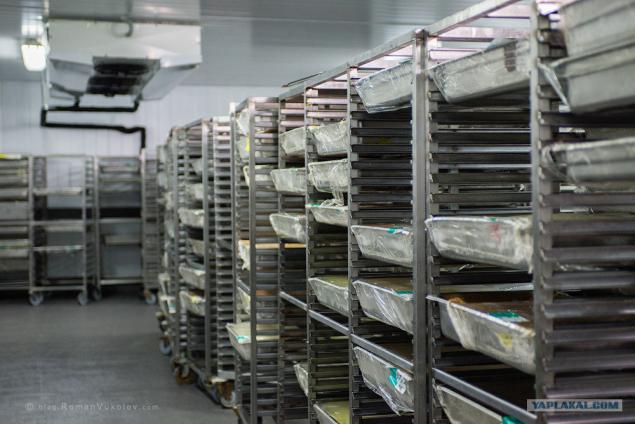 Dishes laid out in kasaletki. Such, however, and you are used to seeing them on the board.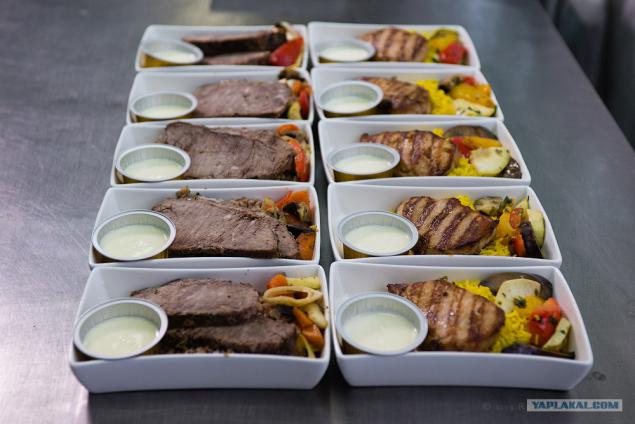 Fish.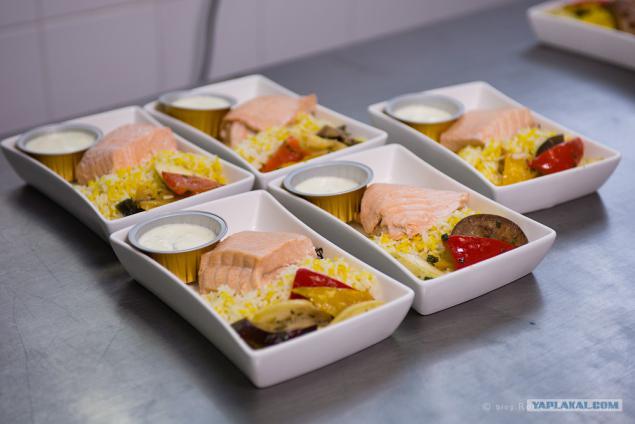 Meals for aircraft crews made by business class standards, with a number of specific features. To supply the crew forbidden products such as mushrooms, eggs, jelly, dairy and other products that can cause digestive problems. A first and second pilot for security served different dishes.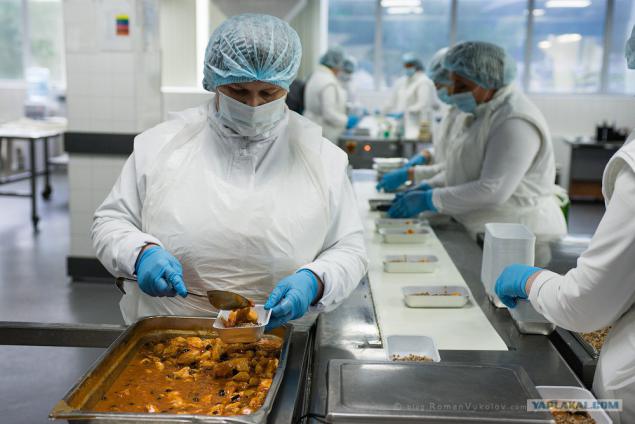 The diet business class includes similar names supply. The main difference - the special organoleptic characteristics peculiar to special delicacies and serving: business-class meals served usually chinaware.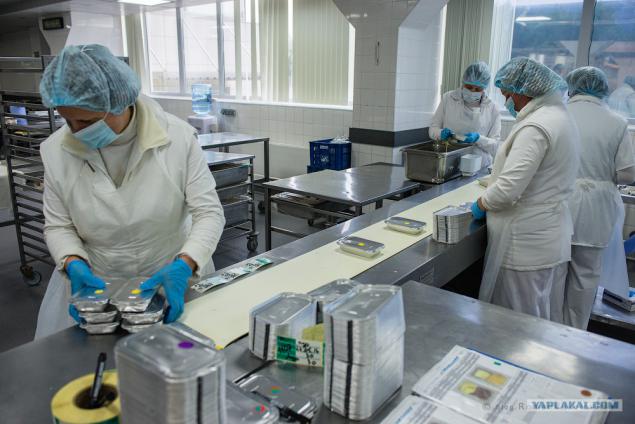 That is already familiar in the foil packaging.
This pipeline laid on kasaletkam and food outlets packaged in branded boxes "lunch boxes". They are you and presents a flight attendant on board.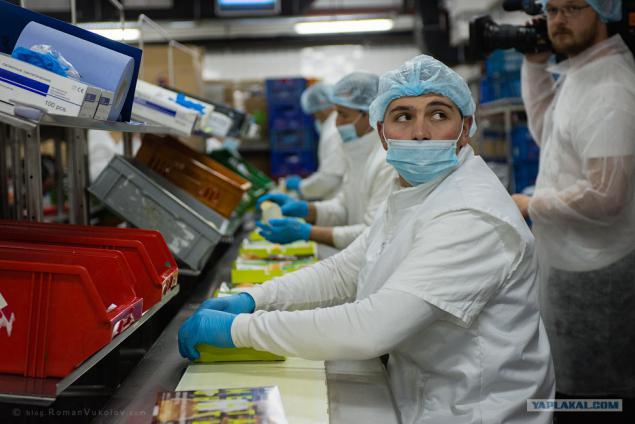 Finally, all laid out on trucks and ready to transmit on board
Well that's all, you can not even so much but kicking))