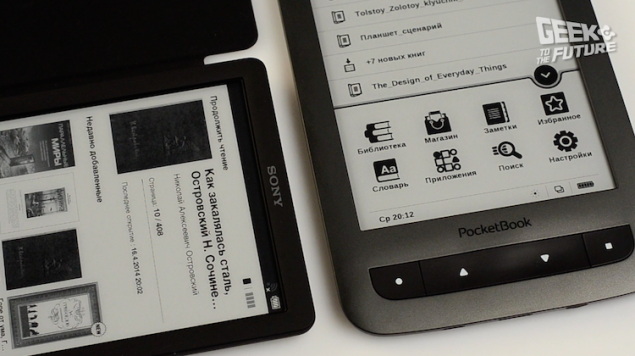 How long have you held in the hands of a book? Typically, the paper, smelling of time and ink? And email? They say that they, too, had to go out of fashion. We are, to paraphrase Mark Twain, we note that the rumors of the death of readers are greatly exaggerated.
We decided to compare - thanks to online store
«Yulmart»
- two electronic books,
PocketBook 626
and
Sony PRS-T3
. And at the same time learn from the experts what interesting things happening in this segment of the gadgets.
Both the reader - and this is the latest model in the line-up companies - are equipped with touch-screen E Ink Pearl with a resolution 758h1024 point. From a technological point of view, it is not the most recent development - at the beginning of last year was presented to the next version of electronic ink screen E Ink Carta and the first model based on it - Kindle Paperwhite. However, the new screens have not yet taken root, and readers with E Ink Cart displays are still a rarity (except for today kindlovskoy chitalki this "generation" electronic-ink screen is equipped with a German svezhevyshedshy Tolino Vision).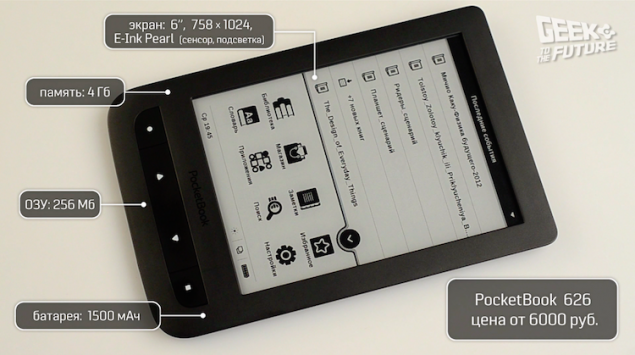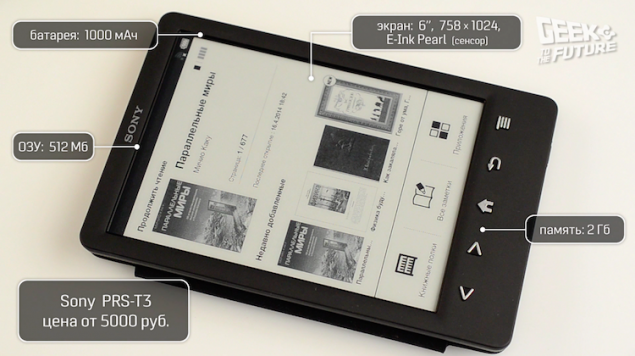 PocketBook 626
from 6000 rub.
B>
Screen: 6 '', 758x1024, 16 shades of gray, E-Ink Pearl, lighting, sensor
RAM: 256 MB
Memory: 4 GB
Wi-Fi, microUSB, microSD (up to 32GB)
Battery: 1500 mAh
Formats: EPUB, PDF, FB2, FB2.ZIP, TXT, DJVU, HTML, DOC, DOCX, RTF, CHM, TCR, PRC (MOBI) + JPEG, BMP, PNG, TIFF
I>

Sony PRS-T3
from 5000 rub.
B>
Screen: 6 '', 758x1024, 16 shades of gray, E-Ink Pearl, sensor
RAM: 512 MB
Memory: 2 GB
Wi-Fi, USB, microSD (up to 32GB)
Battery: 1000 mAh
Formats: EPUB, PDF, FB2, TXT + JPEG, BMP, PNG, GIF
I>
Before a detailed comparison device, we talked to the chief editor of the portal the-ebook.org Prohorenkova Vladimir, who spoke about what is happening with e-books in general.

GTTF: How interesting reading room today, and how do users change this market segment gadgets?
Vladimir Prohorenkov: The main peak of interest was just two years ago. Who is more popular superimposed and consumer crisis. Accordingly, the demand decreased slightly. Is the outflow of those companies who are not enthusiastic about the market. Gradually remains limited number of manufacturers and until they can surprise some innovation - all the devices on the shelf alike as two drops of water. The market could spur a new wave of readers, which offer consumers a property that distinguish them from the old generation devices. There is not even stagnation, and a decline in interest.

GTTF: As a general will develop technology that awaits us in the near future?
VP .: At the end of last year reached a novelty - a new screen E-Ink Carta and joint development by Sony and E-Ink size 13, 3 inches, which uses a matrix of Sony, which can be bent in certain limits. Accordingly, there will be products in this direction. They are interesting mainly for the corporate market because of high prices.

GTTF: And do I need this flexibility if the user's screen?
VP .: Today's screens are glued to the glass substrate, so even if the screen was not injured as a result of over-exposure, the substrate is easily broken. Flexibly control TFT-layer allows flexing screen - the device can slightly bend or lean on his arm.

GTTF: What do you advise the person who buys the first time reader?
VP .: First, decide what he will read books in any format. Then - in what conditions he will do, if there is enough light, or it will be a dark room, if he would do it in transport or at bedtime.

GTTF: And how much the price can influence the choice?
VP .: You do not have to pay the maximum amount possible. High price - is usually a marketing positioning. Because you need to focus not so much on the price, but rather on the properties that the consumer wants to see in the final product.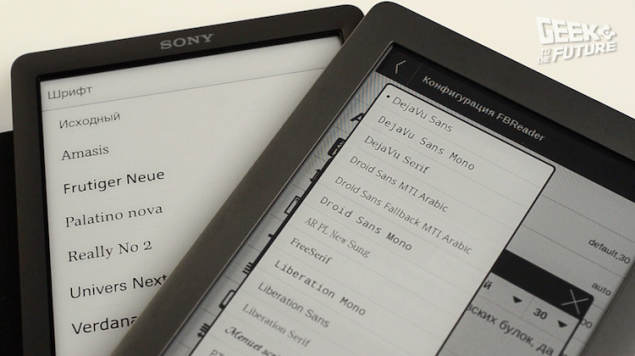 Unique technology than E Ink - even sideways look, even under the spotlight - the information is easily discernible. Screen readers both are exactly the same - if you hold a "blind test", even the developers themselves are unlikely to be much different from one model to another. Font rendering is improved compared with the previous models, and it is important for comfortable reading.

PocketBook is backlit screen - by the way, more even than in previous models - but not completed cover. The Sony all the way around - and that is the main difference from each other readers. For information: a good cover for PocketBook will cost somewhere in 1000 rubles, and cover with backlight for Sony to be found for 1500.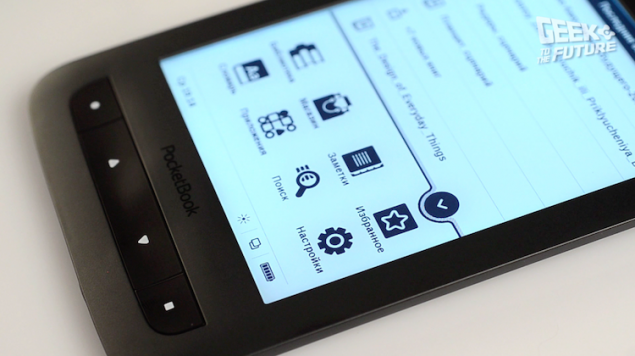 Feels like, in the use of comfortable and she and the other reader. Assembling and body materials - do not cause problems. PocketBook through thick and curved back cover (no cover) looks somewhat sleeker and Sony boasts comfortable embossed buttons.

Number of built-in memory is not so important for the reader - if you do not read in PDF. However, Sony have equipped two and PocketBook - four gigabytes of memory (of course, smaller volumes are available). Both books support cards microSD (up to 32GB).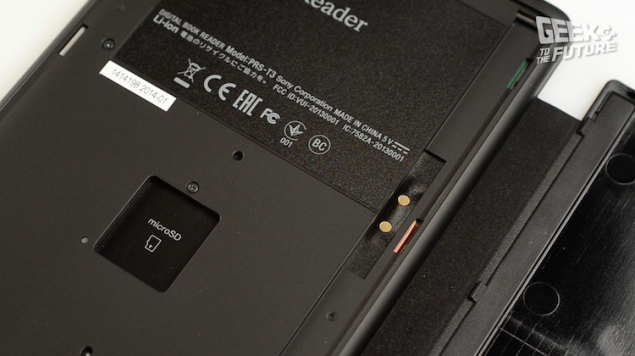 More important parameter - format support. PRS-T3 operates with a minimum set of standards: ePub, PDF, TXT, FB2 + common graphics file formats. 622nd also supports schedule, and the number of text formats here - under two dozen. Of the most valuable - DjVU and vordovskie files.

Mobile applications have long been settled in the reader. On chitalke from Sony you will certainly appeal to the opportunity to work with Facebook and Evernote - in the first case, you can share quotes from the book, in the second - to create and read your own notes. PocketBook can work with Dropbox and also here there is a useful service for downloading books via Wi-Fi (required registration in the service, and shipping books to the reader by means of e-mail).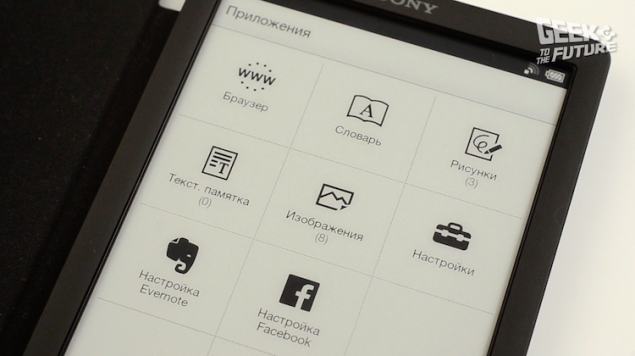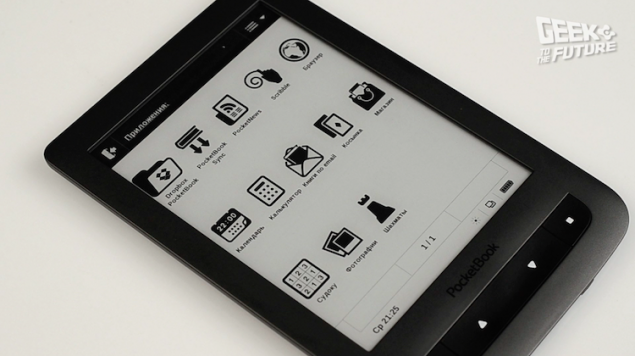 Yes, both models are equipped with vayfay. What else you need to access the Internet? Correct, does! A good thing, but it is unlikely you will use this opportunity often. Why? Permanent screen refresh -udovolstvie not for the faint of heart (see how it looks in our video on YouTube-Channel Geek to the Future).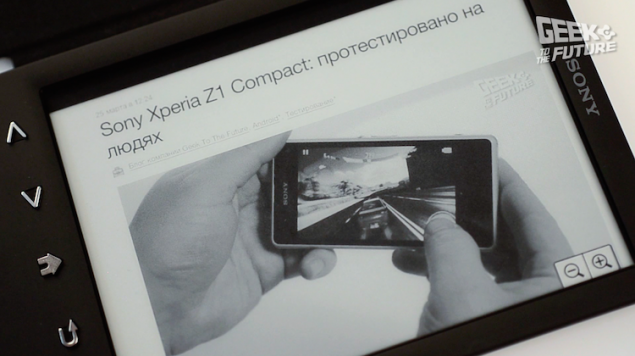 If we talk about the speed, then some special tests for readers not exist - you can pick up a stopwatch, you can start from the subjective feelings. And here comes forward Sony - all applications and interfaces generally work without whatsoever brakes. Well, all that relates directly to the reading process perfected in both gadgets. Note also that the PocketBook sometimes behaved strangely after reboot: within minutes reader brakes and poorly responsive to touch gestures, but then "warmed up" and run normally.

Here's what is not in any of the e-readers, so it's MP3-player. This solution has its pros and cons. But in general, given that today music player inserted in almost irons unlikely buyer will feel deprived. You can certainly complain about the inability to listen to the book, but heed the monotonous voice of the robot, believe me, it is still fun.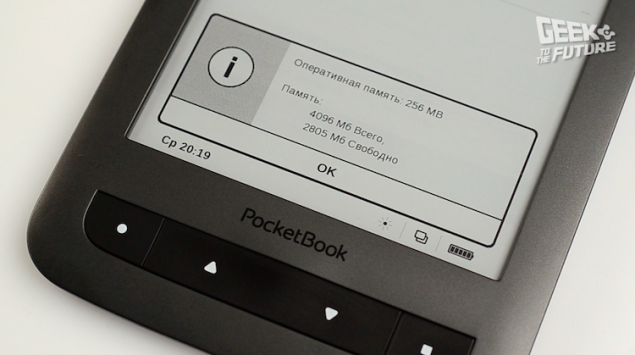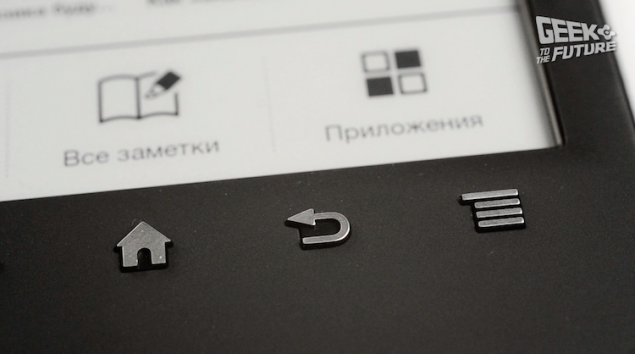 Runtime-readers can be measured in days or number of pages. But the use of the backlight or "vayf" greatly complicates the task. And of course the result will be different from those on the box - and it is known in which direction. Nevertheless, we can focus on the work of both readers on a single charge for a week - a maximum of two - is speaking of "swallowers books." Well backlight to reduce this time by 4-5 times (the Sony branded case with backlight is powered by a battery of the reader).

Summarize. Both devices have some distinct disadvantages and the choice can be made out of personal preference. They are not cheap, but close to them analogs such Onyx Akunin Book, are comparable: in our opinion and that, and another model can be seen as a great gadget for daily reading - see for yourself by watching our comparative видеообзор channel Geek to the Future.

Source: habrahabr.ru/company/gttf/blog/221817/