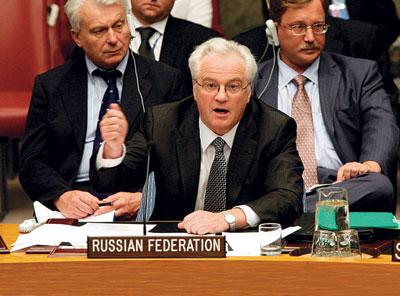 As you know, last night the Russian Federation launched an emergency meeting of the UN Security Council to discuss the situation in Ukraine.
"Kremlin" part of the online news quotes only one person with this event. And, of course, is Mr. Churkin, the representative of the Russian Federation. Since the event was initiated by the Russian Federation, and it was possible to predict about the reaction to it of other states, it seems, everything was done not for the sake of their applications, and for statements Churkin. And here it is:
"The international community must demand that the henchmen of the Maidan to stop the war against its own people and to fulfill the obligations under the agreements of February 21" (yes, the Russian Federation refused to sign them, well, so what?)
"Western sponsors" maydanschikov ", especially those who witnessed the said agreement, as well as behind them the US are required to curb the out-of-control" wards ", get them to dissociate themselves from neo-Nazis and other extremists to stop the use of armed forces against the Ukrainian people. it depends on the West now possible to avoid civil war in Ukraine ».
And most seem to be important: "Please, Ms. Power (US ambassador to the UN), ask Vice President Biden now call Mr. Turchynov. Because a few hours later events may take an irreversible turn «.
The promise of an irreversible turn Mr. Churkin, the UN Security Council - this is the most interesting news last night. However, that's how they reacted other participants discos:
< Ukraine < UK
< France
< USA Australia. Bids dangerously high. Well-armed men, exciting public institutions in Donetsk, Slavic preparing destabilization with the pro-Russian forces. We see violence and destabilization. No cases of harassment of Russian-speaking. This is recorded by the OSCE mission. In the Crimea and Donetsk - Russian military. Call on Russia to stop provocations.
< Lithuania. all was not limited to the Crimea. We condemn the actions of the separatists, sponsored in Donetsk. 65% of Donbass want to live in a united Ukraine. Lithuania supports the Ukrainian government to resolve the conflict. The international community should not listen to Yanukovych and his associates.
< South Korea
< China