"Big family - it's not terrible».
Muscovite history, gave birth to 16 children
No one expected from the marina that to 46 years it will be a mother of 16 children. No one - including her husband and herself.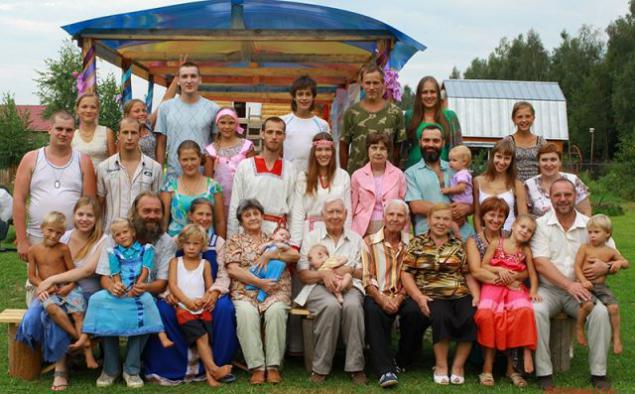 Life is not a textbook
Marina Nightingale - from Moscow in the third generation, the granddaughter of a professor at the Moscow State University in which textbooks are studying mathematics. Today, she lives in the village, but grew up on Frunze Embankment, which offers wonderful views of the Kremlin.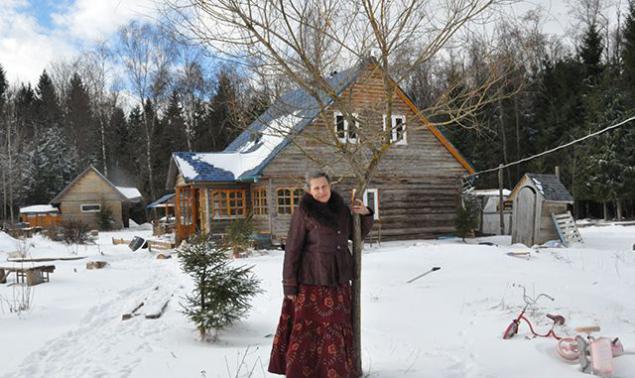 With Marina met her future husband when they were both 16 years old: "Igor has not made an impression on me - the boy from the vocational school, while I was preparing to go to college. He knew it, and disappeared without a murmur. Again he came after the army. I was already married and expecting a second child. The relationship with her husband evolved poorly, and soon we parted. Igor was there - sitting with his eldest son Anton, when I went to college and courses, he dragged me out shopping bags. When nothing is required in return. And then the moment came - it was his birthday - when Igor came to our home, and the more we did not leave with him. " The couple did not have a wedding, elegant white dress Marina put on the wedding, being a mother nine children: "In 1999 we decided that we will enter the new millennium in a legal marriage before God." "After the wedding came time to amazing - everything was in our favor. Confirmed by saying: "God gives children and give children - says Marina. - While we have 5 kids, we lived in a room in a communal apartment, which I got from my grandmother. Then we were given an apartment, and after the birth of the tenth child, our family in Moscow was the first many children, which the authorities have allocated a whole floor - 4 apartments, a total of 8 rooms ».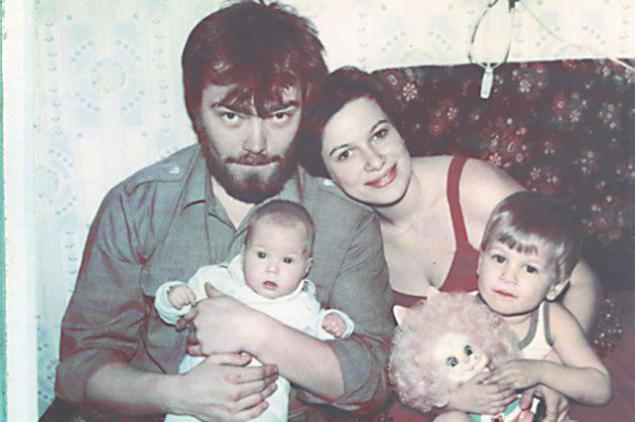 In the village!
On moving to the village of Marina thought back in the 90s. When the week a family with five children ate gruel on the water. Marina knew that having facilities, it would be easier. However, Igor "ripe" for this 10 years later. In the mid-2000s, the family of the lot is 150 km from Moscow. "At first we lived in cabins or tents. Once the set frame, in the new house I was born the 14th child - Alena. God gave me a light delivery. Therefore, most of the children I gave birth at home, take babies Igor, - says Marina. - With each child, I was discovering a new taste of motherhood. Especially sharply I realized what a pleasure - to be a mother, gave birth to eleven. Every time a baby in the house the atmosphere is changing. Newborn man becomes the center of attention of a large family. Everyone wants to express their concern - such happiness to keep the baby in his arms ».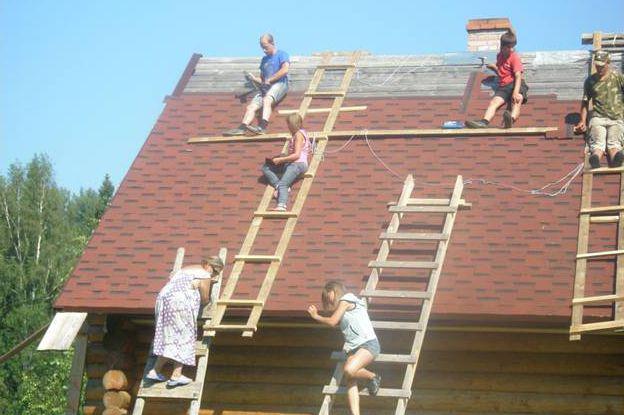 All these years the family did without the help of nannies and grandmothers. Marina, of course, did not work, and Igor was working at a defense plant, and then took up for flexible electronics repair. And when the family moved to the village, his work was the improvement of economy. The way they have money to build a house and a bath - separate stories. Here is one: the businessman announced a reward for information about scams, because of which he suffered. Very quickly the metropolitan police arrested the perpetrators. Award operative taking refused, offered to give a large family. So the businessman came to the family Nightingale. Another case: Charitable Foundation announced a competition to 1 million rubles. for families with 10 children, born in a marriage. Nightingale won the competition and this is another one million bought a wooden frame. Marina shows the album which she had prepared for the competition with older children. Dozens of pages in which like sunbeams smiles of children - the family celebrates the New Year, Christmas, birthdays, notes that are here every month. A short story about each of the 16 children - beginning with the eldest, 26-year-old Anton, ending with the youngest, 2-year-old Matthew, who sits at mum in a lap. Nearby bustling medium daughter. Some lay the table for tea, meet other local Aybolita - Alexander veterinarian. He came to make vaccinations two dogs and five cats, visit the newborn piglets. More on the farm cow and two calf.
All students in the family - homeschooled. One teacher - Marina, that's why she ended up teaching high school. Every year at the school in Moscow, the guys take exams for the next class. No repetition. And two of my mother's students currently have college students.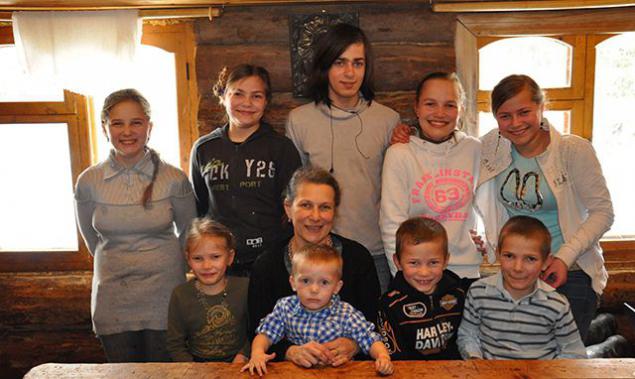 Surviving trouble
When I went to the marina, it is already known that a year ago in the family had a misfortune - Igor died unexpectedly. With tears in her eyes she told Details, "Igor pure snow. I called on a cell say that soon will end. And two minutes later he had a heart attack - instant death. My friend, thanks to which we met with Igor, said: "You are for him as an icon. He prays on you. " And now I'm looking at a picture of him and pray. I'm sure he's in heaven. The older children say that we are not used to be perceived as two different people, for we have always been one. Not easy to come to terms with the death of Igor, but I understand that all the will of God ».
In this family, all the children baptized. The latter four were baptized after the death of Igor. "Not far from us the church of the XVII century., Built without a single nail. In Soviet times, it was dismantled and sold for firewood peasants. And they climbed up the hill and reassembled the temple. The amazing story, right? "- Said Marina.
Life always gives a choice: you can burn something, but you can build. Marina continues to be the chief architect of a unique family that already has 5 grandchildren. Daughters with their children and their husbands live on the 6th floor in Mitin, who isolated the family Nightingale. On weekends, come to the village to help. "The bitter paradox - dying, Igor provided us. Survivor for each child under 18 years is now paying benefits, - says Marina. - We have never had such income. Maybe it's better the other way around - to try to help families with many children, as long as they both shall live? »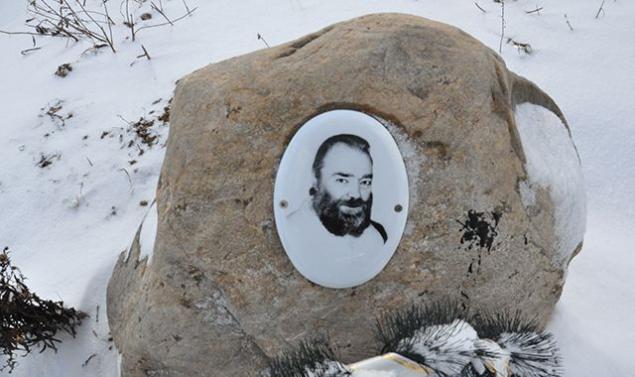 Today, the Marina project is brewing in my head of the family business - to take more land, build a few houses, where citizens will be able to recover from the frantic pace of the city. And for those who think about the big family, Marina is ready to share its experience: "Let it be conscious parenting courses. People look to a big family - it's not scary. And it may be inherent in them a sense of God and nature eknet. And they will know where it is - true happiness ».
--img8--
Source: