Peter and Olga, two-meter beard of a rock band and fragile girl, painted tattoos despise the word "charity" - a long, luxuriant, adopted a boy who deliberately left in the world only a few years. "You crazy lucky guys - they said one. - You just do not have time to spoil their love. So it tumbled as much as there ».
Good not pay off
And they tumble. And all their cynicism - only that they do not pour over the brand new son, tears, and do business. How did it ever.
... They were supposed to meet much earlier. For there were some trails. The son of a priest with a degree carpenter - in his life was a little bit of punk rock, hitchhiking, works as a taxi driver and tour manager for bands. And she - once assistant dental technician, ezdivshaya monasteries, who worked in the funds and hospice. Peter and Olga familiar only by avatars in a social network. Peter and Olga, who love life, music and fine drinks.
Related article
"I am waiting for you." Seven short films about orphans who need a family
They still could not meet, but were moved by reports of the sponsored orphanages, about Poteryashka who went to look for the sick children who rushed to help. A young Olga, who worked as a volunteer at Children's Hospital, has lived in her 9 months newborn Musechkoy (from what my mother refused to learn about her diagnosis - cancer). All these days, even for a minute without leaving the baby, almost without sleep, lived with her as a mother and as a mother was buried. Peter, by and defended before the fire in 2010 ...
"I really do not like to do good deeds. My soul can not be saved by them, do not pay off. I'm too lazy, my happiness - to lie on the sofa with a cigar and a book. But if no one else, then okay, I agree, please ... "- Peter jokes. And Olya just laughs: "Fame and money! What do you think? Only the fame and money, that's why it's us! »
They can not talk about high: charity, the meaning of life and noble deeds. They laugh at everything. It is their protective armor. This is what gives strength to go without looking back. Doing business. Now together. After all, they still met - at the Swamp area. From there, with a crowd of friends went to the bar. And it did not leave.
Related article
"Adapting to life." Stories of families with children with autism
In Krymsk, washed out by flood, they went together, being there first of Muscovites. Petya loaded the car to the eyeballs, so that Olga was sitting in the front seat, tucked under her long legs in tattoos. Diapers, baby food, medicines, foods, ropes ...
Together we began to go to the House of Babies in the women's colony number 1 "for infants, Mota's first term." And - took home Lёshu.
"We were waiting for the crazy»
 - A year ago, I was one night lay thumbed picture of friends in social networks, I could not sleep ... And Irina Yasina stumbled on the story of a boy who was first adopted at the age of 3 and 5 years, and six months later returned to the shelter - because, he put an incurable diagnosis, - says Peter.
Related article
"Pick up, you can not leave." Large family of nine children adopted more
Myopathy Duchenne muscular dystrophy - a disease that affects only boys. It manifests itself in childhood - first that something is wrong with the gait, the boy gets tired easily, lags behind peers ... And it ends with death at a young age - is in a wheelchair or bedridden - from heart or respiratory failure. The disease knows no drugs. Fetters from the heels to the throat. Just one day can not be able to breathe ... That's what Peter learned that night. Pushed sleeping Olga's side: "We must take." Olya a dream replied, "Throw me a link" (by e-mail. - Ed.). Then they were silent week. Then she asked: "Are you serious?" - "I look like a clown?" - "Then we take." They have a son. Doctors gave him 4 more years ...
 - We had to get married - said Peter - to make repairs in the apartment - before the kitchen we have a piece of wood lying on two stools, but we liked ... Bedroom turned into a children's room, smoking I had to go up the stairs; foster parents went to school. And we gave Lech. OPEC surprised: "We were waiting for something crazy ...»
Related article
Orphanage - like kindergarten. As "social mothers and fathers" watch over orphans
Foster children.
"Lyagushonochek my!»
Crazy ... Lesch quickly gets tired, does not speak, his peculiar gait, swollen, rock your leg muscles, he goes down the stairs by the handle ... But if you look closely. At a cursory glance is death revealed nothing.
"But death is inevitable, as inevitable and soon a wheelchair," - says Peter, and I shudder what Lesch is nearby, fingering toy car. "Yes, we are not pedaling, but do not hide anything from him».
They can not help it ... Yes, there are constraining the development of the disease pills Lesch sleeps in special locking devices, doing stretching, wears special shoes - but this weak yakorёk soon frustrate the passage of time ... And to not go crazy with this inevitability, what boy with crew cut hairstyle, which you yourself have taught to say "Papa" and "Mama", which inevitably will leave earlier on that his son, which is now so much fun to build a barricade of chairs and piles of books, will remain small - and you knew beforehand, knew! - This can save only one. They do not stop. They make a deal.
Related article
"Big family - it's not scary." Muscovite history, gave birth to 16 children
In 2012, at the wedding of a daughter Vasilisa and her darling Paul (the couple in the center) gathered four generations of the family as the nightingale, and intermarry with them family Zaitsev. Marina and Igor Nightingale in the bottom row on the left.
Burnt girl without handles, a boy with a donor liver, a child with cerebral palsy, Duchenne families ... It's all of them, Peter and Olga, the children's wards. On New Year's tree they did for children with neuromuscular diseases. Now arrange in Moscow rehabilitation camp for people like Alex, children and their parents with psychologists, doctors, volunteers and barbecue. In my dreams - his foundation.
 - Family, which grows Duchenne (so-called children with this syndrome. - Ed.), Is a standard image - says Peter. - A lonely mother who can not work, which in the hands of a child in a wheelchair, they all point the finger on the street, and they live in poverty. Two days a week they dream to drink, two - to hang himself, the others - dragged on themselves the story to its logical conclusion, then - "go into a tailspin" ... there is no treatment, the hospital - one and "sharpened" by children with cerebral palsy, no funds, people or physicians often diagnose the unknown ... We want to have the same parents as we had support, it was where to go, when it is difficult that we were together.
They do not stop. Eight months ago, Dasha was born, a child with Down syndrome, "and her parents said they would be ashamed to walk with her in the street." Sveshnikov not ashamed now 4 months, Dasha - their daughter. "Lyagushonochek mine!" - Olga can not break away from her eye and slanted zatselovyvat - as if for the future. To catch too. Do not be late.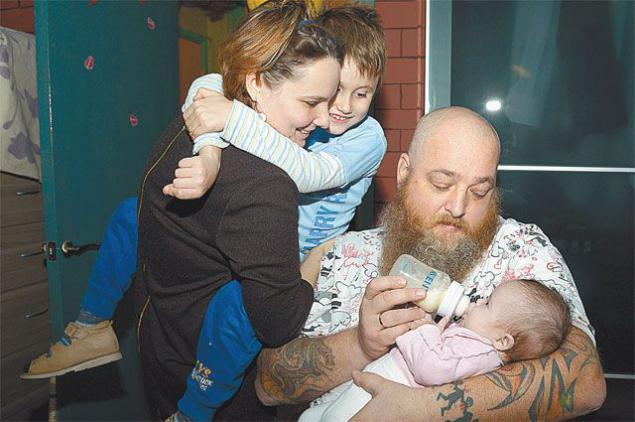 Source:
www.aif.ru